Hey there, this is Holly from Revamperate! If you're anything like me and can't really cook, slow cookers are such a blessing. I can bake, but I can't cook anything other than pasta, so using my Crock Pot helps make my cooking struggles a little easier. But have you ever tried making dessert in your slow cooker?!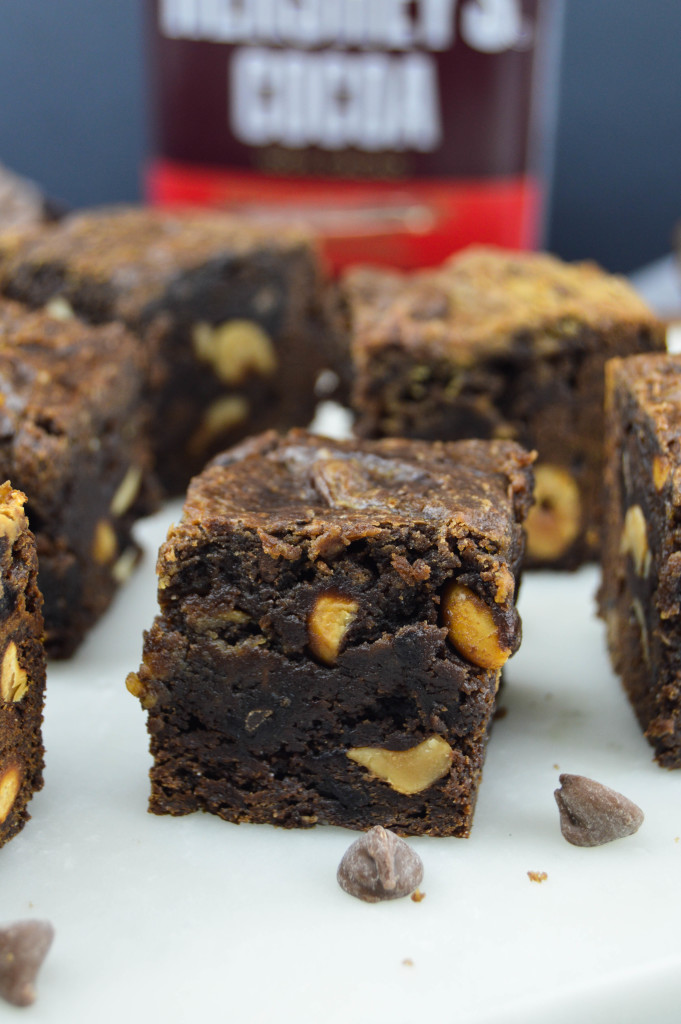 Now's your chance. Here's how you can make some fudgy slow cooker peanut butter chocolate brownies that are very similar to making them in your oven, but they're more hands-off and you can just let them bake while you take a break. It's not rocket science, but it does take patience, which I have a hard time with when it comes to waiting for my dessert. Nonetheless, these are SO easy to make in your slow cooker, and the combination of chocolate and peanut butter with chunks of peanuts is always a fan favorite. I actually made the same recipe in my Crock Pot as I did in the oven, and the Crock Pot brownies came out significantly better. They were more moist and fudgy than the oven baked ones.
Note, you may want to adjust this recipe for the size of your slow cooker. If you are using a very small slow cooker, either half the recipe or expect to have extra thick brownies that will require additional cooking time.
Now, here's how to make them!
Slow Cooker Peanut Butter Chocolate Brownies Recipe
Ingredients:
½ cup butter
6 oz. semi-sweet chocolate, chopped (or 1 cup chocolate chips)
1 cup granulated sugar
3 eggs
½ tsp vanilla extract
1 cup + 2 tbsp all-purpose flour
¼ cup unsweetened cocoa powder
¾ tsp baking powder
¼ tsp salt
½ cup peanut butter, melted
1 cup semi-sweet chocolate chips
1/2 cup peanuts
Instructions:
Spray the slow cooker with cooking spray. Line the bottom of a slow cooker with parchment (cut to size). Then line another piece around the edges, and spray again with cooking spray. If using a stand mixer, fit it with a paddle attachment.
In a small saucepan, melt the butter and stir in the chopped chocolate until melted, and pour into your mixing bowl. Let cool for about 5 minutes.
In one bowl, whisk together the flour, cocoa powder, baking powder and salt.
Mix the sugar into the butter and chocolate mixture. Then mix in each egg and the vanilla. Slowly add the dry ingredient until barely combined (do not overmix). Stir in the chocolate chips and peanuts by hand.
Pour the brownie batter into the lined crock pot and smooth out the top. In a small bowl, melt the peanut butter in the microwave until it is a pourable consistency (about 20 seconds). Pour over the top of the brownie batter and swirl with a butter knife so that the peanut butter blends into the brownies.
Turn the slow cooker to LOW heat and let cook for about 3 hours with the lid on. Remove the lid and continue cooking for about 30 minutes. At this point the middle may still appear uncooked but they'll finish cooking off heat. Turn off the heat, carefully remove the bowl of the slow cooker and let cool completely on a metal rack. Once completely cool, remove the brownies from the bowl and cut into squares.
I bet you'll be surprised by how great they come out!
Latest posts by Holly Wade
(see all)