Nothing says comfort food like a cozy potato dish, particularly when it comes in the form of a slow cooker potato soup or a slow cooker potato casserole! Your luck, we've featuring both today! The readers of AllFreeSlowCookerRecipes.com can't get enough of our slow cooker potato soup recipes and they just keep searching for slow cooker hash brown casseroles.
The editors at AllFreeSlowCookerRecipes have rounded up some of our best potato soup and hash brown casserole recipes into handy collections that are must-tries for the fall and winter seasons.
Slow Cooker Potato Soup Recipes
Whether you're looking for a comforting slow cooker appetizer recipe, or even want to make a meal of warm bowl of soup, slow cooker soups are an easy solution! In our collection, Slow Cooker Potato Soup Recipes: 15 Unbelievably East Potato Soup Recipes, we've got a variety of potato soup recipes to try. Whether you like your soup cheesy, filled with corn and bacon, filled with ham, dotted with chives, these slow cooker potato soup recipes are sure to satisfy your potato soup cravings.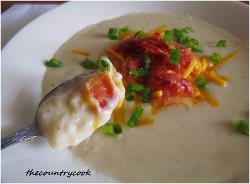 This recipe for Loaded Potato Soup for Slow Cooker is among the many slow cooker potato soup recipes featured in our potato soup recipe collection. This easy slow cooker soup serves eight and it's easy to make.  This soup tastes like a loaded baked potato, made with four pounds of potatoes, onion, and cream. It's traditional "loaded" toppings such as Cheddar cheese, crumbled bacon, and sliced green onions. The toppings on this soup give a pop of color and a pop of flavor with each bite!
If you're cooking on a budget, our collection of potato soup recipes also features some slow cooker soups which are particularly budget friendly. Our Budget Slow Cooker Potato Soup (below) costs just $6 to make, and will serve 8 at less than $1 per serving.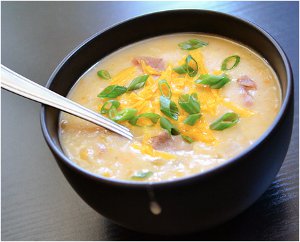 You'll also find a recipe for Penny-Wise Potato and Ham Soup in our recipe collection, This recipe is packed with inexpensive ingredients that are sure to satisfy. Also in our collection, Slow Cooker Potato Soup Recipes: 15 Unbelievably East Potato Soup Recipes, you'll find inspiration for using seasonal sweet potatoes, corn, and more.
Easy Hash Brown Casseroles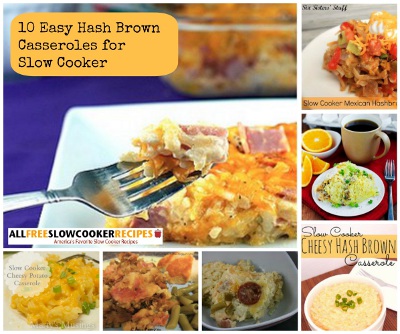 Beyond slow cooker appetizer recipes, we've got delicious hash brown casseroles you can make for main dishes or side dishes. The slow cooker casseroles found in our collection, 10 Easy Hash Brown Casseroles, are so tasty, you'll want to try them for both breakfast and dinner.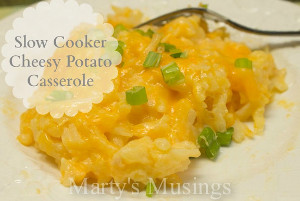 Inside our collection of hash brown casseroles, you'll find traditional choices, such as this recipe for 5 Ingredient Cheesy Potato Casserole. This simple-to-make hash brown casserole recipe is comprised of hash browns, melted butter, canned cream of chicken soup, sour cream and cheese. Serve it up as a side for breakfast, brunch, or dinner, and it's sure to be a crowd-pleaser. It serves eight, so you've got plenty for a crowd!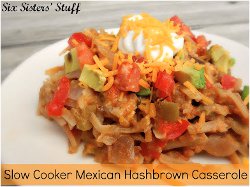 This slow cooker Mexican casserole recipe for Slow Cooker Mexican Hash Brown Casserole is certainly hearty enough to enjoy as a main dish, packed with ground beef, bell peppers, onions, tomatoes, cheese, hash browns, and more. Not only is this hash brown casserole delicious, it's also so colorful! This slow cooker casserole makes for a great potluck dish–especially if it has a fiesta theme!
For more of our best hash brown casseroles for slow cooker, be sure to check out our collection, 10 Easy Hash Brown Casseroles.
If you love potatoes, we've now given you 25 new ways to cook with potatoes in your slow cooker! Each one is so delectable, it will be hard to choose which recipe to try first!
What's your favorite way to cook with potatoes?
Latest posts by AllFreeSlowCookerRecipes
(see all)