Ready for a summer fiesta? These slow cooker pulled pork tacos  are really easy and really delicious for your next get together with friends and family. My kids LOVE pulled pork anything, so this recipe became a staple in my house a few years ago. The best thing is that you can serve the slow cooker pulled pork recipe as part of a taco bar, on sandwich rolls or on top of some crunchy tortilla chips for some delicious nachos. It's very versatile and very popular – the night I made these tacos, they completely vanished in about an hour!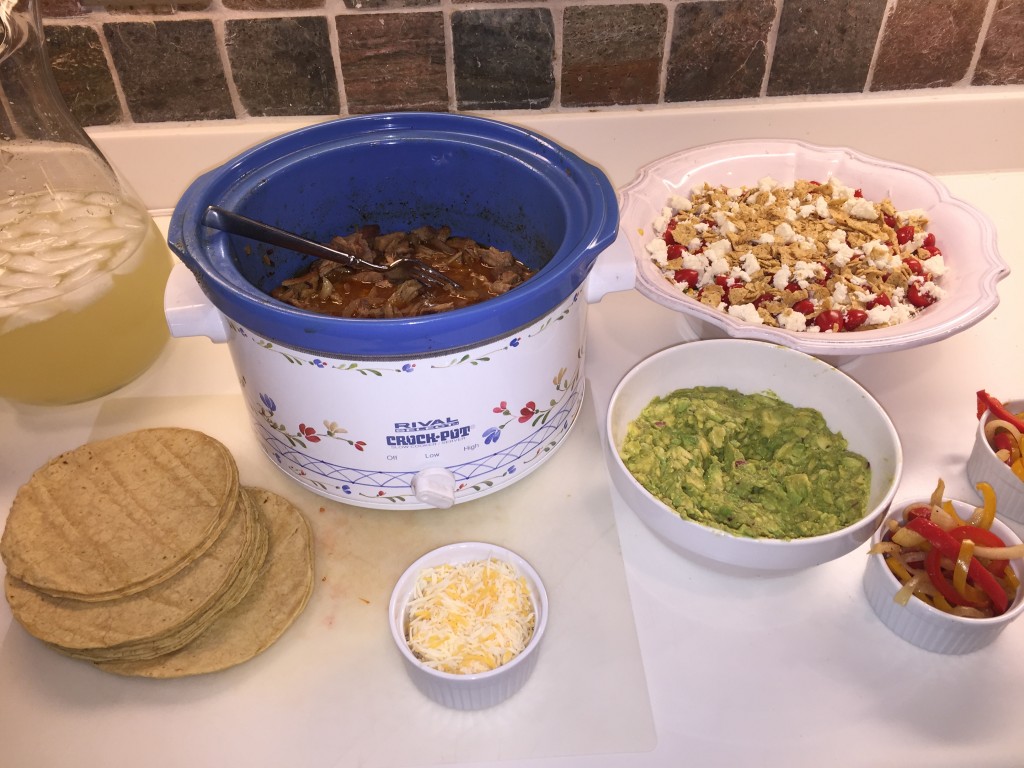 I will actually admit that I forgot that I had registered for a CrockPot when I got married almost 20 years ago. I didn't even really use it when I started my family because we went from bottle to baby food to chicken nuggets and macaroni and cheese. But then, those kids got bigger and we got busier, and then I dusted off the slow cooker and it's been a lifesaver ever since.
This slow cooker pulled pork recipe by Jennifer McKinney of Cottage Girl only uses a few fresh ingredients, along with some apricot jelly and some spices, and then a few hours later, you will be ready to host that fiesta! So, break out that slow cooker in the morning and invite some friends over in the evening – they will be very happy to help you devour these delicious CrockPot tacos!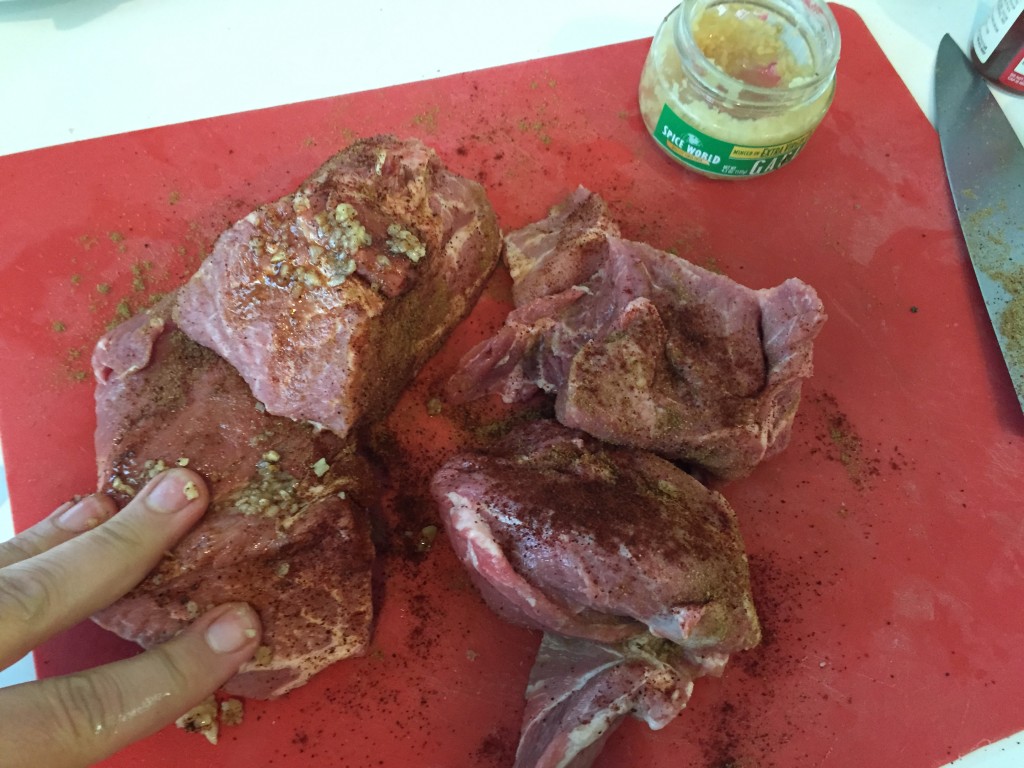 Take your 2 1/2 pound of pork shoulder (or pork butt) and cut it into smaller pieces to cook more evenly in the slow cooker. I like to cut any large pieces of fat from my pork shoulder, to make it a little more lean. After cutting into even pieces, then rub pork with chili powder, cumin and minced garlic.
 One of the reasons these tacos taste so good is that the meat is cooked slowly on top of a bed of chopped sweet onions. The onion base provides such a nice flavor and makes the meat so incredibly tender.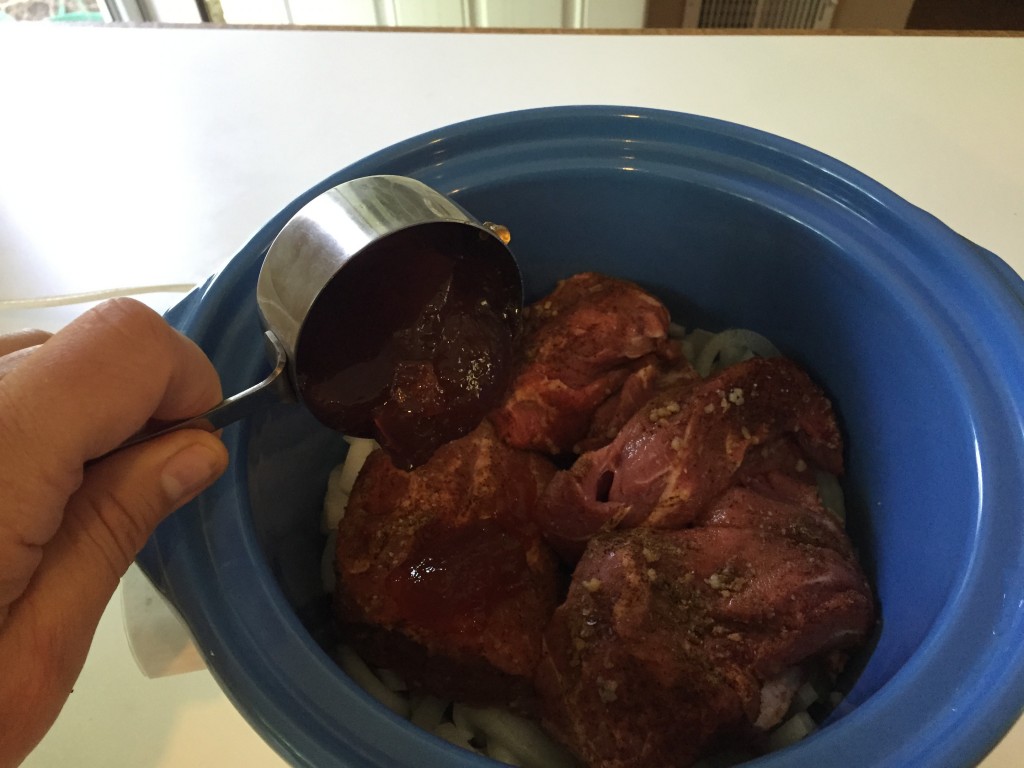 After placing the seasoned pork on top of the chopped onion, then I like to pour about a half cup of apricot jelly over the meat. The sweetness of the jelly balances the smokiness of the chili and the cumin perfectly. After pouring the jelly on top, then put the top on the crockpot and cook on the low setting for 3 to 3 1/2 hours. After the meat is finished, I strain out some of the onions (there are a lot!) and save most of the juices to heat the shredded pork in before serving. And I like to use my hands to pull the pork apart, but you can use of large fork to shred to pork, too.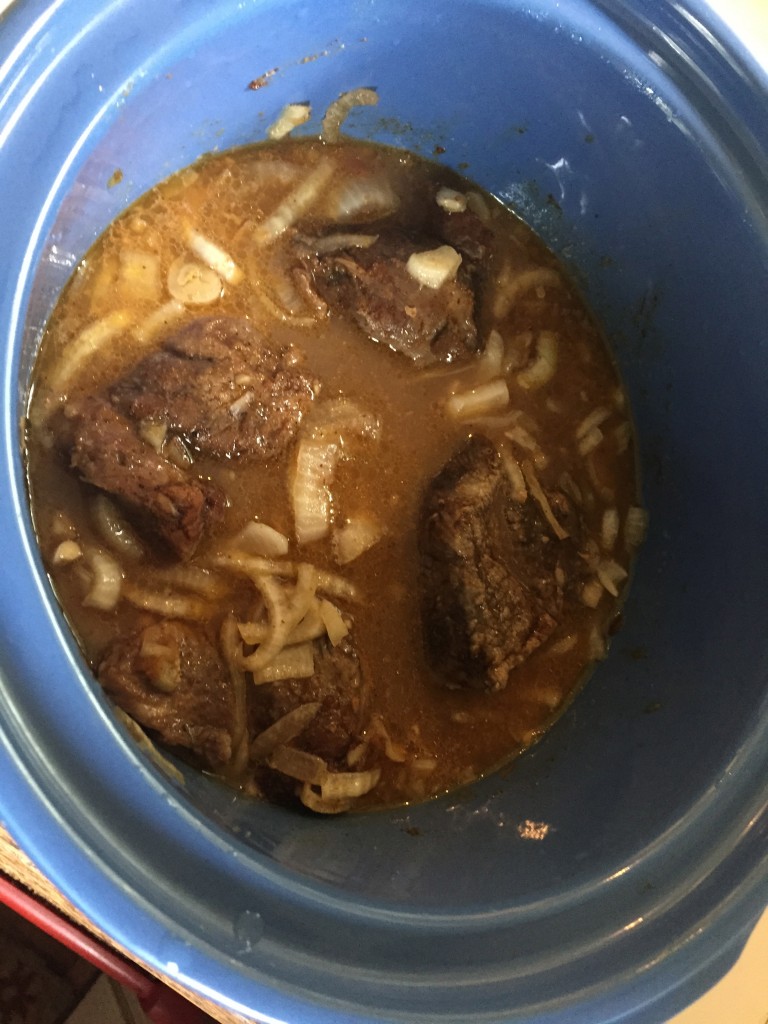 Slow Cooker Pulled Pork Tacos Recipe
Ingredients:

2 – 2 1/2 pounds pork shoulder
1/2 cup apricot jelly
1 T. cumin
2 T. chili powder
2-3 minced garlic cloves (about 1 t. minced garlic)
1 large chopped sweet onion (I used a Vidalia onion)
Salt and pepper to taste
Cilantro leaves
Instructions:
1. Coarsely chop the onion and place in the bottom of your slow cooker, turned to the low heat setting.
2. Cut the pork shoulder into 4 or 5 equal pieces, removing any large pieces of fat. Rub the spices and the garlic into the meat to season it before placing it over the chopped onions in the slow cooker.
3. Pour the apricot jelly over the meat, making sure it is evenly distributed around the pork.
4. Cover the slow cooker, making sure it is on the low setting and go take your dog for a walk or watch your son's baseball game or head to the pool.
5. After three hours, check on the pork to see if you can easily tear a piece away from one of the larger pieces. If not, then leave it in for another 30 minutes.
6. Take the pieces of pork out and let them cool on a plate or a cutting board. Discard some of the cooked onions, since you probably will not need to use all of them.
7. Once the pork is cool enough to touch, then shred each piece with your fingers or a large fork and place the shredded pork back into the slow cooker. You can leave it in there, turned off until your fiesta guests arrive, and then turn it back to low for about 30 minutes before serving.
I served my most recent batch with corn tortillas, shredded Colby Jack cheese, fresh cilantro, grilled onions and peppers and homemade guacamole – and there was absolutely nothing left! Enjoy!
What would you serve with these Slow Cooker Pulled Pork Tacos?
Latest posts by Jennifer McKinney
(see all)