Print This Post
Confession time. I am basically obsessed with pulled pork. I somehow got through most of my life without trying it, and when I finally bit into a pulled pork sandwich at a summer graduation party, it was INSTANT LOVE. The tender meat and the sweet BBQ flavor were so addicting. Ever since then, I will choose pulled pork whenever possible.
Choosing pulled pork off a restaurant menu can be risky (especially in the winter) and I learned quickly after eating some sad excuses for pulled pork that were dry or just gross. This is one of those meals that truly needs to be homemade, and preferably eaten in someone's backyard or at a picnic. You need that potluck ambiance to truly experience it!
It took me a while to realize that many people have their own pulled pork recipe, and there are MANY variations, although it's usually a pretty simple recipe. From tropical to Italian, there are fun twists you can put on pulled pork to spice things up. Not only that, but did you know you can make pulled pork in your slow cooker?! (You may have guessed from the title.) It's actually the best way to do it, because slow cooker pulled pork is SO tender and flavorful.
To ensure that you have the BEST BBQ EVER this year, we've rounded up our collection of slow cooker pulled pork recipes from AllFreeSlowCookerRecipes.com. Enjoy!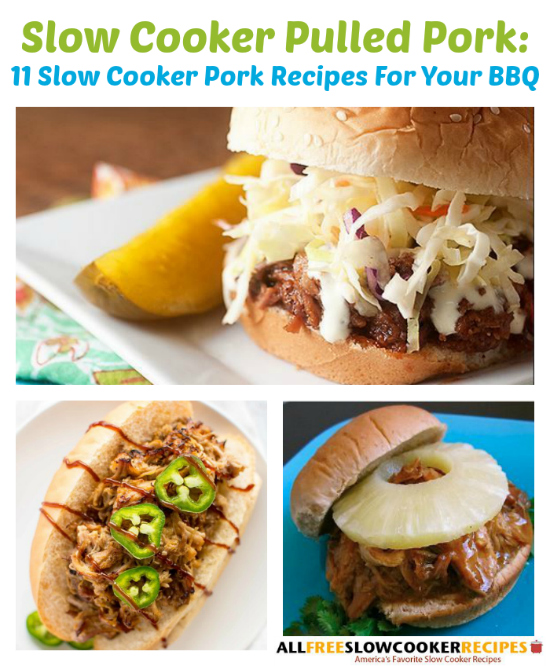 Slow Cooker Pulled Pork: 11 Slow Cooker Pork Recipes For Your BBQ
What's the best side dish for slow cooker pulled pork?
AllFreeSlowCookerRecipes is dedicated to the best slow cooker recipes and cooking tips. From easy slow cooker dinner recipes to slow cooker dessert recipes with cake mix, we find and deliver the best slow cooker recipes from all over the web. Plus, we feature free product reviews and giveaways of all the latest and greatest products including slow cookers, cookware and cooking gadgets of all sorts, cookbooks, food, and more. AllFreeSlowCookerRecipes is a wonderful online resource for cooking enthusiasts of all skill levels.
Latest posts by AllFreeSlowCookerRecipes (see all)
Print This Post