Blackberries, blueberries, cherries, peaches, raspberries, strawberries, watermelon: could you guess what all of these things have in common? The answer: They are all summer fruits of course! While that list may have been extensive, we couldn't afford to leave any of these delicious summer fruits out! Whether you are laying by the pool, making snacks for the kids, or whipping up dinner for the family, summer cuisine seems to revolve around fresh fruit.
Using your slow cooker to help you put these juicy treats to use this summer not only keeps you from turning on that dreaded, hot oven, but it also makes meal prep, cooking and clean-up a breeze. Why waste your time in the kitchen when the sun is shining outside? Use these slow cooker summer recipes to take full advantage of the season and fill your families' bellies with fresh and flavorful fare.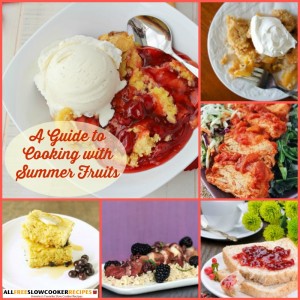 Fruity Breakfast Recipes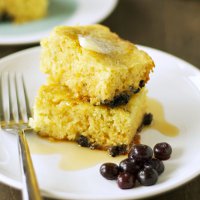 Must-Make Blueberry Vanilla Pancakes (shown right): Blueberries are especially plump and delicious during the summer months, so try whipping up these slow cooker blueberry pancakes to put the little fruits to good use.
Two-Step Strawberry Jam: This slow cooker jam recipe is so fresh that it will taste like you just picked the strawberries (hey, maybe you did!).
Two-Hour Lemon Poppy Seed Bread: Citrus is the perfect light and sunny ingredient to use in summer recipes like this lemon poppy seed bread.
Dinner Recipes with Fruit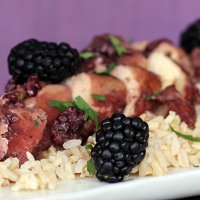 Slow Cooker Peach BBQ Pork: The peach flavors in this barbecue pork recipe gives the dish a perfect sweet and savory balance.
Slow Cooker Blackberry Chicken (shown right): Blackberries are at their best during the summer, so try making this recipe to wow your guests with the fruits' flavor.
All-Day Coconut Lime Chicken: This recipe combines lime, coconut and pineapple flavors for a dish that just screams summer.
Easy Fruit Desserts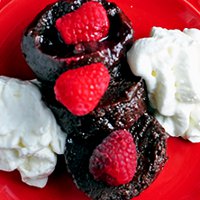 Chocolate Raspberry Mason Jar Brownies (shown right):The raspberries in this recipe enhance the decadence of the chocolate brownies and will make you want to lick your plate (or mason jar) clean.
Three-Ingredient Slow Cooker Cherry Cobbler: Serving this warm cobbler with a scoop of vanilla ice cream is the perfect way to end any summer day.
Cake Mix Peach Cobbler: Juicy peaches make this slow cooker peach cobbler recipe simply irresistible.
Summery Smoothies and Sippers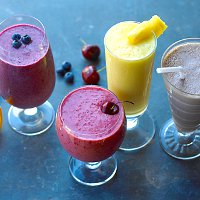 Check out organicgardening.com to find delicious smoothie recipes that utilize each season's best ingredients.
Having a summer party? Use this watermelon mimosa recipe (shown top) to kick things off the right way. Make a pitcher or two and enjoy sippin' on a little bit of sweet summertime as the sun goes down.
What is your favorite summer fruit to cook with?
Latest posts by AllFreeSlowCookerRecipes
(see all)