Welcome to Day 3 of Slow Cooker Week! Visit our blog every day during our 7-day Slow Cooker Week to get great winter and holiday slow cooker recipes, and for a chance to win a Hamilton Beach 6 Quart Programmable Stovetop Slow Cooker. Find the contest rules and enter below. A comment on this post will grant you an extra entry to win the Hamilton Beach slow cooker. To find all of our posts during Slow Cooker Week click here.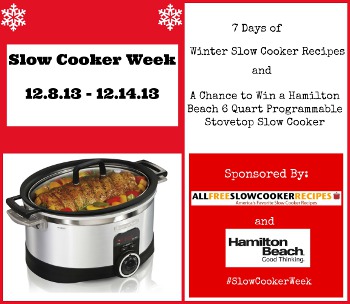 This guest post comes to us from Featured Foodie Erin Schmit. Erin is the blogger behind Table for Seven. Thanks, Erin, for your great slow cooker dessert recipe.
Chocolate Walnut Bread Pudding
Hello, I'm Erin from Table for Seven.  I'm so glad to be part of Slow Cooker Week here at RecipeChatter.com!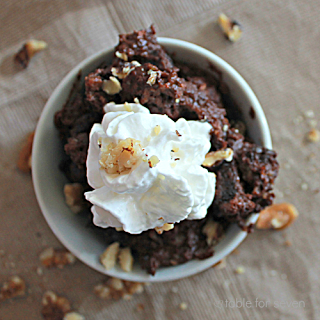 My slow cooker gets quite a work out on a regular basis.  It's so incredibly versatile and being that my household never slows down, it  has been a lifesaver on more than one occasion. Breakfast, lunch, dinner, desserts… you name it, it probably has been made in my slow cooker.  I'm actually hoping Santa brings another one this year, just to keep up with all of it. 🙂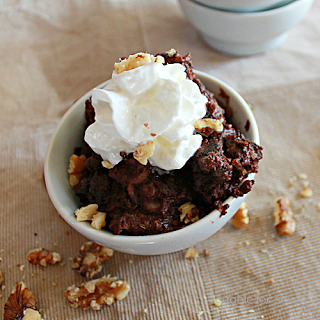 With the holidays season upon us, it's getting even more use than ever.  Today, I'm sharing a recipe that is perfect for the holidays.  Chocolate Walnut Bread Pudding in your slow cooker.   It's a delicious, soft, chocolaty dish that will warm you and your kitchen up in the cold weather.  It's also a breeze to make and won't keep you in the kitchen and away from all the holiday festivities.
Take one bite, then, the chocolate hits your taste buds and you will just keep wanting to go back for more. Top it off with a bit of whipped cream and some more walnuts, and you'll have a beautiful, warm dessert for your holiday party.
Enjoy!
Chocolate Walnut Bread Pudding
Prep Time: 30 minutes
Cooking Time:  3 hours on LOW
Serves: 6 to 8
Ingredients:
5 cups cinnamon bread, cubed
3 cups milk
3/4 cup unsweetened cocoa powder
3 eggs
1/2 cup chopped walnuts
3/4 cup chocolate chips
1/4 cup sugar
Instructions:
In a medium saucepan, over low heat, heat milk.
Add in chocolate chips and cocoa powder. Continue cooking until chocolate is melted.  Let mixture cool for 10 minutes.
In a mixing bowl, lightly beat eggs.  Add in cooled chocolate mixture. Stir in bread cubes and walnuts lightly.
Pour into a greased slow cooker.
Cover and cook on LOW 2 to 3 hours or until knife inserted is clean.
Remove lid and turn off slow cooker.  Let it cool for 30 minutes before serving.
Check out Erin's blog, Table for Seven, for more great slow cooker recipe ideas.
What's your favorite flavored bread pudding?
Official Contest Rules: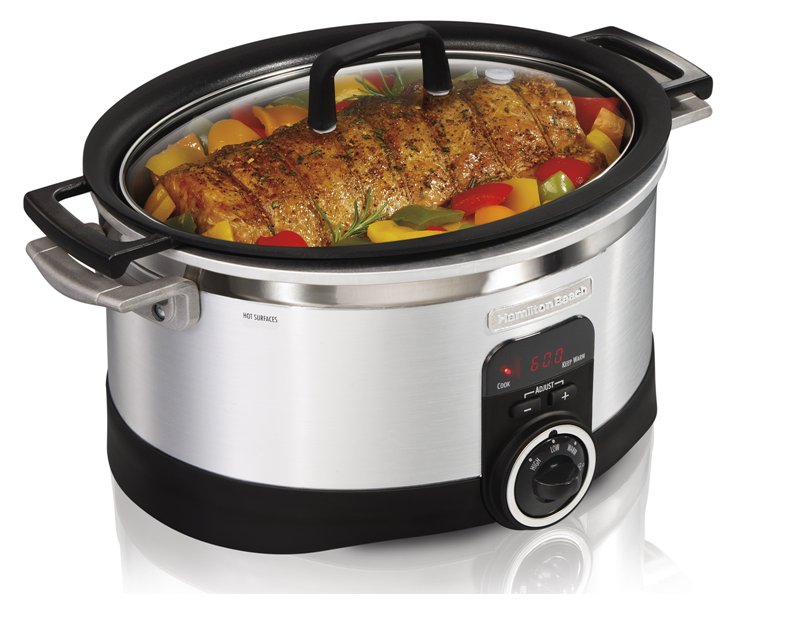 There is a maximum of one entry per person per day on AllFreeSlowCookerRecipes.com via our web site entry form.
Earn a bonus entry each day by commenting on each daily blog post during Slow Cooker Week (1 per day).
Winner will be selected at random from the comments on the seven daily Slow Cooker Week blog posts and site entries.
You have until December 14th, 2013 at 11:59p EST to leave your comment on this post and/or enter our contest via AllFreeSlowCookerRecipes.com.
Contest open to anyone 18+ in US and/or Canada.
To gain an extra entry for the Hamilton Beach 6 Quart Programmable Stovetop Slow Cooker, comment on today's post below. One blog comment per day is permitted, in addition to one entry on AllFreeSlowCookerRecipes.com. You must enter our giveaway on AllFreeSlowCookerRecipes.com to be considered for the prize. A comment on this post will grant you an extra entry.
Latest posts by AllFreeSlowCookerRecipes
(see all)