Welcome to Day 4 of Slow Cooker Week! Visit our blog every day during our 7-day Slow Cooker Week to get great winter and holiday slow cooker recipes, and for a chance to win a Hamilton Beach 6 Quart Programmable Stovetop Slow Cooker. Find the contest rules and enter below. A comment on this post will grant you an extra entry to win the Hamilton Beach slow cooker. To find all of our posts during Slow Cooker Week click here.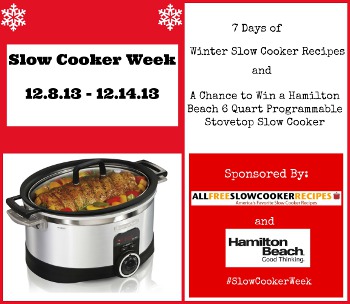 This guest post comes to us from blogger Olivia Smith. Olivia is the blogger behind Cooking with Libby. Thanks, Olivia, for your great slow cooker breakfast recipe.
Slow Cooker Vegetable Three Cheese Frittata
Christmas is almost here and I cannot think of anything better then having such a simple and healthy dish like this to eat over the holidays.
This recipe has everything you need to get your morning started.  You have your eggs for protein, your cheeses for dairy, and your spices to kick up it a notch.  We love it because it is the perfect way to use up left over vegetables before they even have a chance to go bad.
Have some leftover broccoli?  Add it in there.  Have an onion you need to use up?  Toss that in as well.  Basically any type of veggie will work in this recipe. This dish is a veggie-lovers dream come true….in the slow cooker. 🙂
You can add meat if you want, however, my family thinks it tastes just fine without it.
Another added bonus…..it will make your house smell delightful.  Don't be surprised if your neighbors start knocking on the door to ask what's cooking in your kitchen. 🙂
Complete slow cooker nirvana….yummmm!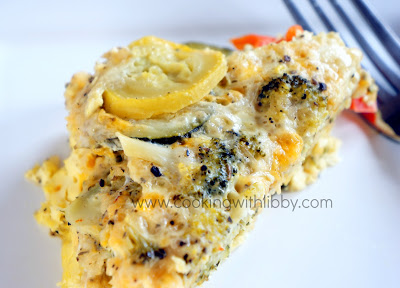 Slow Cooker Vegetable Three Cheese Frittata
Serves 6
Ingredients:
1 cup zucchini, thinly sliced
1 cup yellow squash, thinly sliced
1 red bell pepper, seeded and chopped
2 cloves of garlic, minced
2 tablespoons olive oil
1 cup broccoli florets, fresh or frozen
8 large eggs, beaten
1/2 cup mozzarella cheese, shredded
1/2 cup sharp Cheddar cheese, shredded
1/2 cup Parmesan cheese, shredded
1 teaspoon dried Italian seasoning
1 teaspoon salt
1 teaspoon ground black pepper
Instructions:
1.  In a frying pan over medium heat, saute zucchini, squash, bell pepper, garlic, olive oil, and broccoli until they are soft.
2.  Combine the mozzarella, Cheddar, and Parmesan cheeses with the beaten eggs in a medium bowl with a whisk.  Add the Italian seasoning, salt, and pepper.  Whisk until well combined.
3.  Spray the slow cooker with nonstick spray and add the veggies.  Top with the egg-cheese mixture.  Stir until well-combined.
4.  Cook on HIGH for 2 to 3 hours or on LOW for 4 to 6 hours.
Visit Olivia's blog, Cooking with Libby, for more great Christmas recipes.
What's your favorite ingredient to put in a breakfast casserole?
Official Contest Rules: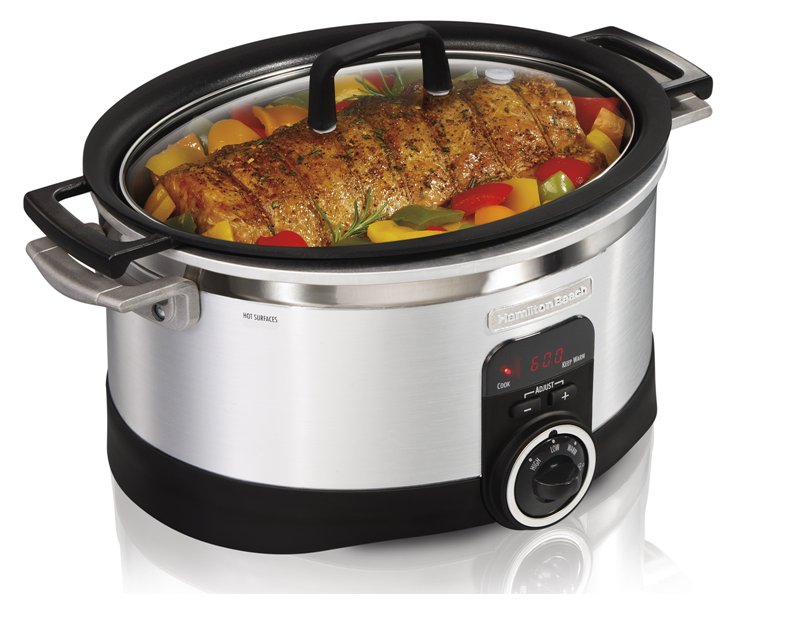 There is a maximum of one entry per person per day on AllFreeSlowCookerRecipes.com via our web site entry form.
Earn a bonus entry each day by commenting on each daily blog post during Slow Cooker Week (1 per day).
Winner will be selected at random from the comments on the seven daily Slow Cooker Week blog posts and site entries.
You have until December 14th, 2013 at 11:59p EST to leave your comment on this post and/or enter our contest via AllFreeSlowCookerRecipes.com.
Contest open to anyone 18+ in US and/or Canada.
To gain an extra entry for the Hamilton Beach 6 Quart Programmable Stovetop Slow Cooker, comment on today's post below. One blog comment per day is permitted, in addition to one entry on AllFreeSlowCookerRecipes.com. You must enter our giveaway on AllFreeSlowCookerRecipes.com to be considered for the prize. A comment on this post will grant you an extra entry.
Latest posts by AllFreeSlowCookerRecipes
(see all)