Welcome to Day 6 of Slow Cooker Week! Visit our blog every day during our 7-day Slow Cooker Week to get great winter and holiday slow cooker recipes, and for a chance to win a Hamilton Beach 6 Quart Programmable Stovetop Slow Cooker. Find the contest rules and enter below. A comment on this post will grant you an extra entry to win the Hamilton Beach slow cooker. To find all of our posts during Slow Cooker Week click here.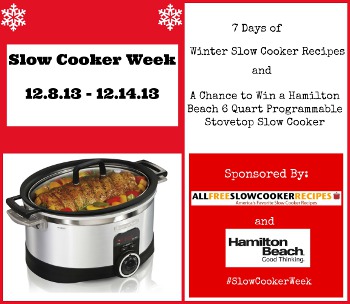 This guest post comes to us from blogger Amanda Carlisle. Amanda is the blogger behind Moms with Crock Pots. Thanks, Amanda, for your great slow cooker dessert recipe.
Slow Cooker Cherry Dump Cake
Christmas is such a magical time of year that is full of family and friends. Don't forget the food! Everyone loves a big Christmas dinner and those holiday baked goods will throw any diet off track. I don't know about you, but I would rather spend my time visiting and enjoying the spirit of the holiday than in the kitchen. Let your slow cooker do the work. Instead of pie, try this Slow Cooker Cherry Dump Cake. It is just as delicious, with none of the work.
It seriously took my less than 5 minutes to put this in my slow cooker and get it started. Three hours later, amazing deliciousness! If you prefer apple or any other pie filling, just switch them out.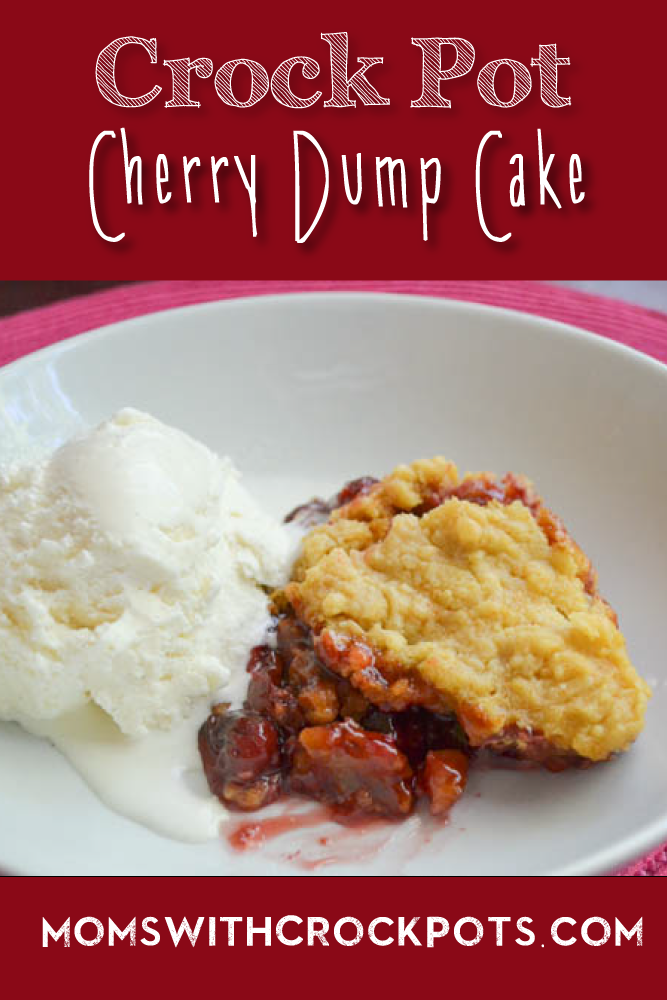 Slow Cooker Cherry Dump Cake
Prep Time:
Cook Time:
Total Time:
Serves:
8 to 10
Ingredients:
1 box yellow cake mix (or this homemade cake mix)
1 can cherry pie filling (or filling of your choice)
1/4 cup melted butter or margarine
Instructions
Dump 1 can of cherry pie filling into large slow cooker. Spread out evenly.
Top with dry cake mix.
Then drizzle melted butter over the top.
Cover and cook on low for 2-1/2 to 3 hours.
Serve warm with ice cream
Note: To make this dairy-free, use margarine or coconut oil instead of butter and dairy-free cake mix.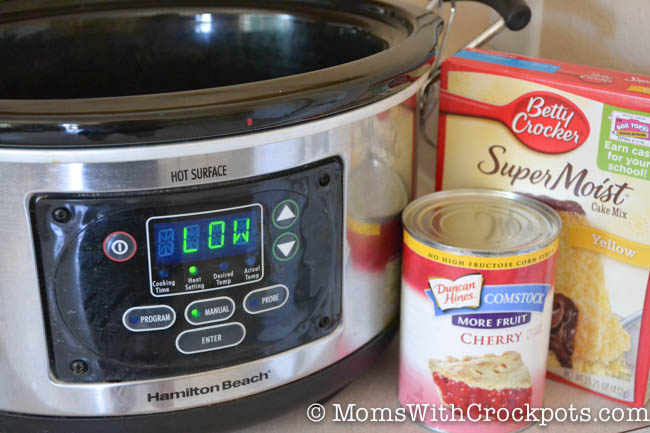 You are going to want to use a larger slow cooker for this recipe. Mine is a 6-quart slow cooker.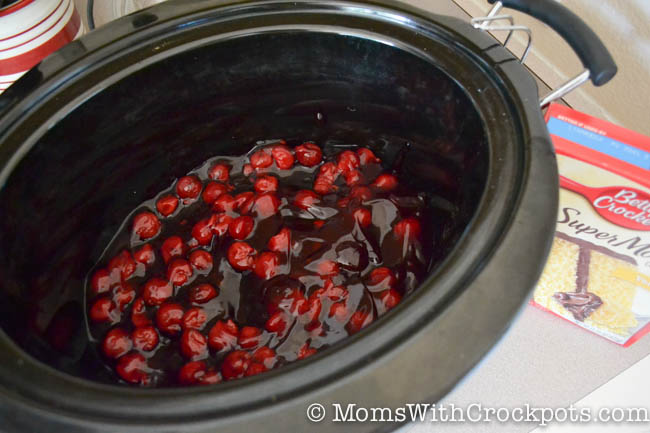 Open the can of pie filling and spread it out over the bottom of the slow cooker.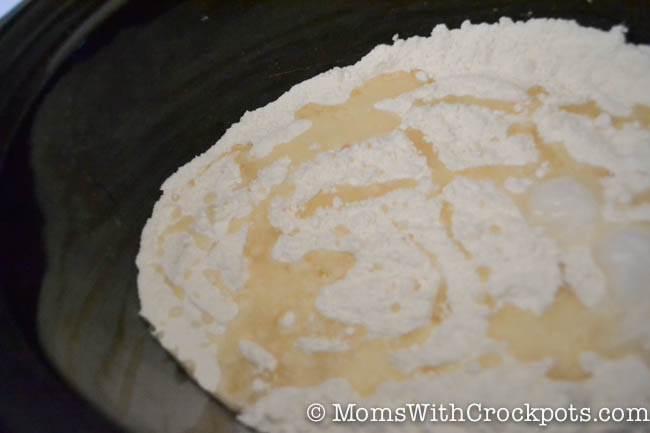 Top with the dry cake mix and then drizzle the melted butter or margarine over the top.
Cover and let it do it's thing for 2-1/2 to 3 hours on LOW. DO NOT OPEN THE LID. Every time you open the lid you are releasing heat and moisture. Increasing the dryness and the cook time.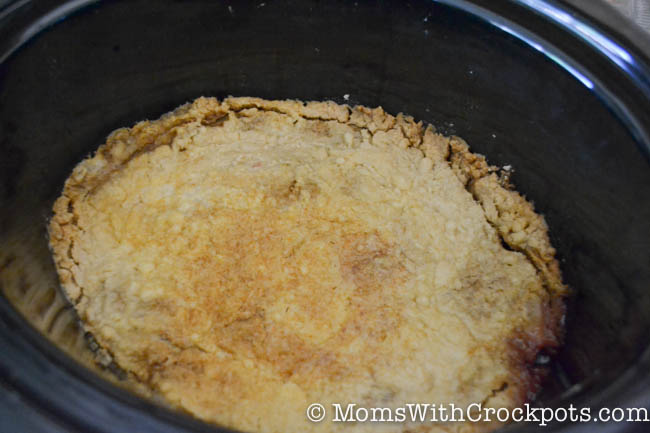 When you come back, it should look like this.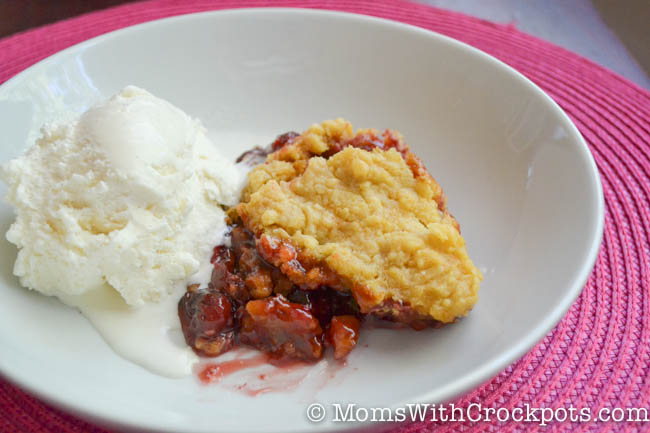 Spoon and serve with some ice cream! YUM
You can check more of Amanda's desserts on her blog, Moms with Crock Pots. You can also find Amanda's recipes on Facebook.
What is your favorite type of fruit pie filling?
Official Contest Rules: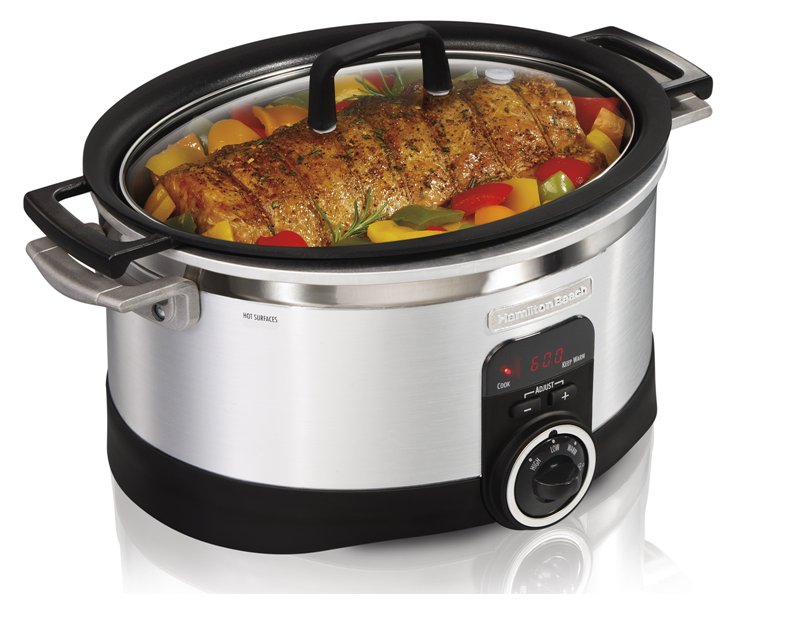 There is a maximum of one entry per person per day on AllFreeSlowCookerRecipes.com via our web site entry form.
Earn a bonus entry each day by commenting on each daily blog post during Slow Cooker Week (1 per day).
Winner will be selected at random from the comments on the seven daily Slow Cooker Week blog posts and site entries.
You have until December 14th, 2013 at 11:59p EST to leave your comment on this post and/or enter our contest via AllFreeSlowCookerRecipes.com.
Contest open to anyone 18+ in US and/or Canada.
To gain an extra entry for the Hamilton Beach 6 Quart Programmable Stovetop Slow Cooker, comment on today's post below. One blog comment per day is permitted, in addition to one entry on AllFreeSlowCookerRecipes.com. You must enter our giveaway on AllFreeSlowCookerRecipes.com to be considered for the prize. A comment on this post will grant you an extra entry.
Latest posts by AllFreeSlowCookerRecipes
(see all)