Welcome to Day 7 of Slow Cooker Week! Visit our blog every day during our 7-day Slow Cooker Week to get great winter and holiday slow cooker recipes, and for a chance to win a Hamilton Beach 6 Quart Programmable Stovetop Slow Cooker. Find the contest rules and enter below. A comment on this post will grant you an extra entry to win the Hamilton Beach slow cooker. To find all of our posts during Slow Cooker Week click here.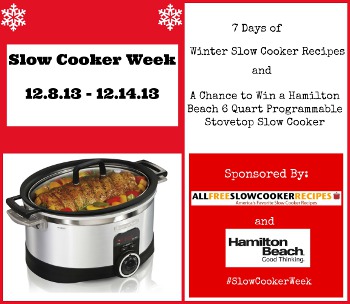 This guest post comes to us from Featured Foodie Hope Comerford. Hope is the blogger behind A Busy Mom's Slow Cooker Adventures. Thanks, Hope, for your great slow cooker recipe ideas for the holidays.
Top 7 Slow Cooker Recipes for the Holidays
Many of us are completely overwhelmed at the thought of planning a menu for the holidays.   What am I going to make?  How am I going to fit it all in the oven? How is the timing of everything going to work out? Sure, it can be an extremely daunting task, but the rewards are so much greater.  By utilizing your slow cookers, you'll be able to put these worries to rest!  I've gathered my top 7 slow cooker holiday recipes for you, from main dishes, to side dishes and desserts!  Don't worry!  This holiday will be a breeze!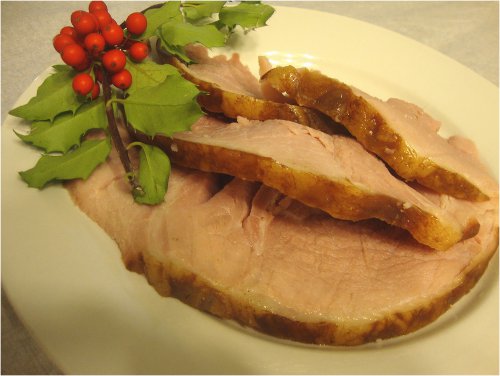 1. Traditional Turkey Breast
Most large slow cookers can handle up to a 7-pound turkey breast.  If you're expecting a smaller crowd, this is the perfect turkey for you!  Save your oven for those pies!
2. Brown Sugar and Honey Ham
Did you know you can cook a delicious ham in the slow cooker?  It's incredibly easy!  You only need 4 ingredients!
3.  Green Bean Casserole
I know my family holiday gatherings are not complete without the green bean casserole!  This one is delicious and won't take up that precious oven space.
4. Creamy Chive and Onion Mashed Potatoes
I've always overcooked my potatoes, or the water has boiled over on my stove because I have too many things going on the day of my holiday celebration.  You won't have to worry about that when you use your slow cooker.  Find out just how easy it is!
5. Decadent Sweet Potato Casserole
This is my favorite side dish for the holidays.  It's decadent, just like it's namesake.  It's a must-have!
6. Hope's Sweet and Savory Stuffing
The holidays just are not complete without stuffing.  This one mixes a bit of the sweet with a little bit of the savory.  Best of all, it has incredible flavors!
7. Irish Cream Brownies with Heath
End you holiday meal with these delicious brownies infused with Irish cream liqueur and crunchy Heath bars.  Everyone will ask for the recipe!
Free up that oven space and get those slow cookers plugged in and ready!  Make things easier on yourself and assemble all your recipes the night before.  Stick your crocks in the fridge and pull them out the day of, and put them into the slow cooker base.  Set timers for yourself, or keep a list of when you start things and when you should turn each slow cooker to warm.  Organization is the key to a successful slow-cooked holiday!  Now, sit back and relax!  You've got this!
What holiday dish might you try preparing in your slow cooker this year?
Official Contest Rules: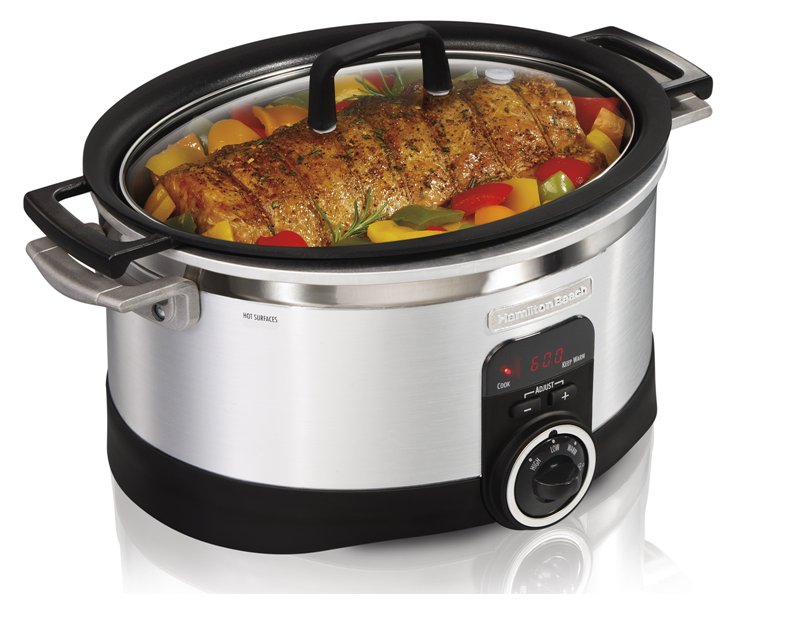 There is a maximum of one entry per person per day on AllFreeSlowCookerRecipes.com via our web site entry form.
Earn a bonus entry each day by commenting on each daily blog post during Slow Cooker Week (1 per day).
Winner will be selected at random from the comments on the seven daily Slow Cooker Week blog posts and site entries.
You have until December 14th, 2013 at 11:59p EST to leave your comment on this post and/or enter our contest via AllFreeSlowCookerRecipes.com.
Contest open to anyone 18+ in US and/or Canada.
To gain an extra entry for the Hamilton Beach 6 Quart Programmable Stovetop Slow Cooker, comment on today's post below. One blog comment per day is permitted, in addition to one entry on AllFreeSlowCookerRecipes.com. You must enter our giveaway on AllFreeSlowCookerRecipes.com to be considered for the prize. A comment on this post will grant you an extra entry.
Latest posts by AllFreeSlowCookerRecipes
(see all)