My Mom's Slow Cooker Stuffing is an easy twist on the classic family-favorite recipe that has been served at Thanksgiving for over 30 years! Full of rich flavor from sausage, oysters, and mushrooms, this decadent holiday side dish is the perfect companion for a tender and juicy turkey!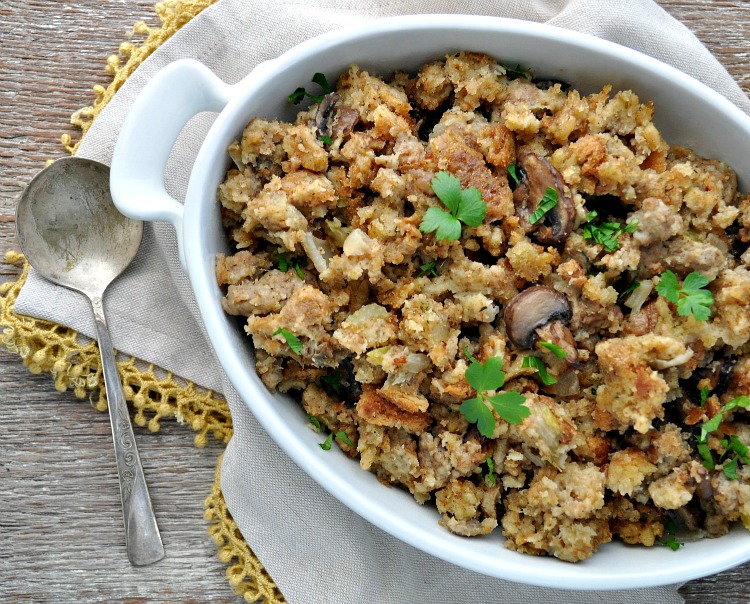 Hi, friends! I'm so glad to be back visiting you from The Seasoned Mom! Since we are officially in holiday mode, I thought that it would be the perfect time to share one of our family's absolute favorite Thanksgiving sides today. However, as usual, I have added my own spin on the dish by making it even easier!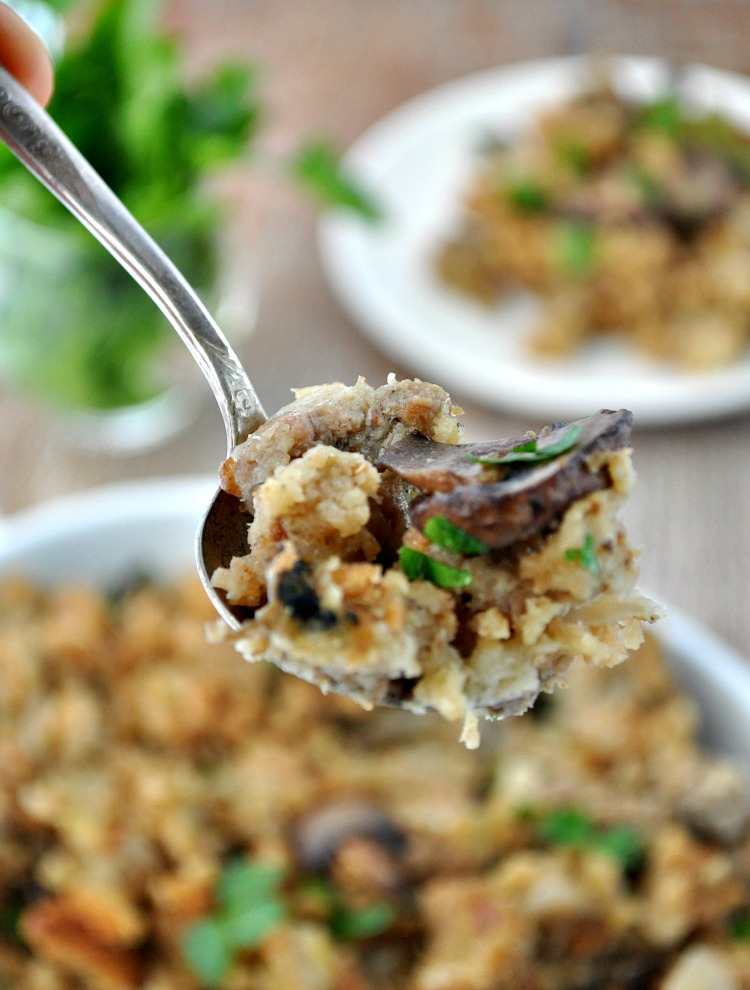 Since we are often juggling multiple recipes and crowding our oven with a variety of casseroles and baked goods on Thanksgiving and Christmas, I wanted to give my mom's traditional stuffing recipe a try in the slow cooker. And you know what? It turned out even better than I would have imagined!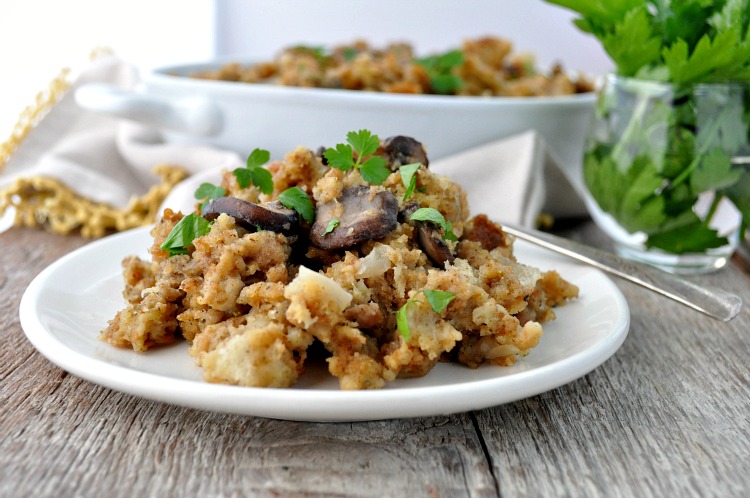 The Crock Pot cooks the dressing slowly and keeps it moist and fluffy! But don't worry — you still get those nice and crispy, crusty edges that we all love in a traditional casserole!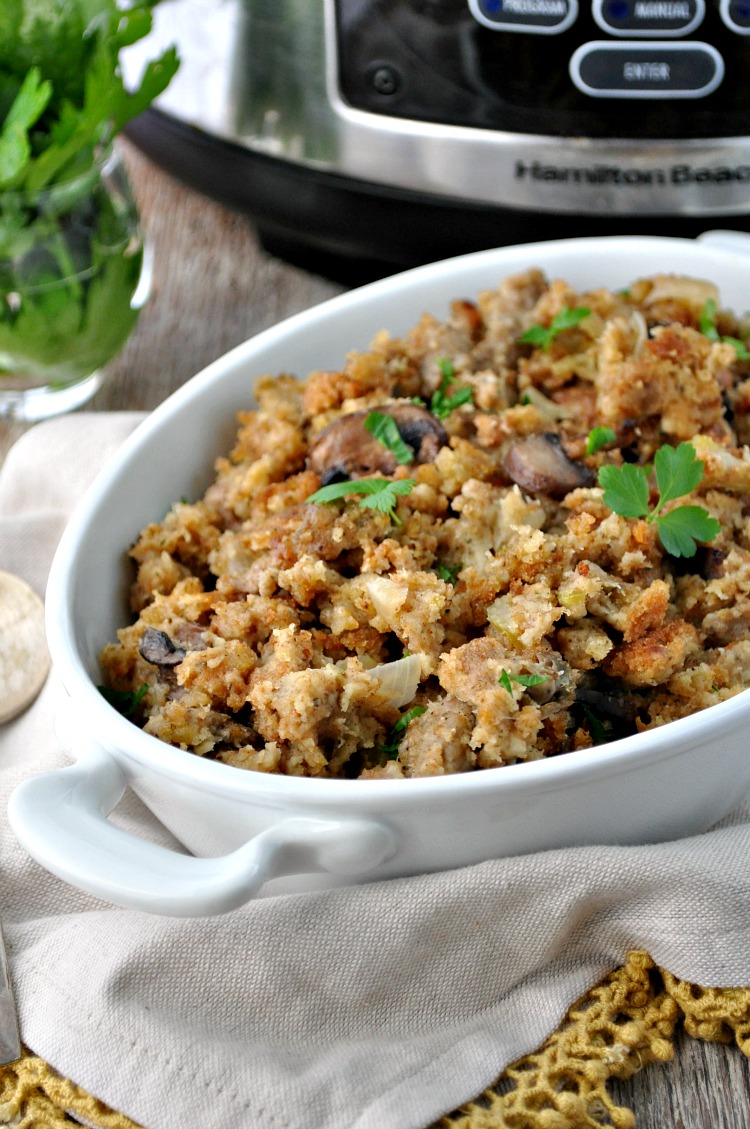 You can go about your hectic holiday routine with one less worry as this rich and hearty side dish gently simmers on your countertop. Enjoy the time with your family and friends and focus on what's important – this Slow Cooker Stuffing will be patiently waiting for you when you're ready to enjoy it!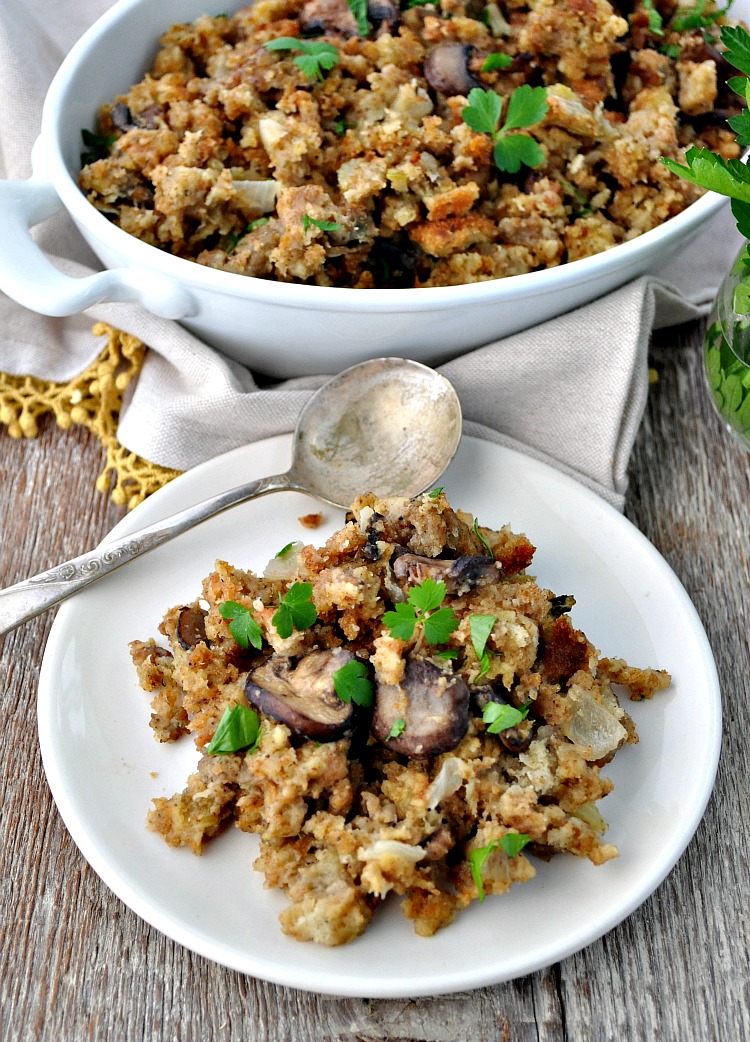 MOM'S SLOW COOKER STUFFING
Serves: 10-12
Prep: 20 mins
Cook: 4 hours
Ingredients
1 pound bulk pork sausage
1 large onion, diced
2 celery ribs, diced
1 (8 ounce) package sliced mushrooms
1 (14 ounce) package dry herb-seasoned stuffing mix (we use Pepperidge Farm brand)
1 (14.5 ounce) can low-sodium chicken broth
½ cup finely diced oysters, plus 2 tablespoons of the reserved liquid from the oysters (I used about half of the oysters in a pint jar)*
2 eggs, lightly beaten
1 stick butter, melted
Directions
In a large skillet, cook sausage, onion, celery, and mushrooms until meat is no longer pink, breaking up the sausage with a wooden spoon as it cooks; drain.
Transfer sausage and vegetables to a 5-6 quart slow cooker that has been sprayed with cooking spray. Stir in remaining ingredients.
Cover and cook on low for 4 hours, stirring about once every hour (or so) if you are able to.
*Note: if you don't love the taste of oysters, or if you are serving this to someone who has a shellfish allergy, you can easily just omit them from the dish!
Looking for other delicious side dishes? Try these Cheddar, Chive & Bacon Biscuits; a Butternut Squash Salad with Candied Nuts; or this Bacon Mushroom & Onion Green Bean Casserole.
What's one of your favorite holiday side dishes? Is there a family classic that you make every single year? 
Latest posts by Blair Lonergan
(see all)