Hot fudge sundaes are served in every diner across the country, and seriously underrated. Sure, you can get a cookie-dough-brownie-gummy-worms-whatever mixed up at any corner ice cream shop, but when's the last time you ordered this classic? Just wait til you see our twist on the classic hot fudge sundae recipe.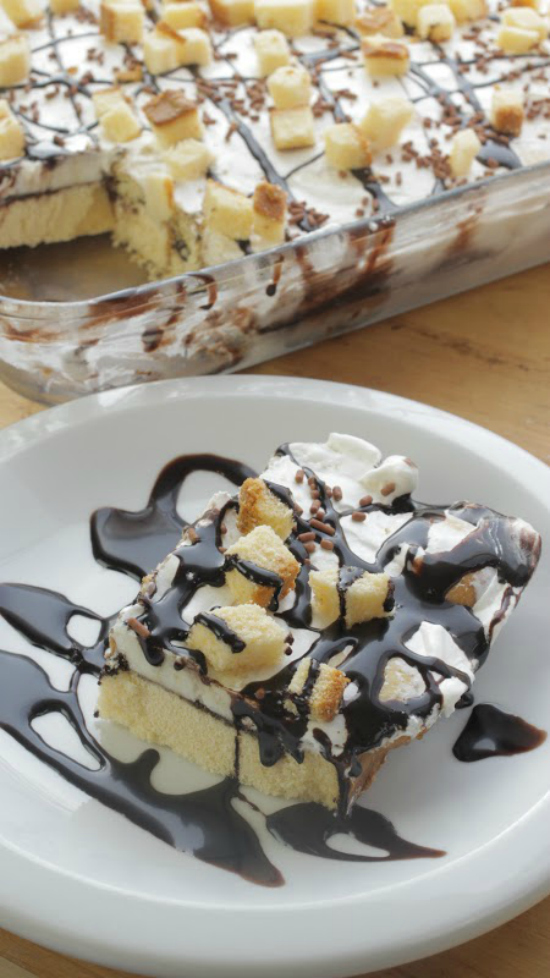 Do you remember the first time you had a hot fudge sundae? It's seriously addicting to kids, as the most heavenly combination of dessert flavors and textures. It's so easy, too. A basic hot fudge sundae is vanilla ice cream (hopefully home-style) topped with hot fudge, chopped peanuts and a cherry on top. This is the easy dessert recipe of simpler times, when kids hung out at the local soda shop. They'd follow up a hamburger and fries with a milkshake or a delicious hot fudge sundae. We still get a bit of that atmosphere at drive-up restaurants like Dog 'N' Suds or Steak 'n' Shake (basically, if it has an 'n' in the name, you're good to go).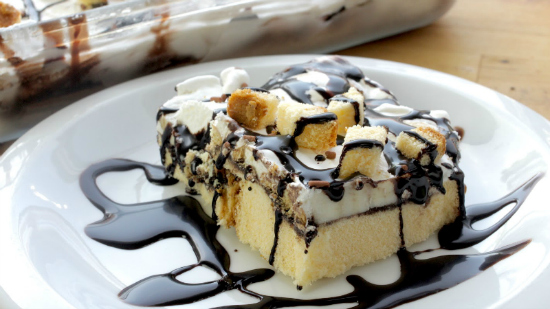 This layered dessert recipe by Lainey Liz of Simply Bakings takes classic hot fudge sundae flavors to the next level. Now, you can easily make hot fudge sundaes for a crowd! Just follow this easy dessert recipe for Hot Fudge Sundae Lasagna with a pound cake crust. It's a quick and easy dessert, perfect for summer potlucks and parties. Check out Lainey's video on how to make a How Fudge Sundae lasagna.
If you love dessert lasagnas, be sure to check out our Vanilla Dessert Lasagna and Banana Split Lasagna!
Hot Fudge Sundae Dessert Lasagna Recipe
Ingredients
1 loaf pound cake
hot fudge syrup
1 banana
20-25 cookie wafers
1 (16oz) whipped topping
sprinkles
Instructions
In a 9×13 inch pan cut the pound cake lengthwise and cover the bottom of the pan
Drizzle  the hot fudge syrup on top of the pound cake and then layer the bananas and the cookie wafers.
Add the whipped topping and evenly coat the lasagna.  With the extra pound cake, dice the pound cake and sprinkle on top of the whipped topping, then drizzle the hot fudge syrup.
What's your favorite ice cream flavor?
Latest posts by RecipeChatter
(see all)