Halloween is almost here! Can you believe it? It's definitely one of our all-time favorite holidays (thanks in large part to the fact that a lot of the day revolves around candy). While we look forward to Halloween every year, the anticipation has just been killing us this year. There were only so many ways we could decorate our homes and offices, and only so many Halloween dessert recipes we could make for our family before we needed another outlet for our enthusiasm.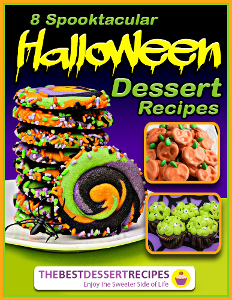 Thus,
8 Spooktacular Halloween Dessert Recipes
was born! In this free eCookbook, we've taken our favorite recipes for Halloween, organized them into chapters, and electronically "bound" them together so that we could share them with you! This book has a variety of really festive and colorful cookies, cakes, and treats that will take your Halloween from fun to fantastic. Make sure to scroll down a bit to catch a sneak peek of each chapter and some of the great desserts you'll find inside of
8 Spooktacular Halloween Dessert Recipes
!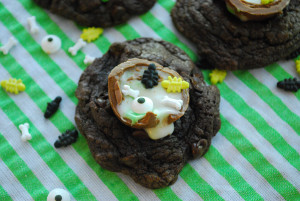 Cookies are quite the best option for dessert for each and every occasion. They're not only easy to make, but also really easy and fun to decorate with frostings, food dyes, candies, or sprinkles. All of the cookies in this chapter of 8 Spooktacular Halloween Dessert Recipes (including the Spooky Witches Stew Cookies shown here) are so incredibly colorful, you won't believe your eyes!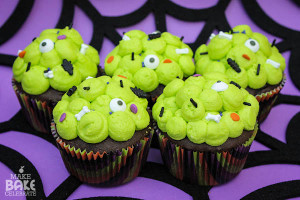 Everyone loves cake, so why not serve it for dessert on or around Halloween? The recipes in this Halloween cake chapter are pretty easy to make and even easier to share with friends and family. We think you're especially going to enjoy the Frighteningly Delightful Slime-Filled Cupcakes. They look like a mad scientist's experiment gone wrong (on purpose of course), but they're so fun to eat!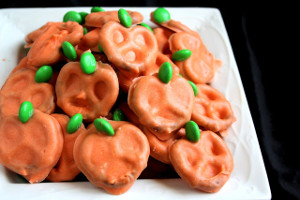 Let's face it: not many of us want to bake for Halloween. That's why we load up on bags of candy. We don't have to make them and they provide instant gratification. We totally get it. However, if you're looking for hassle-free recipes for Halloween, you'll definitely want to check out this chapter. The recipes may not be as easy as unwrapping a candy bar, but they're actually pretty darn close.
Do you have a favorite Halloween dessert recipe? If so, what is it?
Latest posts by TheBestDessertRecipes
(see all)