With spring just around the corner, it's time to do your annual purge, clearing out those old clothes you never wear anymore, those old magazines shoved off into the corner, and of course, clearing out the pantry. It's such a shame to throw away food just because you don't think you'll eat it. It's always great to give some of your unwanted items away to your local food pantry, but sometimes, that box of cake mix you bought ages ago could still turn into one fine dessert. Or perhaps that leftover can of cream of mushroom soup could be used to make a fantastic casserole! We love these pantry recipes because we get a tasty meal, and we get to clean out our cabinets. Win, win!
Recipes Using Cake Mix
Cake mix recipes are some of our favorites, especially when making cookies. You get a softer texture with only half the work!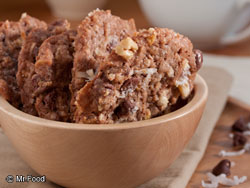 Chocolate Coconut Crunchers
Hokey Pokey Cake
Lemon Macadamia Cake
Recipes Using Pie Filling
Pie filling isn't just great with pies; you can use it for cakes and other desserts too! As summer quickly approaches, check out some of our favorite fruity ways to make dessert.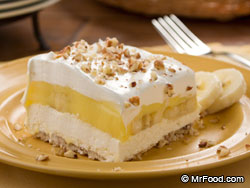 Bananas 'n' Cream Squares
Blueberry Crumb Pie
Peach Coffee Cake
Recipes Using Ramen Noodles
Ramen noodles aren't just for college students. We've got a few sneaky ways to work them into your everyday dinner recipes. It's like five-star dining on a budget!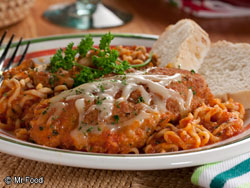 Stovetop Chicken Noodle Parmigiana
Ramen Noodle Salad
Pepper-Beef Stir Fry
Recipes Using Biscuit Baking Mix
Whether you're looking to make homemade biscuits or want to add a fluffy breaded component to your meal, biscuit baking mix is your go-to secret weapon.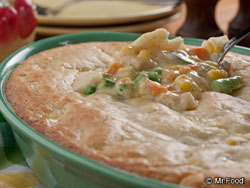 Chicken Pot Pie Casserole
Cinnamon Pecan Muffins
Traditional Strawberry Shortcake
Recipes Using Bread Crumbs
Whether you're coating your chicken dinner or working this ingredient into a potluck favorite, bread crumbs are one of the most versatile ingredients in your pantry.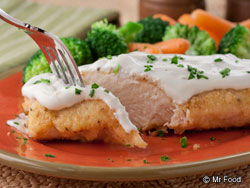 Nice Crust Chicken
Southern Unfried Chicken
Golden Cauliflower Bake
Don't you feel better now that you've got your pantry organized? Plus, you've got your meals already figured out for you, so you can just sit back and relax! If there's a particular kind of recipe on this list that you love, we recommend stocking up during grocery store sales. One of the best parts about pantry recipes is how you can buy bulk quantities months in advance, and you won't have to worry about it going bad.
Tell us: what's your all-time favorite recipe using a pantry ingredient? Let us know in the comment section below!
Latest posts by MrFoodTestKitchen
(see all)