Some might think the weather, flowers and green grass are the best things about spring, but I'd say it's the desserts. Light flavors like lemon, strawberry, pineapple and more make spring desserts some of the best around, in my opinion. That's why we got to work in the test kitchen to create two brand new and exclusive dessert recipes for spring! While we were at it, we got to try out two of Hamilton Beach's products: a Soft Scrape 6 Speed Hand Mixer and 6 Speed Stand Mixer.
Armed with these two mixers and warm weather inspiration, we created two spring desserts that would be perfect for any occasion this season! Whether you're attending a bridal or baby shower, celebrating Mother's Day, or simply want a delicious after-dinner treat, you won't be disappointed by the ease and taste of these desserts. Try these recipes for Pineapple Mansion Cake and Little Old Lady Lemon Pound Cake this spring and wait for rave reviews to roll in.
Plus, don't forget to enter to win a Hamilton Beach 6 Speed Stand Mixer and Soft Scrape 6 Speed Hand Mixer. Check the bottom of this post for more information!
Exclusive Spring Desserts from RecipeLion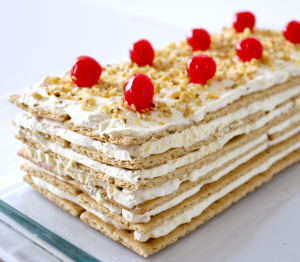 We call this Pineapple Mansion Cake because it's a tower of delicious layers that's fit for those with even the most refined taste buds! I love no-bake spring desserts because they're super quick to make and you don't even have to turn on the oven. All you have to do to make this pineapple icebox cake is mix together the filling (with help from a 6 Speed Hand Mixer) and pipe it between layers of graham crackers. Then, just let it set in the refrigerator until the crackers get soft. When it's ready, you'll have a cool, creamy tropical treat that everyone will love.
Serves: 10
Preparation Time: 15 min
Chilling Time: 8 hr
Ingredients
1 (16-ounce) carton Cool Whip, thawed
1 cup sour cream
1 package (3.4-ounce) instant vanilla pudding mix
1 (8-ounce) can crushed pineapple, drained
24 whole graham crackers
walnuts and maraschino cherries for garnish, if desired
Instructions
Click here to get the full instructions!
Using my Hamilton Beach 6 Speed Stand Mixer, I whipped together this lemon pound cake in no time! Old fashioned dessert recipes are great because the use few simple ingredients that you probably already have in your pantry. This pound cake has the refreshing taste of lemon that's great in all spring desserts. Plus, the batter is made in the bowl of the stand mixer, so there are minimal dishes to clean and preparation couldn't be easier.
Makes: 1 bundt cake
Preparation Time: 20 min
Cooking Time: 1 hr 30 min
Ingredients
3 sticks butter, softened
1 (8-ounce) package cream cheese, softened
3 cups sugar
6 eggs at room temperature
2 tablespoons lemon juice
zest of 1 lemon
3 cups all-purpose flour
1 teaspoon salt
1 tablespoon vanilla
For the Glaze:
1 1/2 cups powdered sugar
3 tablespoons milk, half & half, or buttermilk
Instructions
Click here for the full instructions!
Enter to Win Hamilton Beach Mixers
Great news! We're giving away a Hamilton Beach 6 Speed Stand Mixer and Soft Scrape 6 Speed Hand Mixer.
Enter to win a Hamilton Beach 6 Speed Stand Mixer from 5/5/2014 through 5/18/2014.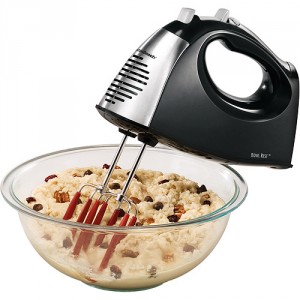 Enter to win a Hamilton Beach Soft Scrape Hand Mixer from 5/12/2014 through 5/25/2014.
What's your favorite spring dessert recipe?
Latest posts by RecipeLion
(see all)