It's spring, it's spring, it's spring!  Can you tell I'm just a teeny tiny bit excited about the arrival of warm weather and the return of sunshine?  After a very doom and gloom winter, filled with lots of heavy dishes, I am just so ready for everything that spring has to offer.  And that includes food, of course!  Whether I'm going on a picnic in the park or am just enjoying an outdoor meal with my family, I just can't get enough of deliciously fresh spring meals.
Seeing the sun (finally!) this week got me thinking about one of my all-time favorite spring treats… Jello!  Yes, Jello.  There's something about its light consistency and fun-to-eat flair that just makes me happy.  It's the perfect spring food.  Since I'm pretty sure I'm not the only one here who likes a good Jello dessert, I thought I'd break out one of my top Jello recipe picks from our archives.  This yummy Layered Jello Delight is a breeze to whip up and is a beautiful treat to serve for a spring potluck or get-together with family and friends.  Keep reading to find out how to make this awesome Jello dessert!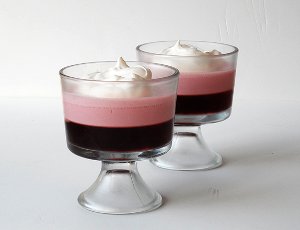 Layered Jello Delight

Ingredients:
2 (3-ounce) boxes of raspberry gelatin
4 ounces cream cheese
3 1/2 cups water, divided
1 (8-ounce) tub whipped topping, divided
6 glass dessert dishes
Instructions:
Mix the contents of one of the gelatin boxes with one cup of boiling water and stir to dissolve. Add one cup of cold water and stir.
Divide the gelatin evenly among the dessert dishes, about 3-3.5 ounces per dish. Place in the refrigerator for 2-2.5 hours, enough time for the gelatin to solidify as you will be adding another layer on top.
For the second box of gelatin, add powder to one cup of boiling water and stir to dissolve. Combine the gelatin mixture and the cream cheese in a blender or food processor and pulse to combine.
Add 1/2 cup of cold water, pulse to combine, then add half of the whipping topping. Pulse everything together until smooth and pour on top of the gelatin in the 6 dessert dishes.
Chill in the refrigerator until firm then top off with remaining whipped topping. You can serve as is or garnish with a few sprinkles or even some fresh raspberries!
For more great Jello recipes for this spring and summer, be sure to check out our Top 10 Recipes With Jello and these 12 Easy Jello Dessert Recipes!
What's your favorite treat to make with Jello?
Latest posts by RecipeLion
(see all)