This festive St. Patrick's Day dessert guest blog post today comes from Kim Cooper, who is the author and creator behind the Feed Me, Seymour blog!
Traditionally, St. Patrick's Day is a feast meant to celebrate the arrival of Christianity in Ireland. Think the driving out of snakes. But these days, St. Patty's Day has become so much more than just a feast day. Parties, parades, and pots of gold arrive en masse, taking over store fronts in a burst of bright rainbows, shiny gold and four-leaf clovers.
And the food? Well, the food, of course, makes a much anticipated appearance as with most holidays. Irish potatoes, rich chocolate cakes made with thick Guinness beer, and lots of gold-coated chocolate coins are standard. And naturally, anything rainbow-colored is acceptable and, in fact, expected. Be it a rainbow cake, a rainbow milkshake, or funfetti cookies, bursting bright rainbows are practically a St. Patrick's Day institution.
That's why we love the idea of these rainbow cupcakes. The cake itself is relatively simple. Grab a white cake mix from the store—one with flavors you love—and whip it up according to the package instructions. Typically, you'll need one box of cake mix, 1 1/3 cups of water, 1/3 cup of vegetable oil, and 3 eggs. Here, we've used a box of French vanilla cake mix to jazz things up a bit and give a moist, flavorful cake. Mix them up then split the batter into 5 different bowls. Grab some gel food coloring in pink, yellow, green, blue, and violet. Add a drop or two to each bowl, stir vigorously, and you've got the makings of adorable rainbow-colored cupcakes.
We went with cupcake minis to up the cute factor even more. Divide the batter into a mini cupcake pan, bake for 15 to 20 minutes. Top with a bit of homemade buttercream, and you've got a simple yet festive St. Patrick's Day dessert that will please just about everyone.
St. Patrick's Day Mini Rainbow Cupcakes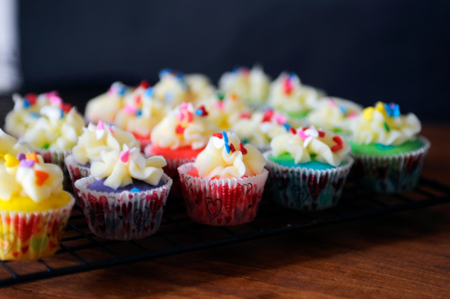 Ingredients:
1 box French vanilla cake mix
1 1/3 cups water
1/3 cup vegetable oil
3 eggs
gel food color in pink, yellow, green, blue and violet
1 stick of butter, softened
1 1/2 cups powdered sugar
2-3 Tbsp. heavy cream
Instructions:
Preheat the oven to 350 degrees and line a mini-cupcake pan with paper liners.
In a large bowl, combine cake mix, water, vegetable oil, and eggs.
Divide the batter into 5 bowls. Drop 1-2 drops of food coloring into each bowl and stir well until no streaks appear in the batter.
Spoon the different batters into the cupcake pan. Don't be afraid to combine batters for a mixed color cake.
Bake for 15 to 20 minutes until the cake is cooked through. Allow to cool completely before frosting.
To prepare frosting, combine butter and powdered sugar in a mixer and mix well to completely combine.
Add in 2-3 tablespoons of heavy cream to thin the icing if necessary.
Transfer to a pastry bag fitted with a star tip. Pipe stars onto each cupcake.
Makes approximately 24 small cupcakes.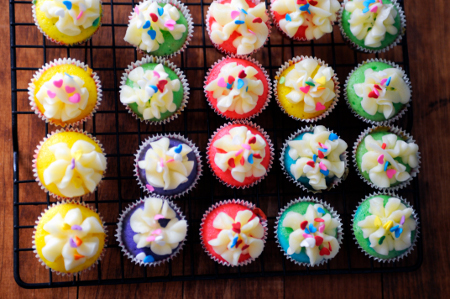 What's your favorite St. Patrick's Day dessert? Let us know below in the comments!
Kim Cooper is the creative mind behind the blog Feed Me, Seymour. She loves creating new recipes and playing with different ingredients. You can find out more about Kim Cooper on her Featured Foodie profile!
Latest posts by TheBestDessertRecipes
(see all)