Any of you who subscribe to RecipeLion's Quick and Easy Recipes free email newsletter have probably noticed the beautiful photos and awesome recipes that come from the many contributors in our growing community of food bloggers. Stacey Little, owner of SouthernBite.com, is one of our Featured Foodies who cooks up southern dishes with one goal in mind: to get families together at the supper table. I had the pleasure of chatting with Stacey about his blog, southern cooking, and his upcoming cookbook The Southern Bite Cookbook: 150 Irresistible Dishes from 4 Generations of My Family's Kitchen, set to hit shelves March 2014. So keep reading for more about the southerner behind some of our new favorite recipes on RecipeLion!
Plus, scroll to the bottom of this post to make his popular recipe for Brown Sugar Apple Blondies. If fall is your favorite season too, you have got to try these!
A Chat with Stacey Little from Southern Bite
Q: What was the inspiration for you to start your Southern Bite?
A: I started SouthernBite.com because I used to do restaurant reviews for the newspaper in 2008. When they pulled the reviews from the paper, I wanted to continue to review restaurants, and at that point the best way to do that was a blog. After several friends asked me for a recipe I had served, I put the recipe on the blog and that became the most visited thing, so I migrated toward more of a recipe site.
Q: So where did you learn to cook?
A: I have been cooking since I was old enough to reach the stove. I grew up with my mom who cooked three meals a day, in a family that couldn't afford to go out to eat very often. As soon as I was old enough to hold a spoon I would help in the kitchen. Although I have a degree in communication studies and have worked in non-profit for a long time, there has always been an undercurrent of food.
Q: What kind of recipes do you feature on your blog and why?
A: People are looking for quick and easy recipes that require ingredients they already have in the pantry so they don't have to tear down the kitchen to get them made. My goal is to get people to the table – sit down, have a meal together, and connect with the family. The kitchen table is a hub where we can connect with our families, and there's something soothing about a home cooked meal that allows us to do that.
Q: What's your favorite thing to make?
A: The things I love to cook the most are recipes that have been in my family forever – the ones my grandmother made, my mother made, and now that I make. Preparing those recipes for my family makes me feel a connection to my past.
Q: What's the best piece of advice you can share with our readers?
A: The most important thing that anybody has to have in the kitchen is confidence. I meet people all the time who say, "I'm not a cook, but I found this recipe and I tried it, and it worked perfectly!" The great thing about blogs is that the pictures you see are not doctored photos. When people make a recipe that looks just like the photo, there's a sense of accomplishment. Anybody can cook – it's just a matter of having confidence in yourself that you can do it.
Q: Any funny cooking stories or kitchen mishaps you'd like to share?
A: Before I started the blog, I was trying new things in the kitchen and I had decided to make homemade cranberry sauce. I had all the ingredients: cranberries, orange juice, sugar, and more sugar, which I cooked on the stove and the final step was to blend it. I poured it into the blender and went to switch it on, and when I did I didn't pay attention to the fact that my hand wasn't on the lid. That red, gelatinous, scalding hot goo went all over the kitchen – it was even dripping from the ceiling! At the time, I had white cabinets, white floors, even the dog was white! After my wife (girlfriend at the time) and I got it all cleaned up, there was enough left in the blender to make something of it. When I plugged the blender back in, I had left the switch on, and the rest of the cranberry sauce covered the kitchen again. There's a cranberry sauce recipe in my cookbook, but there's no blender involved!
Q: Do you have a favorite kitchen utensil, tool, or appliance?
A: My great grandmother's cast iron skillet. Cast iron skillets are used a lot in southern cooking, and that's my most treasured possession. I also have my grandmother's Le Creuset Dutch oven that I use a lot. Those are two of my favorite things because of the connection I have to them. In terms of everyday kitchen stuff, it's important to have sharp knives, and I'm a fan of wooden spoons, which my family has always used.
Q: So tell me about your cookbook, that's set to hit shelves March 11, 2014.
A: Throughout this whole process I've been very blessed. It all started for me essentially in an email from a senior editor at Thomas Nelson, and it has really been a dream for me seeing it all come together. I did all the styling and cooking for the book myself, which a lot of authors don't have the opportunity to do. My favorite thing about the book is that the publisher allowed me to conduct a contest on the blog to feature family recipes from Southern Bite readers. It's not just about me, it's about the folks that come back to the blog every day too.
Brown Sugar Apple Blondies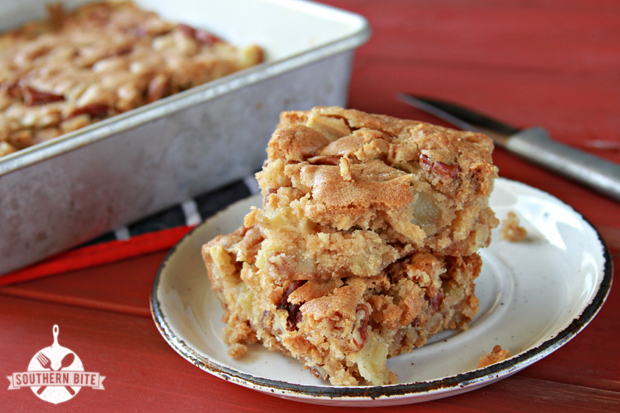 Prep time: 15
Cook time: 40
Ingredients:
1/2 cup butter, softened (1 stick)
1 cup brown sugar, firmly packed
1 egg
1 cup all-purpose flour
1/2 teaspoon baking powder
1/2 teaspoon salt
1/2 teaspoon cinnamon
2 apples, peeled, cored, and diced
1/2 cup chopped pecans
What's your favorite southern recipe? Tell us in the comments below!
Latest posts by RecipeLion
(see all)