It is impossible to go to a state fair and not have any food. The smells themselves are too hard to resist and once you take a bite of the traditional, fried food you can sure bet your mouth will water. State fairs do have some interesting food combinations, but most all the food there will not let you down. There is just nothing like enjoying a summer's day at the nearby state fair.
Lucky for you, we have all the recipes for the customary, state-fair style food from AllFreeCopycatRecipes, that you can easily make right in your own home. Everyone has some fond memories of going to a state fair like eating corn dogs or funnel cakes. And who could forget eating the cotton candy! Have a little fun and take a trip down memory lane and make those absolutely delicious treats. These are all a must-try summer, fun, recipe list that is inspired by an entertaining night at the local state fair.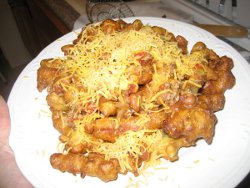 Can't decide between a corn dog or chili cheese fries? Now you don't have to because here is an easy and delicious recipe that will make you feel like you're right at the state fair. There is nothing like chowing down on this out-of-this-world treat. It is a great delight to share this with others because there is just nothing like these flavors all mixed together. This even makes for a great appetizer!

Say no more. This sugary, sweet treat is the perfect combination.  You can have the best of both worlds with this cupcake. The taste of cotton candy in a sweet, moist cupcake will make everyone smile. This Copycat Cotton Candy Cupcake will for sure remind you of the good times a state fair can bring. If the pink cake doesn't inspire you to make this, then I do not know what will!

This is a must-make funnel cake that is so delicious. The mixture of the pastry and powdered sugar will melt in your mouth. Now you can finally make the State Fair Funnel Cake right from home. Add all your favorite toppings like whipped cream and fruit and you will really be at a fair. The best part is that you can add as many toppings as you want.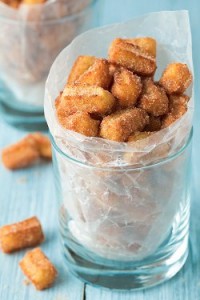 There is nothing like the taste of a sweet, sugary cinnamon swirl of a churro. Make these Copycat Churro Bites and you will not be able to stop eating them. They are the perfect size and taste like the real deal. It's fun to share these sugary bites with everyone. So make this Mexican-inspired dessert right at home without even stepping foot onto the fair ground.
What is your favorite sweet treat from your local state fair? Let us know in the comments below!
Latest posts by AllFreeCopycatRecipes
(see all)