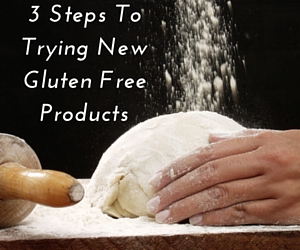 Whether you're new to the gluten free lifestyle or you're a veteran, sometimes it can be daunting to try new products. However, there are several steps you can take to check the products before you get sick or before you even buy them! Keep an eye out for labels and also check the ingredients, but also look for manufacturing advisory statements too. When they're posted, they can be very helpful! To help alleviate the stress of gluten free grocery shopping, follow these tips to ensure that the food you are consuming is gluten free.
1. Look for a label.
Some products will come with a gluten free label, like the ones pictured below. If you see one of these labels or similar, you should be good to go. Products that have a label such as these should have <20 ppm gluten; you may need to ask the manufacturer about testing.

2. Look at the ingredients list.
There may be some ingredients that you may not know contain gluten. If an ingredient that you don't recognize is on the package, it's a safer bet to do a quick Internet search to find out if it is gluten free or not. These are some of the most common ingredients that gluten free foodies should avoid:
Wheat
Barley (malt)
Rye
Oats (unless certified gluten free oats)
Spelt
Triticale
Durum
Einkorn
Graham
Keep this list with you when you go grocery shopping, especially if you're new to the gluten free grocery game. It will be extremely helpful when first starting out and determining which foods are safe to eat. For an extended list, check out this list of Ingredients to Avoid on a Gluten Free Diet.
3. Look for a manufacturing advisory statement.
You know how certain candies list that they were processed in the same plant as tree nuts or peanuts for peanut allergies? Those manufacturing advisory statements aren't actually required; just because there isn't a statement on your gluten free product, it doesn't mean the facility it was processed in is allergen-free. Again, you may want to check the ingredients, but there is still a chance of cross-contamination from these facilities and that will not show up on an ingredients list.
If possible, choose to buy food that is naturally gluten free. There are many grain-based products that are actually gluten free, so knowing what ingredients are safe and unsafe to eat is key. However, some gluten free products may actually be processed in a dedicated gluten free facility, so there is no threat of cross-contamination.
Don't worry too much about non-grain-based products that are naturally gluten free and have a manufacturing advisory label. It may be a concern if you have non-responsive Celiac disease, though.
To try some certified gluten free products and other kitchen items for free, check out the FaveGlutenFreeRecipes.com Giveaways!
Do you have any other tips for buying gluten free products? Tell us in the comments!
Latest posts by FaveGlutenFreeRecipes
(see all)