Few things are more comforting than sweet, flavorful Chinese food. Do you wish there was a way to enjoy it without worrying about how many calories you're consuming? We might be able to help.
We developed a recipe for crab rangoons that lighten up this dish, so you don't have to fee as guilty for enjoying something so delicious. Baking these savory treats instead of frying them instantly cuts out a lot of calories (and it makes them much easier to prepare!). We've also used light cream cheese instead of regular to cut additional fat and calories, without taking away that rich, satisfying flavor that we love so much about traditional Chinese food recipes.
These crab rangoons are the perfect combination of crispy and creamy. Dip them in some sweet and sour sauce, and they're guaranteed to be a huge hit in your household!
Easy Crab Rangoons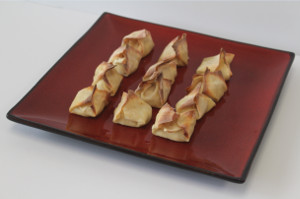 Ingredients:
16 ounces light cream cheese, softened
1 can crab meat, drained and crumbled2 green onions, chopped
1 clove garlic, minced
2 teaspoons Worcestershire sauce
1/2 teaspoon soy sauce
2 packages Wonton skins
Vegetable spray coating
Directions:
Preheat the oven to 425 degrees F.
In medium bowl, combine all ingredients except wonton skins and spray coating; mix until well blended. (To prevent wonton skins from drying out, prepare one or two rangoon at a time.)
Place 1 teaspoon filling in center of each wonton skin. Moisten edges with water; fold in half to form triangle, pressing edges to seal. Pull bottom corners down and overlap slightly; moisten one corner and press to seal.
Lightly spray baking sheet with vegetable coating. Arrange rangoon on sheet and lightly spray to coat.
Bake for 12 to 15 minutes, or until golden brown.
Serve hot with sweet and sour sauce or mustard sauce.
If you like this recipe, then you should check out some of these other lightened-up Chinese food recipes.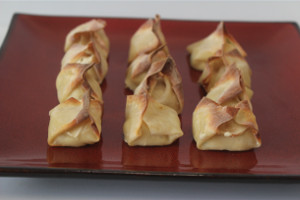 What's your favorite Chinese takeout dish?
Latest posts by FaveHealthyRecipes
(see all)