The 4th of July is next week, which means we need to start thinking about what to bring to all of those summer potlucks and barbecues! In a perfect world, we would satisfy everybody but wouldn't add any inches to your waistline (we've been working so hard on feeling confident in our swimsuits, and it would be a shame to ruin it!).
Are you stumped on ideas? Fear not! We whipped up a great summertime recipe in our test kitchen that might work perfectly for you.
Easy 7 Layer Salad is hearty, delicious and super simple to prepare. The delightful blend of fresh veggies, crispy turkey bacon and hard boiled eggs will leave you feeling full and satisfied without loading up on any extra unwanted calories.  It is easily customizable, which means you can substitute any of these ingredients and use your favorite veggies and cheeses. Top it off with your choice of dressing, and this healthy salad recipe is guaranteed to be a hit at your next party.
Nothing says "summertime" like a cool, refreshing salad, and we're positive this one will really hit the spot. This dish is the perfect combination of creamy and crunchy, and is sure to satisfy your taste buds. We hope you enjoy!
Easy 7 Layer Salad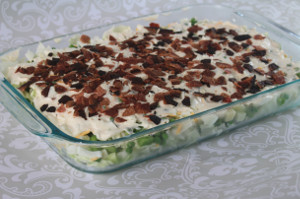 Ingredients
1 medium head lettuce
1/2 cup green pepper, chopped
1 package frozen peas
2 cups low-fat or reduced-fat mayonnaise
4 (1 cup) grated low-fat or reduced-fat sharp cheese
1/2 cup finely cut celery
2 packets Splenda or other low-calorie sweetener
6 to 8 strips turkey bacon, fried and crumbled
5 hard boiled egg whites, chopped
Instructions
In a 9 x 13 inch casserole dish, layer lettuce, green pepper, peas, cheese, celery and egg whites (in that order).
In a separate bowl, mix together Splenda and mayo, spread over salad.
Crumble bacon on top. Cover tightly and refrigerate.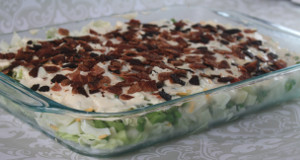 What's your favorite summer salad?
Latest posts by FaveHealthyRecipes
(see all)