Hi, Friends! I'm glad to be back this month from The Seasoned Mom with another very easy, very delicious recipe to share. If you're headed to any picnics, potlucks, or gatherings with family and friends this season, this Strawberry Jell-O Poke Cake will quickly become the star of the show!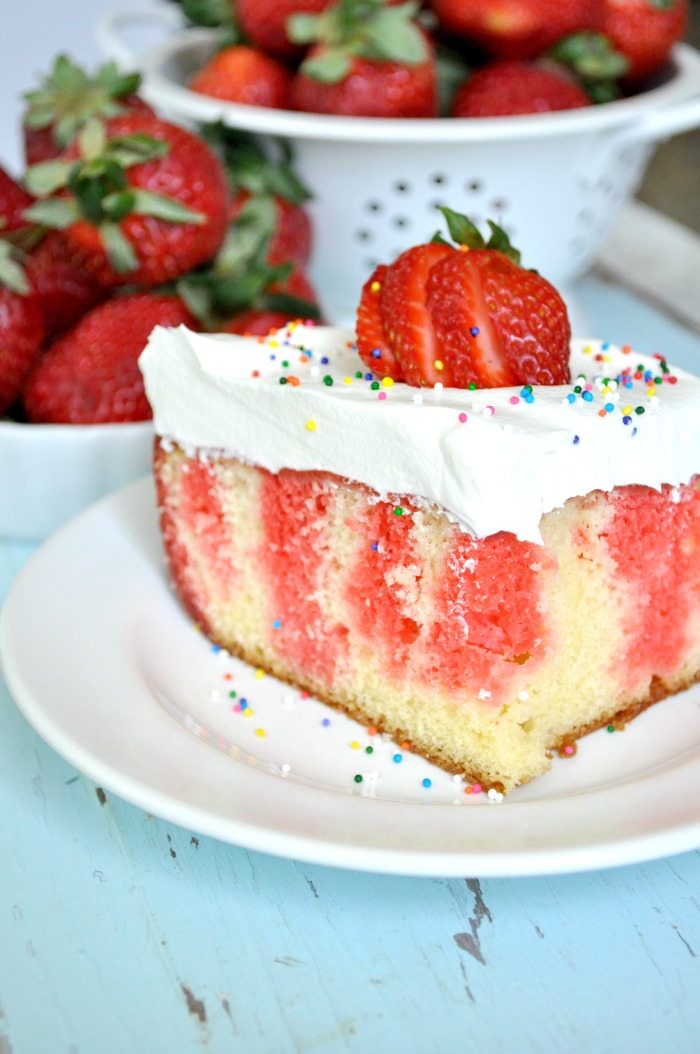 I originally tasted a "poke cake" at a church potluck many years ago, and I have been making them ever since! I love to play around with different ingredients to come up with the most delicious flavor combinations. This cool, refreshing strawberry Jell-O version is absolutely perfect for the warm weather months ahead.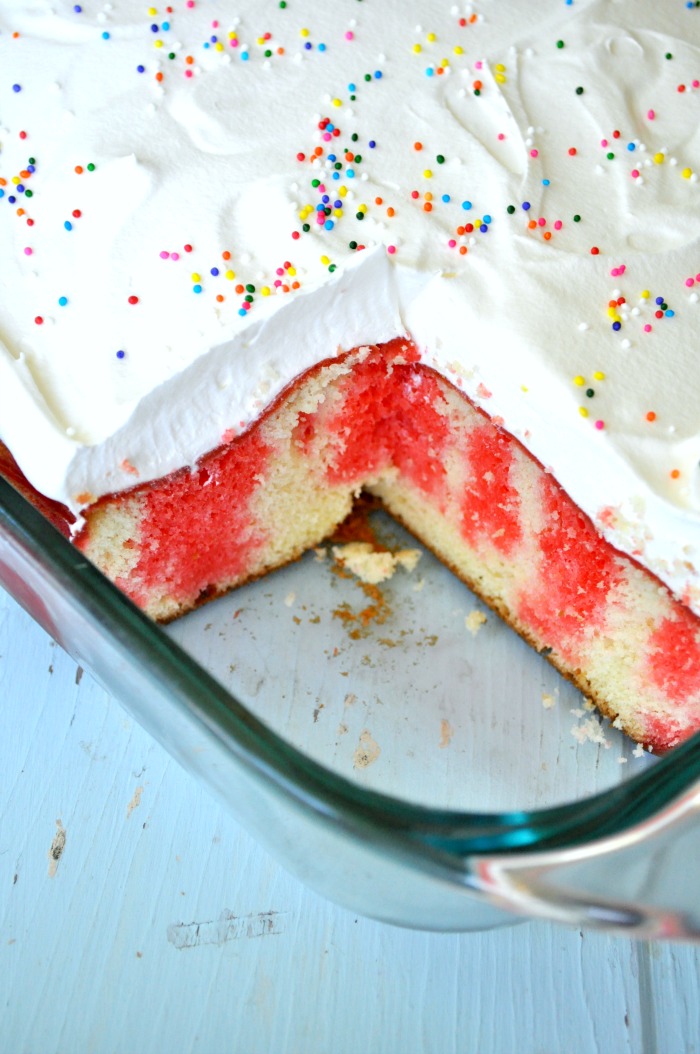 A poke cake, like this Death By Chocolate Poke Cake or this Coconut Drippy Cake, is basically just a jazzed up version of a boxed cake mix. I prepare the cake mix according to the package instructions, and then while the cake is still warm from the oven I poke holes all over the top. The cake absorbs the liquid Jell-O…creating the most moist, tender, and flavorful dessert that you will ever sink your teeth into!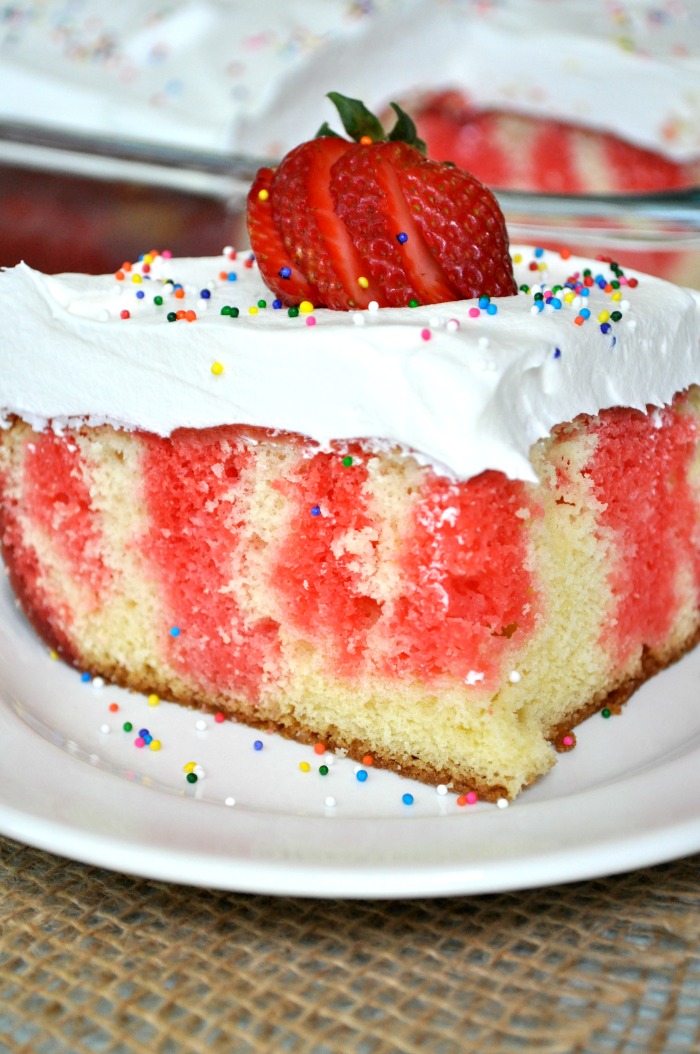 The cake is so rich on its own that I love to pair it with a light whipped topping. No heavy frostings necessary! That means that this beautiful, crowd-pleasing dessert requires only a few simple ingredients and minimal prep time!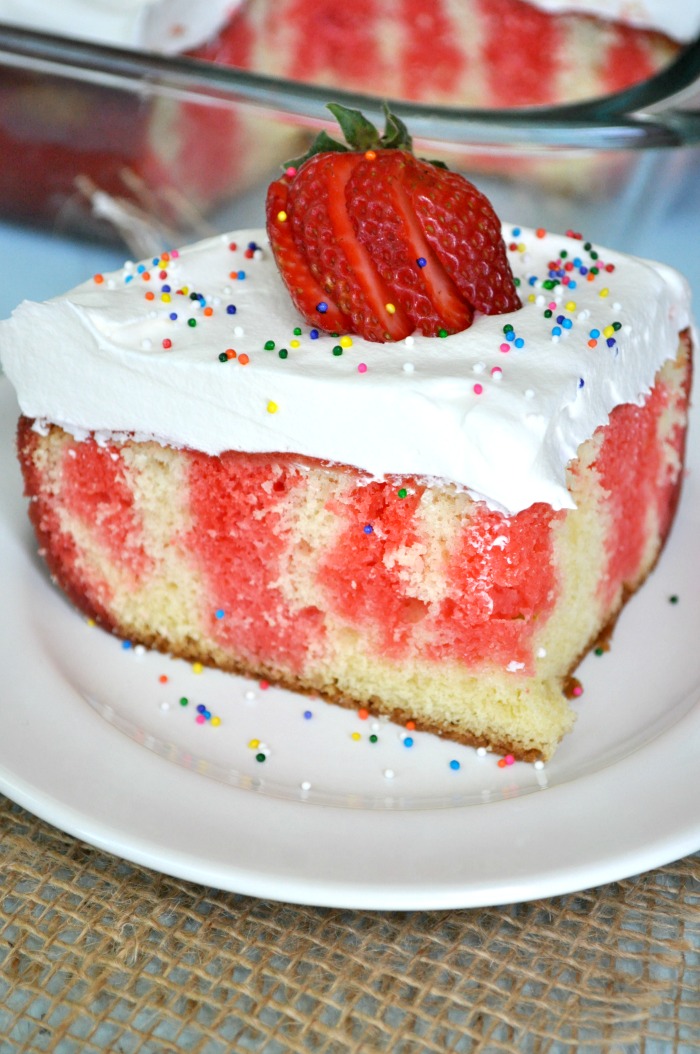 I have shared this recipe with many different friends and neighbors over the years and every single person who tries it RAVES about it. It's actually impossible to resist!
This cake is foolproof, and I have no doubt that it will soon be making regular appearances at all of your special celebrations as well!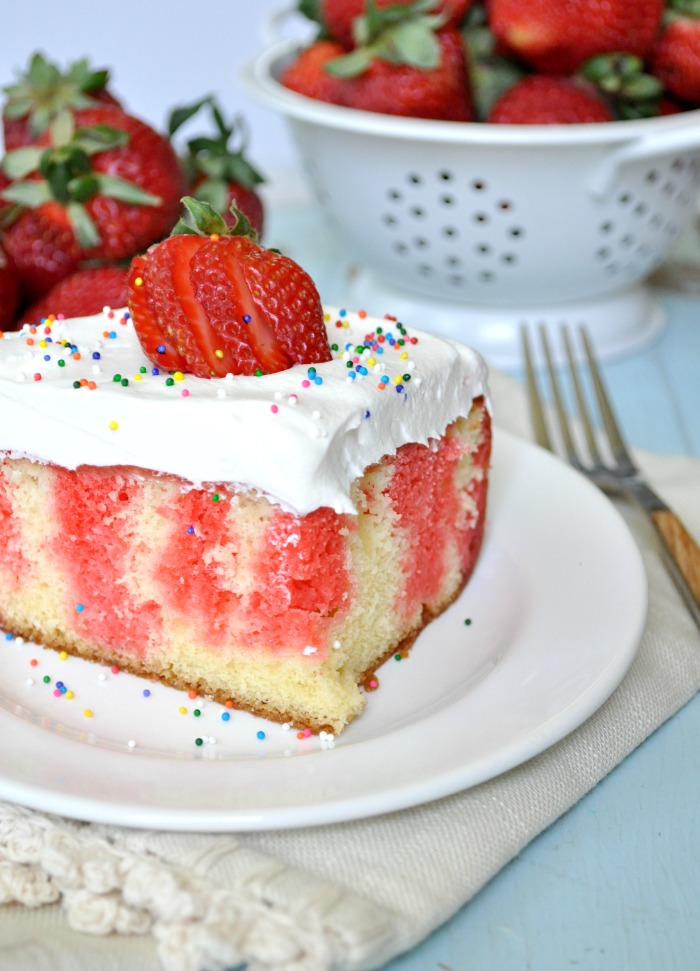 Strawberry Jell-O Poke Cake

Makes 1 (13-inch by 9-inch) cake
Prep: 15 mins
Bake: 30 mins
Level of Difficulty: Easy!
Ingredients
1 (16.25 ounce) box yellow cake mix, plus any additional ingredients called for on the package
1 (6 ounce) package strawberry Jell-O
2 cups boiling water
1 (16 ounce) container frozen whipped topping, thawed
1 pint fresh strawberries, sliced
Instructions
1. Prepare and bake cake in a 13-inch x 9-inch baking dish according to package instructions.
2. Use a fork to poke holes all over the top of the warm cake.
3. In a large measuring cup, whisk together strawberry Jell-O and boiling water until combined. Pour Jell-O mixture slowly over the top of the cake, allowing the liquid to soak into the holes.
4. Cool cake for at least 3-4 hours. Top with whipped topping and garnish with fresh strawberries.
5. Store cake in refrigerator until ready to serve.
Have you made a poke cake before? What are some of your favorite flavor combinations?
Latest posts by Blair Lonergan
(see all)