Strawberry lemonade has been trending on Pinterest for a while – THANK GOODNESS. What a perfect flavor combination for refreshing summer recipes! Lemonade is the quintessential summer flavor, reminding us of those tasty lemonade carts at local fairs and cooling off by the pool with a cold drink. Combining tart lemonade with something as sweet as strawberry is simple enough to appeal to everybody, yet creative enough that bloggers can come up with some seriously cute stuff.
This Strawberry Lemonade Poke Cake recipe by Lainey Liz of Simply Baking makes me thirsty. Watch the video and you'll find out why (and you'll see just how easy this poke cake recipe truly is):
Feeling parched, now? While you can't drink this easy cake recipe, it'll still hit the spot as a summer treat. Bring it to a potluck and watch everybody go crazy over it!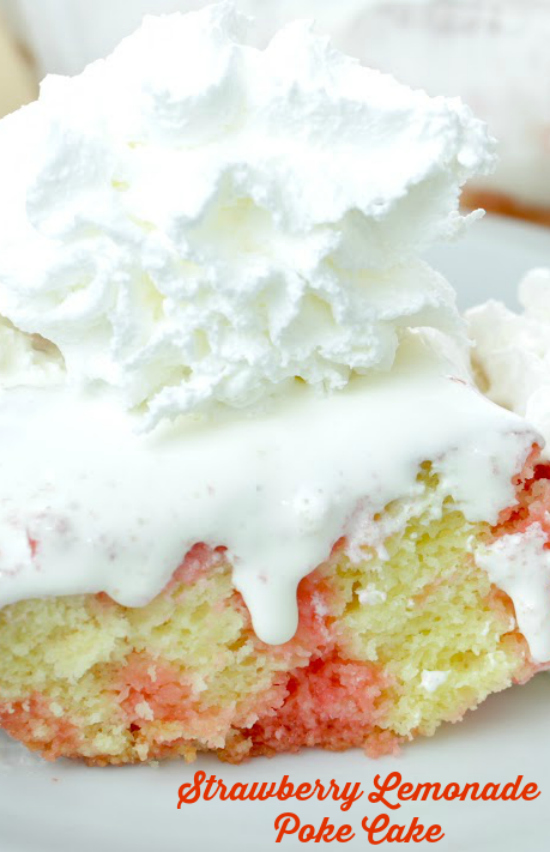 Strawberry Lemonade Poke Cake Recipe
Ingredients:
Lemon Cake Mix
1/2 cup oil
1 cup water
3 eggs
1 cup water
1 cup lemonade
1 small box of strawberry Jello
2 (8 oz) whipped topping
sliced strawberries
Instructions:
Preheat oven to 350F and oil  9×13 inch pan.
Mix together Lemon Cake mix, oil, water, eggs until light and fluffy.
Bake for 30-35 minutes and cool completely.
In a saucepan boil water and lemonade, then add the jello and mix.  Place in the refrigerator to cool off.
Once the cake has cooled completely, poke holes using a fork making sure to touch the bottom of the pan.
Pour the juice into the holes, then set in the fridge to allow the cake to absorb the juice.
Remove the cake from the refrigerator and place the strawberries on top of the cake, then add the whipped topping. Decorate with more strawberries.
Are you into the strawberry lemonade recipe trend?
Latest posts by RecipeChatter
(see all)