Hey there! Holly here from Revamperate to share one of my fav summer desserts – strawberry shortcake cupcakes featuring an angel food cake based and topped with whipped cream frosting and a fresh strawberry.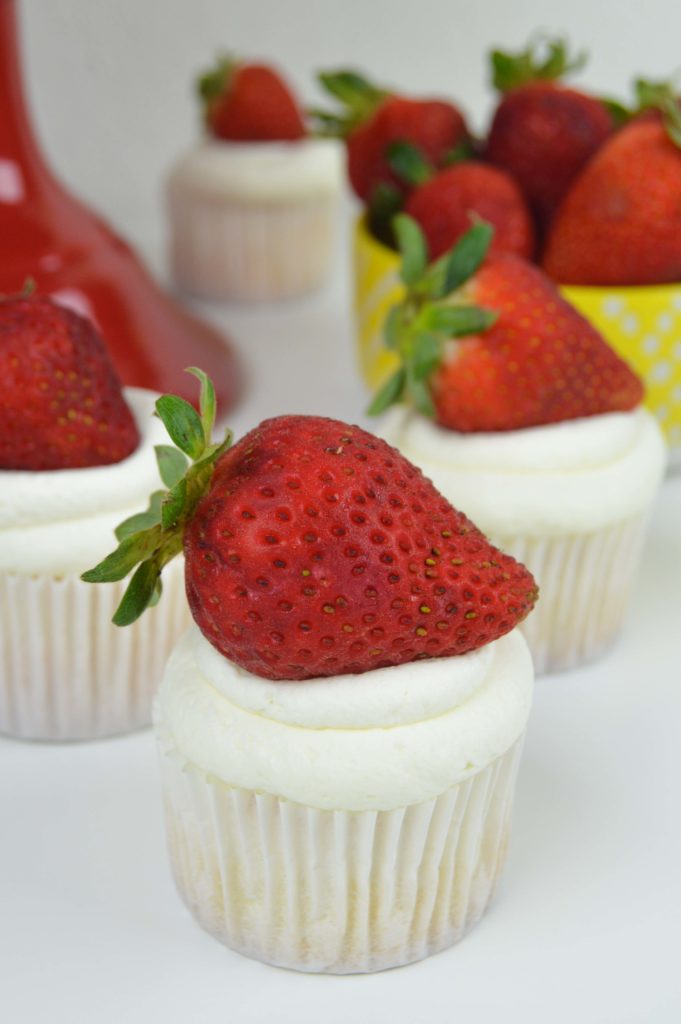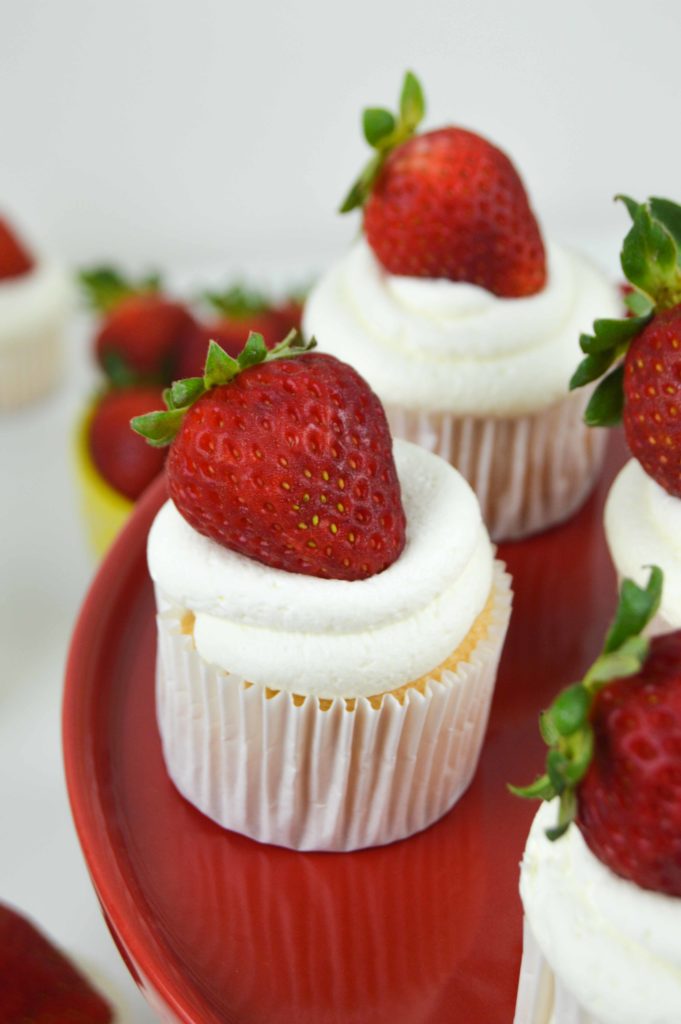 Summer always makes me want fruity desserts. Put some whipped cream on it with some fruit and I'm in! Hence, I was thrilled to make these!
The thing about angel food cake is it's very light. As someone who generally prefers to bake butter-based cakes, it's strange for me to make cakes without butter or oil in them. This makes angel food cake light, spongy and the perfect base for fruit toppings. It's unique because it starts out as a meringue before you add flour and powdered sugar, which can also make it a bit finicky to work with.
This frosting is also fairly unique. I almost always frost cakes with buttercream frosting, but I feel like it just doesn't work with angel food cake. Instead, this whipped cream frosting is light and low in sugar by using pudding mix instead of sugar to sweeten and strengthen the cream.
Now, let's bake!
Angel food cake:
1 ½ cups sifted powdered sugar
1 cup sifted flour
1 ½ cups egg whites (approx 10-12 eggs)
1 ½ tsp cream of tartar
1 tsp vanilla extract
1 cup granulated sugar
First, preheat the oven to 350 degrees and line a cupcake pan with liners. Set aside.
In a large bowl, sift the powdered sugar and flour together twice (this is important).
In your mixing bowl fitted with whisk attachment, combine egg whites and cream of tartar and whip on medium-high speed until soft peaks form. Gradually add the granulated sugar with the mixer on medium speed until fully incorporated and stiff peaks form. Add vanilla.
Sift in the dry ingredients a little at a time, folding with a spatula until it is all combined. Because angel food cake is meant to be very airy, it's important to fold in the dry ingredients rather than mix them.
Divide the batter among the lined cupcake cavities. Bake on the lowest rack for about 12 minutes until the tops are lightly brown and springy. Set aside to cool completely.
Whipped Cream Frosting:
2 cups heavy whipping cream
2 tbsp instant vanilla pudding powder
1 tsp vanilla extract
Strawberries, for topping
Combine the heavy whipping cream, vanilla pudding powder and vanilla in your mixing bowl fitted with a whisk attachment. Whip on high speed for several minutes until peaks form. At this point, the frosting will be thicker than whipped cream.
Pipe or spread the frosting onto the cupcakes and top with a fresh whole strawberry. You can also chop the strawberry into pieces and create a "nest" for it out of piped frosting. And there you have it – strawberry shortcake cupcakes!
Latest posts by Holly Wade
(see all)