One of the most popular, most talked about recipes on RecipeLion.com  is Stupid Chicken.  It may be the name… after all, who calls their poultry "stupid"?  But after looking at the recipe and the comments people had left on the site, I realized that there may be something more to this slow cooker chicken than just a funny name. So, the other day I decided to pull out my trusty slow cooker and give this chicken recipe a try for myself to see what all the fuss was about.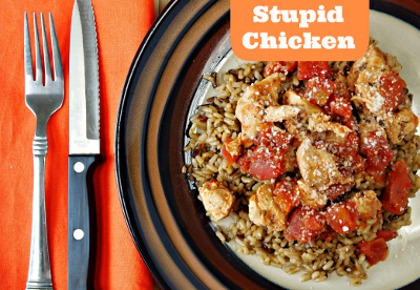 Now, I have a disclaimer to make up front. I'm not the greatest cook. I can bake for days and would challenge anyone to a cookie-making contest, but when it comes to savory dishes, I'm definitely no whiz. But, with a recipe called Stupid Chicken, I figured I was in a zone I could handle.  Five ingredients, all of which I could identify and pronounce. Check!  Three simple steps, one of which involved letting everything simmer in the slow cooker for virtually the entire workday while I went about my business? Check!  This was a recipe I could handle!
So, let me tell you a bit about my experience making Stupid Chicken…
First, I gathered my ingredients. See how easy, not to mention budget-friendly, this dish is?  I couldn't believe this was all it took to make a chicken dinner for four people!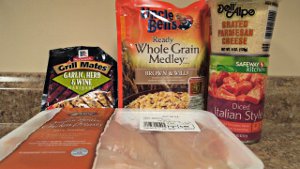 Next I cut up my raw chicken into bite-sized pieces. Easy-peasey.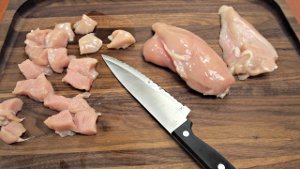 Add in the canned tomatoes, soup mix and stir it all up in the slow cooker.  It may look like maybe not the most appetizing thing in the world at this stage, but trust me, just wait…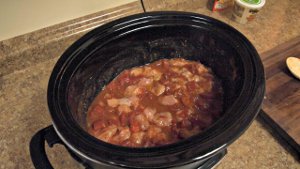 Waiting is actually the hardest part about this recipe, at least that's what I found. Once you put everything in your slow cooker and turn it on the LOW setting, you're pretty much done for the day. Check back after about six hours to see how everything is coming together. My chicken was pretty much done after the six hours, but some slow cookers cook slower than others (imagine that!), so it may take yours the full eight hours. Plus if you're out and about during the day, it's good to know that you can leave this baby simmering the full length of the cooking time and you'll still get the same delicious result. There's really no way you can go wrong with this recipe, which is I guess why they call it Stupid Chicken, right?
Here is what my dish looked like all plated up and served over rice and sprinkled with some yummy Parmesan cheese (fancy, huh?). You can also serve it over any type of pasta if you want to change things up a bit.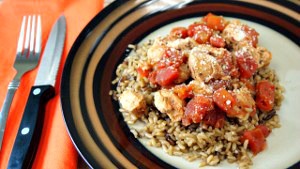 This honestly was way easier to make than I was even expecting.  If you want to try it out for yourself, you can get the full, printable recipe for Stupid Chicken right here. And don't forget to head over to Recipe Chatter's slow cooker section for even more great slow cooker recipes.
There's more stupid where that came from. We have tons of stupid recipes and even some stupid eCookbooks!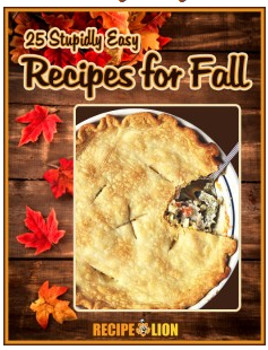 25 Stupidly Easy Recipes for Fall free eCookbook
   Stupidly Easy Desserts with 5 Ingredients or Less
What's the most ridiculously named recipe in your repertoire?
Latest posts by RecipeLion
(see all)