Take advantage of fresh produce and whip up a batch of these No-Bake Chocolate Strawberry Bars! Your kitchen will stay cool, and you will have a delicious and easy dessert without much effort. With rich chocolate, graham cracker crumbs, and chunks of juicy red berries, this no-bake dessert recipe is perfect for the lazy days of summer!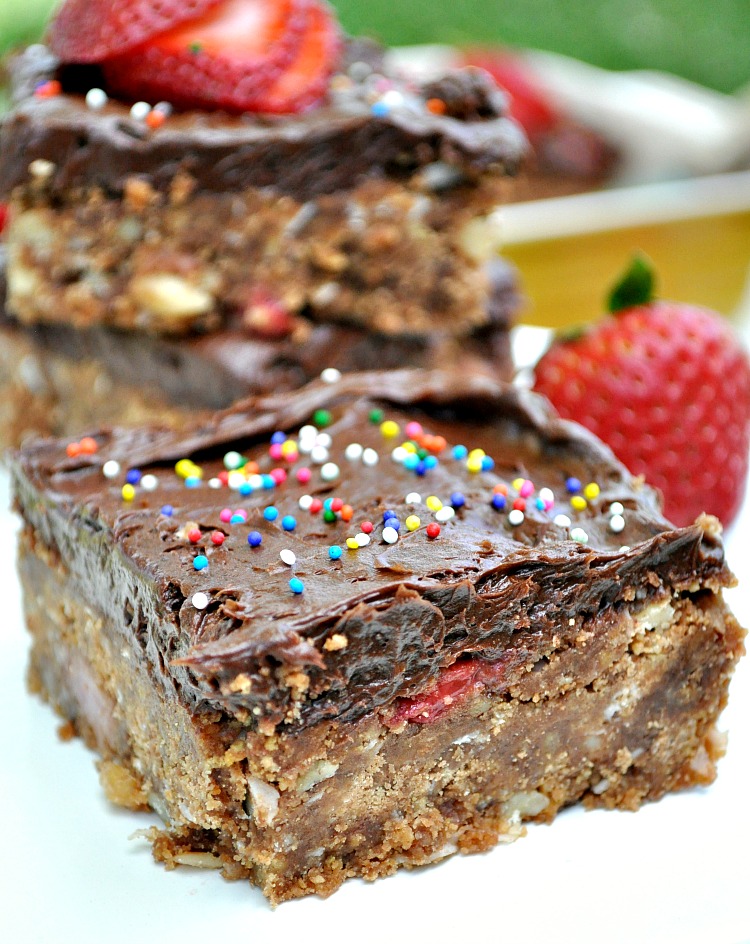 Hi, friends! I'm glad to be back from The Seasoned Mom with another recipe to share this month. Since it's the season for fresh berries and cool, no-bake treats, I thought that it would be perfect to combine the two. Plus, I added a healthy dose of chocolate for good measure. Because chocolate makes everything better, right?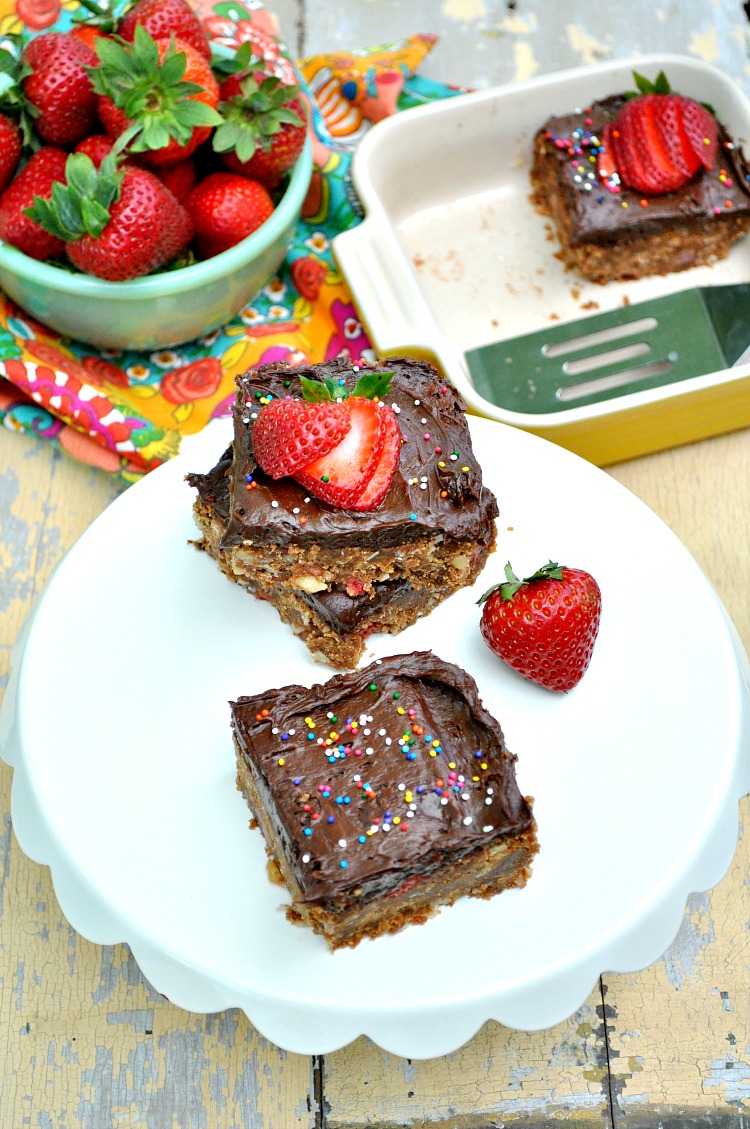 These simple bars only take about 10 minutes to mix together, and then you just have to be patient for a little while as they cool. That's the hardest part of this whole recipe…the waiting!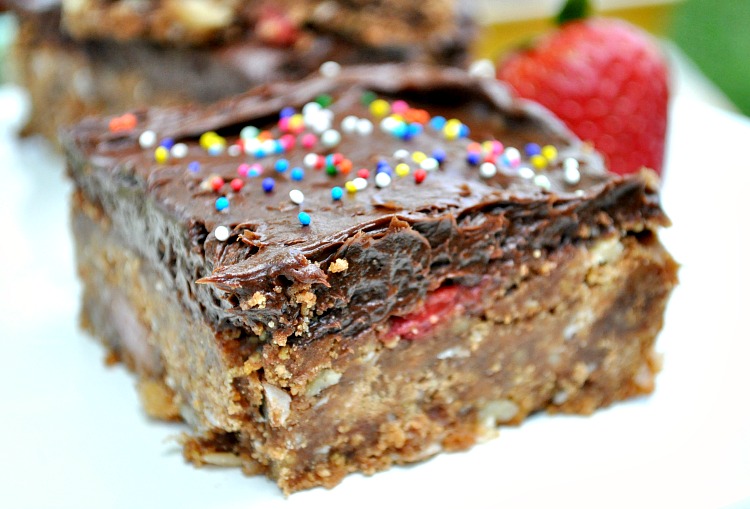 I used a can of prepared chocolate frosting to top off these little nuggets, but you could certainly leave that off if you're looking for a slightly less-decadent indulgence. Oh, and the sprinkles. In a house full of kids, rainbow sprinkles are a MUST.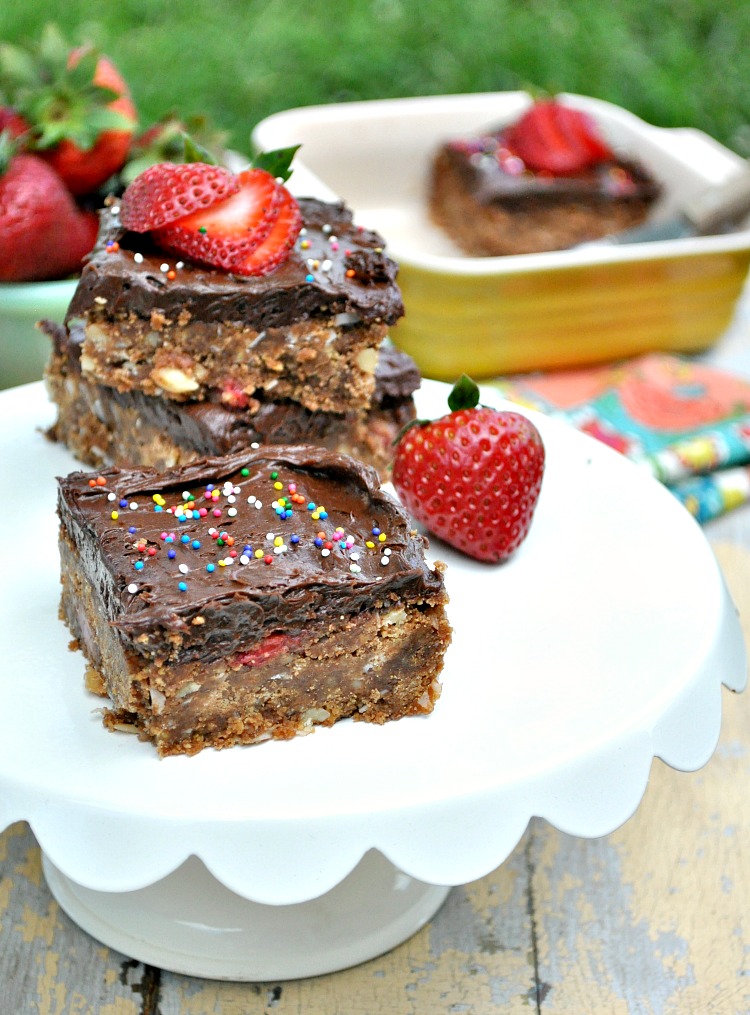 Happy summer, friends! I hope that you have a chance to relax this season, put your feet up, and enjoy one or two of these sweet treats!
Summer Dessert Recipe: No-Bake Chocolate Strawberry Bars
Serves 9
Prep: 10 mins
Chill: 1 hour
Ingredients:
½ cup butter
½ cup brown sugar
¼ teaspoon salt
1 tablespoon unsweetened cocoa powder
¼ cup finely chopped walnuts
¼ cup finely diced strawberries
½ cup unsweetened shredded coconut
1 ½ cups graham cracker crumbs
1 container prepared chocolate frosting
Optional: extra strawberries and sprinkles, for garnish
Directions:
1. Spray an 8-inch square pan with cooking spray and set aside.
2. Combine butter, brown sugar, salt and cocoa powder in a saucepan and bring to a boil. Boil for 1 minute, and then remove from heat.
3. Add walnuts, coconut, strawberries, and graham cracker crumbs. Mix the ingredients together quickly until completely combined.
4. Press ingredients into prepared pan. Place in refrigerator to chill.
5. When bars are completely cool, spread chocolate frosting on top. Slice into squares and garnish with strawberries and sprinkles, if desired.
6. Store in an airtight container in the refrigerator.
Note: serving a crowd? This recipe can easily be doubled and prepared in a 13×9-inch dish.
If you're looking for even more delicious no-bake desserts, check out this Layered No-Bake Banana Split Dessert and these Mississippi Mud No-Bake Cookie Bars!
What's your favorite summer treat?
Latest posts by Blair Lonergan
(see all)