This is one of those easy appetizer recipes that just screams summer, that takes the joy of eating corn on the cob and puts into one of the most delicious dips I have ever tasted. I first tasted the greatness of mixing sweet corn, roasted red peppers, cheese and spices a few years ago with some girlfriends in our supper club. We got together to make some tasty summer recipes, and my friend Jenny brought this dip that made us forget about dinner and want to lick the pan when we were finished.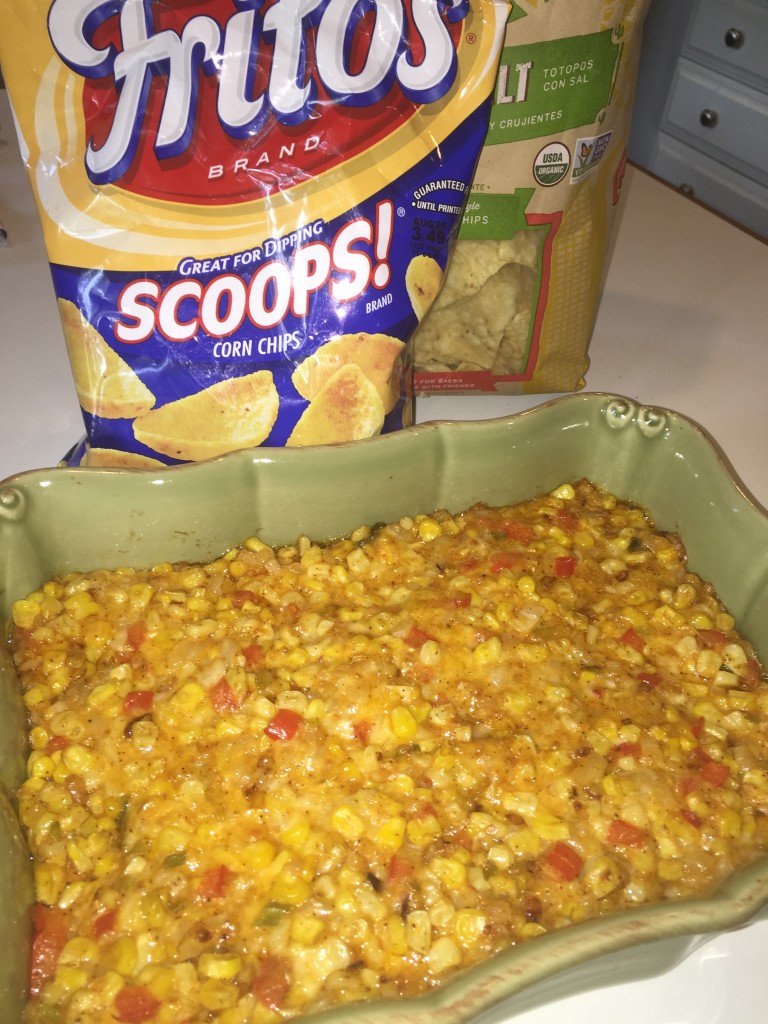 I don't even remember what else we ate, but I remembered devouring that dip with reckless abandon, and feeling super full and fat and happy after it was gone. I have since lost her recipe, but I have tried to recreate it with less cheese, a lighter olive oil based mayo, and just a little bit of butter to cook the vegetables. I have made it many, many times over the past few years, and it never disappoints. I recently made it to take to my son's baseball game, and I swear I saw one of the dads just scoop his finger in the pan because he couldn't find the chips. It's just that good.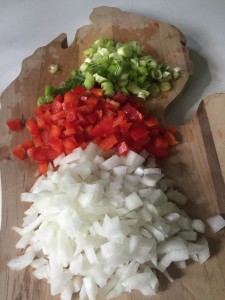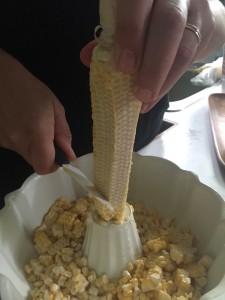 It all starts with fresh vegetables – corn from cob, sweet onion, sweet red pepper and some tangy scallions. After chopping your onions and peppers, you need to cut the kernels fresh from the cobs of corn. I recently saw a kitchen hack tip from Pinterest where you place the ear of corn in the middle of a bundt pan and cut in a downward motion so the kernels fall right into the pan. It works perfectly! I cannot tell you how many times I have cut corn from the cob on a cutting board and had the kernels fly all over my kitchen. Not anymore!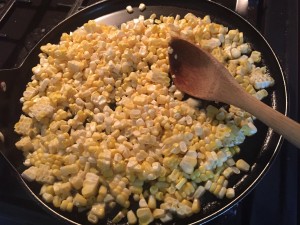 After melting 1 tablespoon of butter in a large pan, pour your kernels from 3 ears of corn into the pan and cook over medium high heat for about 6-7 minutes, until the corn is golden brown and starts to pop a little. (It really does pop, and it scared me the first time I made it!) Pour cooked corn into a large bowl, and then repeat the process with one more tablespoon of butter and the peppers, onions and chopped garlic. Cook the veggies for about 5 minutes, until softened.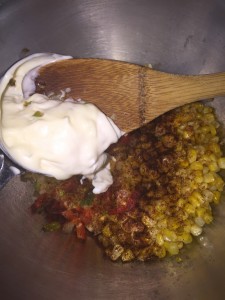 Once all of the vegetables have cooled slightly in the large bowl, add the teaspoon of chili powder, salt and pepper. Then spoon your half cup of mayo into the bowl, and add the shredded cheese. Mix everything together until it's combined, and spread into your baking pan prepared with cooking spray. Bake at 350 degrees for 20-25 minutes, until golden brown and bubbly.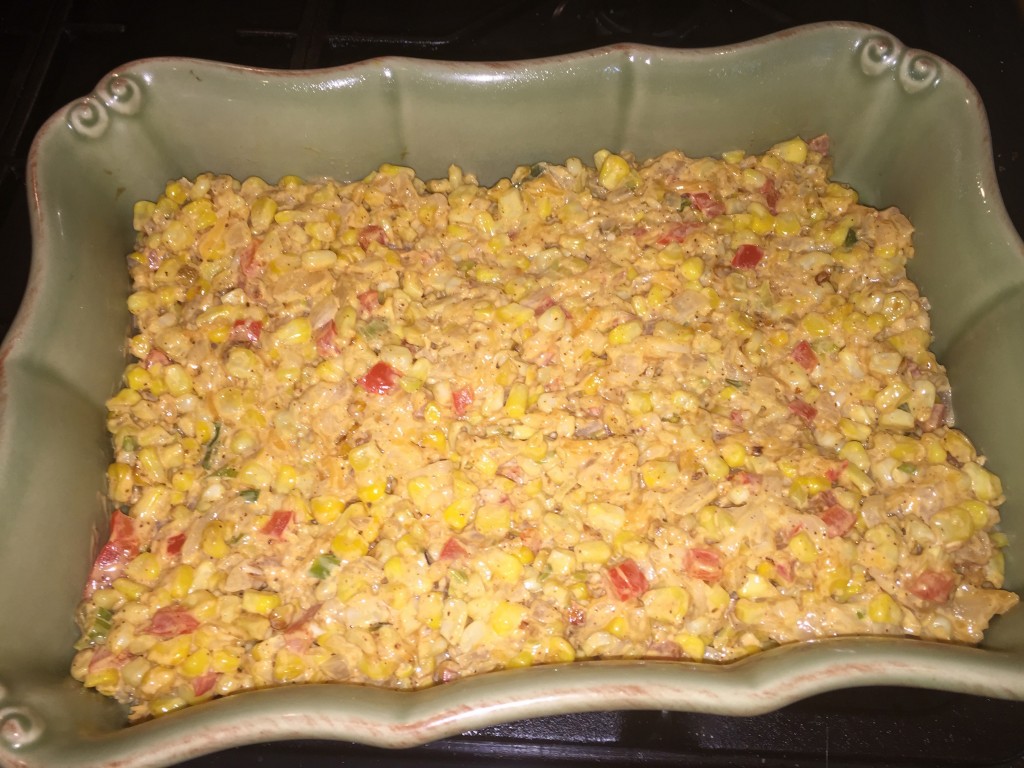 Easy Appetizer Recipe: Roasted Corn Dip
Ingredients:
3 ears of fresh corn
1/2 cup chopped red bell pepper
1 tsp. chopped garlic
1 medium chopped yellow or Vidalia onion
3 chopped scallions, white and green parts
2 T. butter
1 tsp. chili powder
1/2 cup olive oil mayo
1 cup shredded colby jack cheese (I have also used mozzarella, which is also delicious)
salt and pepper to taste
Instructions:
1. Preheat oven to 350 degrees.
2. After you have chopped all of the vegetables and removed the corn kernels from the ears, heat 1 T. of butter in a large pan.
3. Place your corn kernels in the hot pan first, and cook the corn for about 6-7 minutes, until the corn starts to pop.
4. Remove the golden brown corn from the pan and pour into a large bowl.
5. Put the other tablespoon of butter in the pan and then the onions, peppers and garlic once the butter has melted.
6. Cook the veggies for about 5 minutes, until slightly softened.
7. Pour cooked onions and peppers into the bowl with the corn.
8. Once the vegetables have cooled off a little bit, then add the chili powder, salt and pepper.
9. Spoon in the mayo and add the shredded cheese, then mix everything until combined.
10. Pour the mixture into a prepared (sprayed with cooking spray) 9 X 9  0r 8 X 11 inch pan, then place into your heated oven for 20-25 minutes.
11. Once the dip is golden brown and bubbly, remove from oven and let cool slightly.
12. Serve warm with Fritos, tortilla chips, carrot sticks, crackers, or whatever you have on hand. It doesn't really matter, as long as you get to this delicious dip. And if you use your finger, just make sure no one is looking! 🙂
What's your favorite kind of dip?
Latest posts by Jennifer McKinney
(see all)