This blog post comes to us from RecipeLion's Featured Foodie, Carole, author of the blog Toot Sweet 4 Two.
Sweet and Sticky Baked Beans are a favorite in my family. No family barbecue is complete without them. If I don't make them, my family is always disappointed!
The secret to these beans is twofold: I use a particular brand of canned beans, B&M's Baked Beans, and I drain the liquid from the canned baked beans. So, when adding the rest of the ingredients and cooking them for an hour and fifteen minutes, the result is a delicious combination of sweet and sticky.
If you are having a crowd over for a party (think 4th of July), some of the big box stores carry these beans in 7 pound cans. This is the perfect size for a "crowd" – just double this recipe!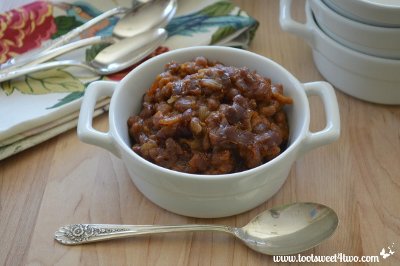 Sweet and Sticky Baked Beans
Serves 8 to 10
Ingredients
2 (28-ounce) cans of B&M Original Baked Beans (or other brand of small pea baked beans), thoroughly drained
1 pound thick-sliced bacon, all but 3 slices cut into bite-sized pieces (leave 3 slices whole for garnish)
2 yellow onions, peeled and chopped
4 cloves of garlic, peeled and finely minced or grated
1 cup firmly-packed brown sugar
3/4 cup ketchup
2 tablespoons yellow mustard
Directions
Preheat oven to 350 degrees F.
In a strainer, drain the canned baked beans and set aside.
Add sliced bacon to large skillet and cook over medium heat until crisp on both sides; remove from skillet and set aside to drain on paper towels.
Add cut bacon to the skillet and saute over medium heat until crisp, stirring occasionally.
With a slotted spoon, remove bacon from skillet and drain on paper towels, reserving bacon fat in the skillet.
Pour off all but about 2 tablespoons of the bacon fat from the skillet and discard or save in the refrigerator for another use.
Return skillet to stove top, add onions and saute' over medium heat until onions are translucent and slightly browned around the edges.
Add garlic and saute for a few minutes more; remove onions and garlic from heat and set aside.
In a large, oven-proof casserole dish, combine drained beans, cooked bacon bits, onions with garlic, brown sugar, ketchup and mustard; mix thoroughly.
Bake in preheated oven for 1 hour and 15 minutes.
Remove from oven and garnish with 3 slices of cooked bacon.
Serve.
What do you eat with baked beans?
Latest posts by RecipeLion
(see all)