When I go to summer parties and potluck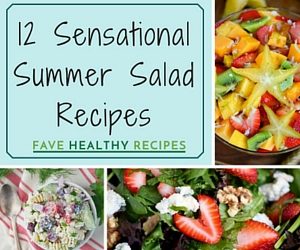 s, I couldn't care less about what the main dish is. I'm always more focused on the side dishes, and when the weather heats up it means summer salads! I actually have an obsession with salads. Seriously, my entire plate will be filled with salad at parties. Especially if there is any kind of pasta salad because, well, carbs. Mixing cooked pasta with chopped veggies and a vinaigrette is my lunch most days. (Side note: If you haven't jumped on the "pasta salad for lunch" bandwagon, then you're missing out.)
Anyway, on to these summer salads. Any of these salads would be a huge hit at any of your summer parties and potlucks. So now if your host or hostess responds with "Whatever you would like!" when you ask what you can bring, you have an entire list of incredible salads to choose from. Don't bring dessert; everyone brings dessert. Summer salads are the best simply because most of our favorite salad ingredients are in season in the summer. Take advantage of the few short months of warm weather with fresh fruit and vegetables while you can!
This list is pretty long, so there's bound to be a salad recipe that suits your tastes. These easy salad recipes are simply sensational! Some of these potluck recipes are hearty enough to be served alone as a meal and would even make a fantastic easy lunch or dinner for you and your family.
Sensational Summer Salads
 Fruit Salads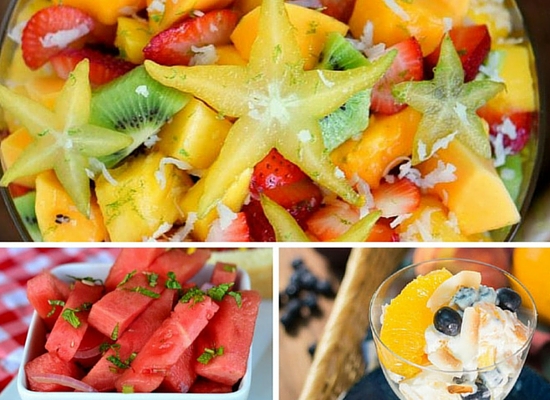 1. Tropical Fruit Salad with Honey Lime Dressing: This fruit salad will make you think you're on a tropical island.
2. 24 Hour Fruit Salad: Just like wine and cheese, this fruit salad gets better the longer you let it sit!
3. Refreshing Balsamic Watermelon Salad: Is anything better than freshly cut watermelon in the summer?
Sweet Green Salads

1. Berries and Feta Salad: If you don't think that fruit and feta go together, this salad will change your mind.
2. Spring Mix Salad with Strawberries, Gorgonzola, Walnuts, and Mint: This salad is a great mix of fresh summertime flavors.
3. Southern Peach Salad with Green Goddess Dressing: You know those flavors that you think won't work together but just…do? That's this recipe.
4. Mango Cabbage Salad: For a bonus meal, try making this salad into a wrap–YUM!
5. Red, White, and Blueberry Salad: This salad is just waiting to be brought to a Fourth of July party.
Pasta and Potato Salads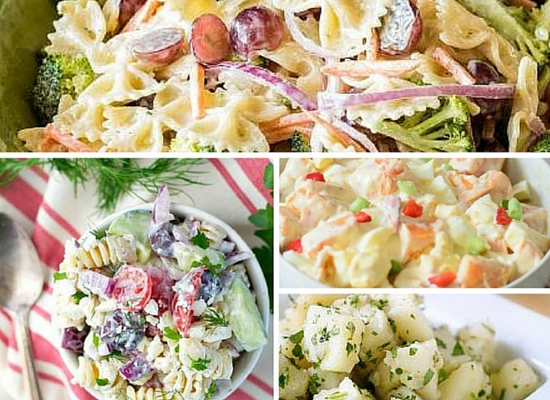 1. Broccoli Grape Pasta Salad: For a spinoff of traditional broccoli salad, this one is just as creamy and delicious.
2. Light and Creamy Greek Pasta Salad: Greek salad gets a makeover with this creamy version.
3. Simple Sweet Potato Salad: Cold and creamy sweet potatoes? Yes please!
4. No Mayo Italian Potato Salad: Mayonnaise can easily spoil in the heat, so this potato salad without it is perfect for summer!
What's your favorite summer salad recipe? Tell us in the comments below!
Latest posts by FaveHealthyRecipes
(see all)