The Simpsons is one of my favorite shows. There is a line in one episode where one of the characters, Moe,  just got rich.  Moe decides to spend a lot of money at a local restaurant. He goes up to his waiter and he says, "I'll have your fanciest dish stuffed with your second fanciest dish." The waiter responds, "Very good sir. You'll have the lobsters stuffed with tacos." I love that line but thank goodness that recipe does not actually exist because is sounds disgusting.  What we do have is an incredible array of gluten-free stuffed meals that are extremely delicious. These super easy stuffed recipes taste fantastic and all are a new twist on a classic recipe. Have fun with your food with these 5 Super Easy Stuffed Recipes.
These Stuffed Mushroom Eyeballs by Vegan Yack Attack are perfect for any occasion— not just Halloween. Bring this dish with you to your next pot luck dinner or serve this as an appetizer before your next meal. This is one of the healthiest easy stuffed recipes you can find because all it is is essentially mushrooms, tofu, and olives.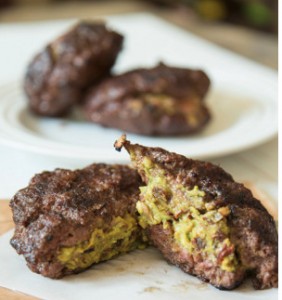 I always put avocados on top of my burgers (although in fairness to me I put avocados on everything) which is why these Avocado Stuffed Burgers are perfect. There is no need to add any condiments on top of this burgers considering how flavorful it is already.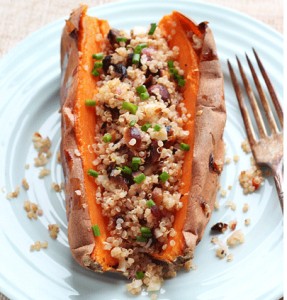 We all know that quinoa is the greatest thing since sliced bread. It is the staple of any gluten-free diet. Quinoa is extremely healthy for you, is a complete protein, and can be used to make any dish better. Further proof of that this is Quinoa Stuffed Sweet Potatoes from Queen Of Quinoa. This is one of those easy stuffed recipes that you absolute must try right now!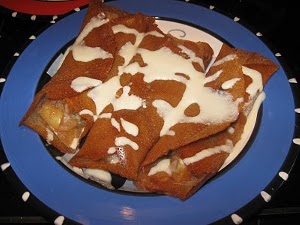 These Apple Stuffed Crepes are a must-try. You can make these as a part of a very special breakfast or you can put ice cream on top to make them an after-dinner treat. Or you can add ice cream on top and eat them for breakfast. There is no wrong answer and the choice is yours.
If you are looking for a dessert that does not have gluten in it, tastes incredible, and can be made on a budget, then you came to the right place. These Vanilla Wafer Sandwich Cookies from Gluten Free On A Shoestring are exactly what you are looking for.
Which "stuffed" food do you prefer: stuffed peppers or stuffed mushrooms?
Latest posts by FaveGlutenFreeRecipes
(see all)