Spring is in the air and I'm loving anything with a touch of citrus. Cookies, dessert bars, easy cake recipes… If they're lemon dessert recipes or just plain fruity, I'm all in. That's why I'm a giant fan of the bundt cake recipe below. Super Simple Lemon Bundt Cake is a refreshing take on a classic cake recipe.
The best part about this recipe is its bright lemon flavor – the secret is to use the most fresh lemon juice possible. We even incorporated lemon zest to give the cake an extra burst of flavor. The lemon glaze is light and not too sweet. This is a great cake to make for any occasion!
Super Simple Lemon Bundt Cake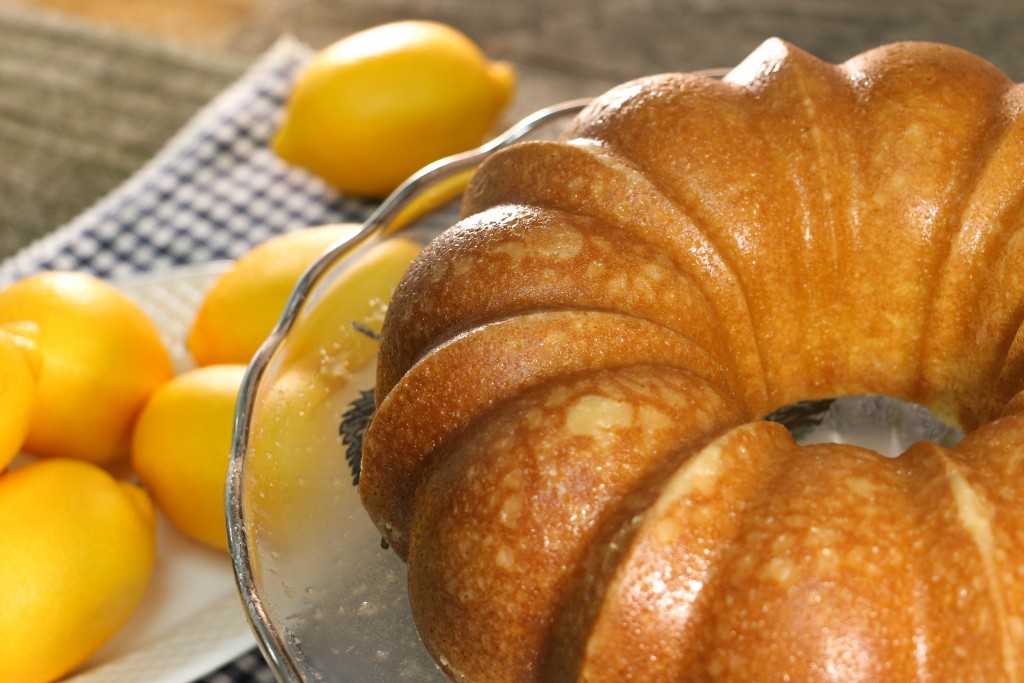 Ingredients
Cake
2 1/4 cups flour
2 teaspoons baking powder
1/2 teaspoon salt
4 eggs
2 cups sugar
1 teaspoon vanilla extract
2 Tablespoons lemon zest
3 Tablespoons lemon juice
1 cup whole milk
12 Tablespoons unsalted butter
Glaze
2 cups confectioner's sugar
1/2 cup lemon juice
1 Tablespoon butter
Instructions
Cake
Preheat the oven to 350 degrees F. Grease a bundt pan with cooking spray, then lightly flour the pan. Shake out any excess flour.
Whisk together the flour, baking powder, and salt in a small bowl.
Using a stand mixer with the paddle attachment, beat eggs on low until thickened. Then slowly add the sugar on low and beat at medium speed until it is light and fluffy. Mix in the vanilla, lemon zest, and lemon juice. Slowly add the dry ingredients. Beat until well combined.
In a small saucepan, heat the milk and butter until the butter is melted. Pour into the batter and mix until smooth. Pour into the prepared bundt pan.
Bake 30 to 40 minutes in the 350 degree oven or until a toothpick inserted comes out clean. Cool for 5-10 minutes before flipping upside down. Let cake cool completely.
Glaze
Mix the lemon juice with the confectioner's sugar until dissolved.
Put in a heat-proof bowl over a double boiler. Whisk in the butter and stir until smooth.
Drizzle the glaze over the cooled cake. Slice and serve!
BONUS Bundt cake recipes!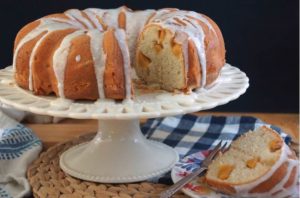 Peach Sour Cream Bundt Cake (pictured)
Scratch-Made Southern Rum Cake
Best-Ever Chocolate Coconut Bundt Cake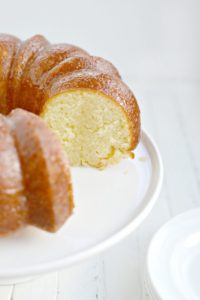 Kentucky Butter Cake (pictured) A reader favorite!
Sour Cream Chocolate Bundt Cake
Amazing Cookie Butter Pound Cake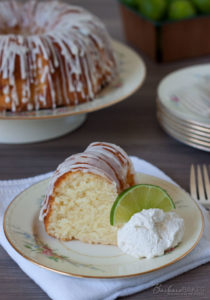 Summer Key Lime Pound Cake (pictured)
Homemade Blueberry Cake Recipe
Hummingbird Bundt Cake with Pineapple Cream Cheese Glaze – Just in time for spring!

Find more of our favorite Bundt cake recipes in our collection 12 Southern Bundt Pan Recipes
Finish this sentence: "When life gives you lemons, __________." (Feel free to get creative with your answers!)
Latest posts by RecipeLion
(see all)