In my humble opinion, the Marvel Cinematic Universe is one of the best things to ever happen to the film industry. And the world. Just think of all of the wonderful things it has given us: Guardians of the Galaxy, Robert Downey Jr. playing himself constantly, Scarlett Johansson kicking butt and becoming a role model to females everywhere, and now Avengers: Age of Ultron.
Age of Ultron looks like it could become the best movie in the universe so far, which is saying a lot considering how much I (and the rest of the world) love Iron Man, Captain America: The Winter Soldier, and Guardians of the Galaxy. I mean, just LOOK at the most recent Age of Ultron trailer and try to tell me that it doesn't look fantastic.
Now, whenever something big like this comes along, I always feel inclined to celebrate by cooking and baking. So, for Avengers: Age of Ultron, I'm all about the superhero recipes. The dishes inspired by all of Earth's mightiest heroes (and their friends). Easy dinner recipes, easy dessert recipes, even a few snack recipes. There are so many dishes to make in honor of the Avengers that you'd have to cook and bake for the better part of a week to make them all!
Here are some of my favorite superhero recipes to make in honor of the Avengers. I hope you like them!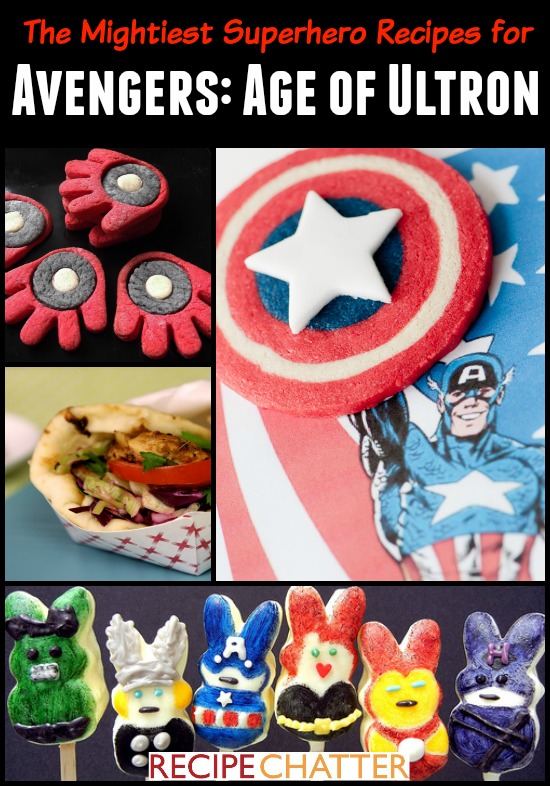 Easy Dinner Recipes
1. The Avengers' Chicken Shawarma – The most ICONIC Avengers meal!
2. Pepper Potts' Stuffed Bell Peppers from Mom on Timeout
3. Agent Coulson Coleslaw from Cinema and Spice
4. The Fitzsandwich from Food Adventures in Fiction
Easy Dessert Recipes
1. Captain America M&M Shield Cookies
2. How to Make Hulk Cake Pops from Rose Bakes
3. Iron Man Biscuit Cookies from Handmade by Rianna
4. Captain America's Sweet Shield Shortcakes
5. Avengers: Age of Ultron Rice Krispie Treats from Sugar Swings
6. Superhero Peeps Pops
7. Captain America Cookies from Hungry Rabbit
8. Avengers Push-Up Pops from Sweet C's Designs
Other Tasty Superhero Recipes
1. Lemon-Lime Hulk Party Punch from Mom on Timeout
2. The Tony Stark from Nerds and Nonsense
3. Black Widow Popcorn from The Tiptoe Fairy
4. Incredible Hulk Hummus from Homegrown and Healthy
5. Chicken Shawarma Seven Layer Dip from Foxes Love Lemons
6. Thor's Cheese and Pretzel Hammers from Dash and a Pinch

He's not an Avenger in the Marvel movies (yet), but he's the world's most popular superhero (and Avenger in the comics)! –> How to Make a Spider-Man Cake

Don't have enough movie-inspired or superhero recipes in your life? Check out one of our favorite Pinterest boards!
Follow The Best Dessert Recipes's board Fun Movie-Inspired Recipes on Pinterest.
If you had the power to make one Avenger exist in the real world, who would you choose?
(I'd totally choose Steve Rogers [Captain America]. Hands down. No contest. How wonderful would it be to have him in the world?)

Related: Catch 'Frozen' Fever with These Cute Treats
Related: Oscars 2015: Recipes for This Year's Best Pictures
Latest posts by RecipeLion
(see all)