Whether you went trick-or-treating with your children on Halloween, answered the door for trick-or-treater's, participated in a Halloween party celebration , or just enjoyed a quiet Halloween evening with a bowl of candy and a spooky movie, you likely had your fair share of sweet confections. While we all allow ourselves a day of absolute gluttony on Halloween, why not prologue our sweet indulgence a bit longer? Let's be honest, we all have a tub of Halloween candy sitting at home, on our desks at work, or "hidden" on a high shelf in our closets. Luckily, we've got some tasty leftover Halloween candy recipes to share that will help to use up all that candy laying around. While we are encouraging you to cook up even more desserts, we are, in fact, helping–as you'll use up (gobble up) the candy faster and it won't linger in your house for too much longer!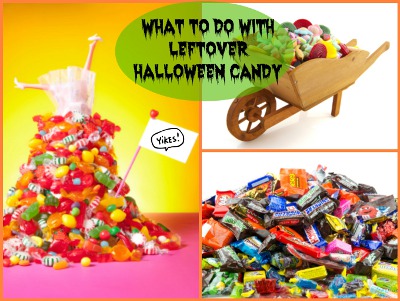 Things to Do with Leftover Halloween Candy:
Baking with Halloween candy is fun and easy. We've got a variety of recipe ideas for Halloween candy from a few of our sites, including AllFreeSlowCookerRecipes.com, RecipeLion.com, AllFreeCasseroleRecipes.com, FaveHealthyRecipes.com, and TheBestDessertRecipes.com. We've compiled our favorites from these sites to share with you in one handy list.
Baking with Halloween Candy – In Your Slow Cooker (That's Right!)
On AllFreeSlowCookerRecipes.com, we have a couple fantastic recipes that allow you to "bake" using your slow cooker and Halloween candy.
Leftover Halloween Candy Brownie Surprise (shown above, left)- This decadent slow cooker dessert recipe for brownies incorporates both Reese's Peanut Butter Cups and Snickers. You're sure to have lots of those candies left over from your Halloween celebration.
Slow Cooker Chocolate Candy Bar Bread Pudding (shown above, right)- This gooey bread pudding recipe is made extra decadent by including your favorite chocolate candy treats. Pick your favorite and add it in.
Drink Your Candy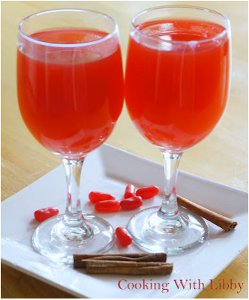 Red Hot Apple Cider – This creative slow cooker hot apple cider recipe is made with only three simple ingredients: apple cider, Hot Tamales Candy, and allspice. You can enjoy this slow cooker drink recipe throughout the fall and winter.
Three Ways with Candy Corn!
Our friends at FaveHealthyRecipes.com and RecipeLion.com have some tasty recipes using leftover Halloween candy. If you've got more candy corn laying around than you know what to do with, these three tasty treats all incorporate the classic Halloween candy (along with other types of candy mixed in).
Candy Corn Cookie Dough Pretzel Bites (shown above, left)- These Candy Corn Cookie Dough Pretzel Bites can fit cookie dough and candy corn all on one pretzel. Each bite is Halloween candy perfection.
Halloween Candy Corn Cookie Bark (shown above, center)- This amazing, Halloween-themed chocolate bark is packed with the best candy and snacks around including Oreos, pretzels, candy corn and sprinkles. Make it before or after the holiday, and everyone is sure to love it.
Halloween Rocky Road Brownies (shown above, right)- Use leftover chocolate bars, candy corn, nuts, and more to make these delicious rocky road brownies.
Dynamite Dessert Bars
TheBestDessertRecipes.com and AllFreeCasseroleRecipes.com have some of the best dessert bars incorporating Halloween candy. These delicious Halloween candy leftover recipes are simply irresistible!
Kit Kat Cheesecake Brownies (shown above, left)- If you thought a Kit Kat bar could not get any better, then here you are being proven wrong. This triple layered treat is a sight for sore eyes. The bottom layer is a fudgy brownie that is out-of-this-world. The second layer is full of crispy and crunch Kit Kat candy bars. The last layer is a splendid slice of cheesecake.
Butterfinger Blondies (shown above, center)- With Butterfinger pieces in the batter and buttercream, you'll experience a pleasant candy bar overload.
Rolo Cake Mix Bars (shown above, right)- Rolo Cake Mix Bars are chocolatey and delicious. They're easy to make with only four ingredients and will definitely be a crowd pleaser.
For even more sweet recipes using leftover Halloween candy, check out AllFreeCasseroleRecipes' collection, Halloween Candy Recipes: 8 Recipes Using Leftover Halloween Candy.
What's your favorite type of Halloween candy?
Latest posts by AllFreeSlowCookerRecipes
(see all)