Last Friday, I put on my thinking cap and apron, and created a casserole fit for St. Patrick's Day. Corned Beef and Cabbage Casserole is a 5 ingredient recipe that's so easy to make. It's based off of the classic corned beef and cabbage dish, and as I am the editor of AllFreeCasseroleRecipes, I add a few more ingredients and turned it into a casserole. Take a peek inside our test kitchen and see how this casserole came to be.
Corned Beef and Cabbage Casserole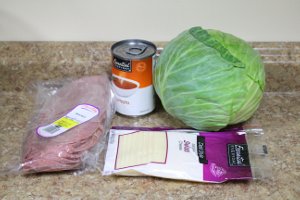 All you need are 5 ingredients: corned beef, cabbage, rice, tomato soup, and Swiss cheese.
The first thing you want to do is cook the rice. I used brown rice, so I cooked it for 45 minutes.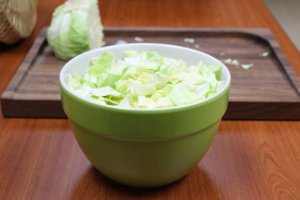 When the rice is almost done, preheat the oven to 350 degrees F. Then, shred the cabbage. I used about 3/4 of a head of cabbage. I recommend buying a small cabbage so you use it all. If you buy a bigger one, have another cabbage recipe on hand so it doesn't go to waste. You could also snack on it while you cook!
Here are step-by-step photos of the layering process: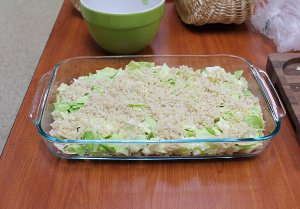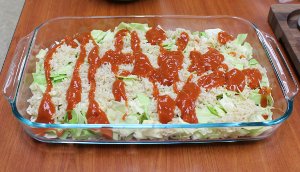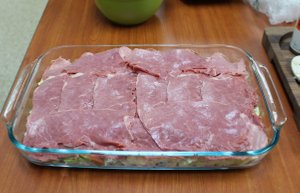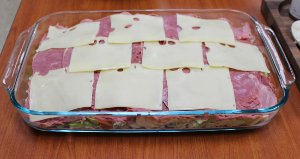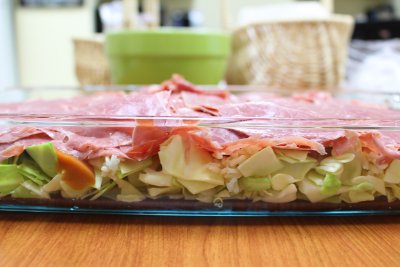 Look at those layers! Once the casserole is built, cover it with foil and bake it in the oven for 50 minutes. Then, uncover and bake for an additional 10 minutes. If the casserole is a little soupy, bake it a little longer.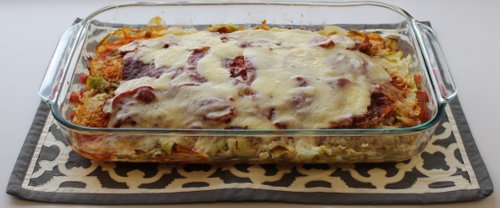 The end result was delicious. I wasn't sure how the tomato soup would taste with the corned beef, but it turned out to be a really good fit. The soup added nice flavor to the casserole. The cabbage shrunk down and was really tender. The corned beef become a little tough – just the way I like it! If you're looking for a nice, easy meal for St. Patrick's Day, I recommend this 5-ingredient Corned Beef and Cabbage Casserole.
What do you eat on St. Patrick's Day?
Latest posts by AllFreeCasseroleRecipes
(see all)