This past Thursday, the editor of TheBestDessertRecipes and I had the pleasure of attending our second Taste of Home Cooking School Demonstration. It was held at The Arcada Theater in St. Charles, Illinois. We had a blast again and learned lots of new cooking tips. Guy Klinzing was our Culinary Specialist for the night, and he did a fantastic job. He sang to us, taught us a new version of YMCA (TOH – The Taste of Home version!), and had us laughing in our seats. The only way this night could have been better was if we had won one of the many door prizes. Alas, we weren't so lucky. Maybe next time!
One of the things that I love about these cooking shows is that we're given a Taste of Home magazine that's made specifically for the show. It includes the recipes that are being made that night, so it's easy to follow along and take notes if you want. Guy made eight recipes for us, which ranged from an Italian Brunch Torte to a Steak and Bread Salad. I wanted to taste every recipe. They all looked so good! I almost had the opportunity to try one because each dish was raffled off at the end of the night. Neither of us won, but the dishes went to hungry and happy attendees.
Our motto for the evening:

The show had a slightly Italian twist, even more so thanks to host Ron Onesti, president and CEO of The Arcada Theater. In addition to the eight Taste of Home recipes demonstrated, Ron shared a family recipe up on the stage: Sausage and Peppers. Guy and Ron are a funny pair, and we could tell they were really having fun up there. And that's good, because cooking is a fun thing to do and it should always be enjoyed.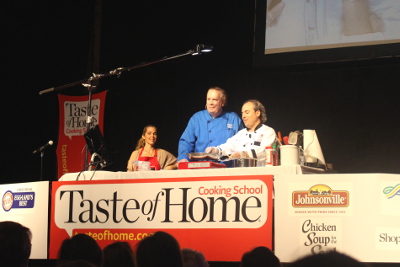 These cooking demonstrations are held all over the country, so if you haven't gone to one before, I suggest you do so. We had the honor of attending Guy's final show of the spring season – which happened to take place in his neck of the woods – so it was an extra-special show. If you can't make one of the last shows of the spring season, there will be plenty next season. Find a Taste of Home Cooking School near you.
View more photos from the show
Here are some fun facts we learned from Guy: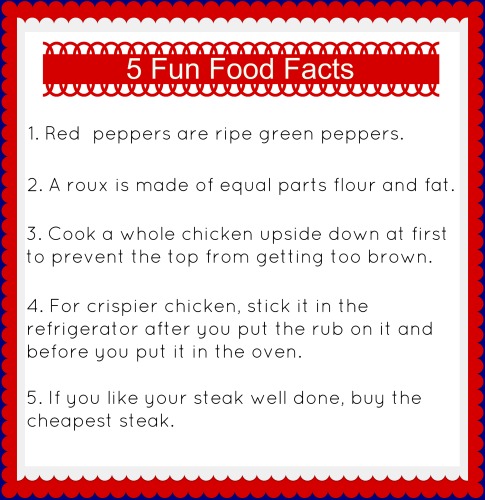 Have you ever attended a Taste of Home Cooking School Demonstration or other cooking demonstration?
Latest posts by RecipeLion
(see all)