There's no denying that, if given the choice or opportunity (or unlimited eating powers), I would eat through the entire Olive Garden menu in a single sitting. I just can't help myself. While a lot of my old Italian relatives scorn the Olive Garden for not being 100% authentic Italian food, I don't care. To me, Olive Garden is 100% delicious and I can't get enough of it.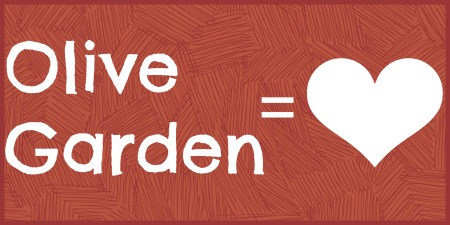 Unfortunately, I don't have the funds to support myself eating out at Olive Garden every day. Believe me, if I did, I'd be there for lunch and dinner every day.
Those breadsticks are ahhhh-mazing
, aren't they?! Anyway, my bank account would cry if I did that for even a week. I can't even consider Olive Garden catering once a week because that's a bit too pricy for me as well.
So, instead, I turn to copycat Olive Garden Recipes. The only difference between these delicious copycat recipes and the dishes you order at Olive Garden is that you have to actually make them. In terms of flavor and taste, copycat Olive Garden recipes are pretty much identical to what your server would bring you. I'm not kidding.
Don't believe me? Below are some of my all-time favorite homemade Olive Garden recipes. From recipes for their breadsticks to recipes for some of their most famous meals, you'll find that you can make all of the Olive Garden dishes you love right in your own kitchen (and pretty easily)!
(Note: I may have gone a little overboard with just how many recipes I'm sharing with you. I just have too many Olive Garden favorites to choose from!)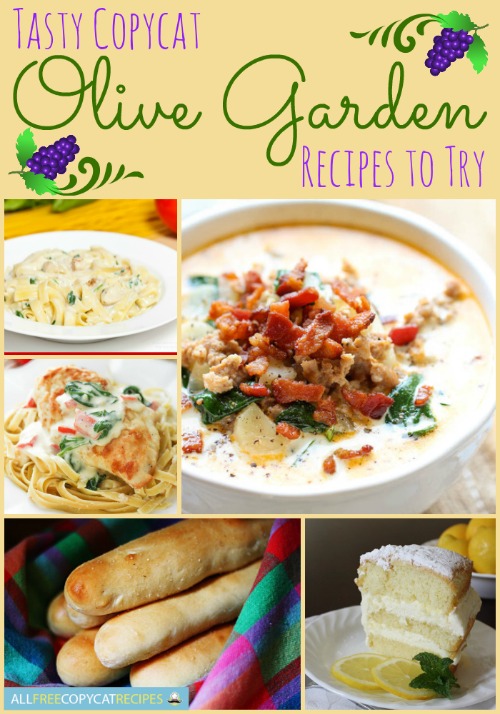 Copycat Olive Garden Soups, Salad Stuffs, and Breadsticks
Copycat Olive Garden Breadsticks
Just-Like-Olive Garden Salad with Homemade Dressing
Copycat Olive Garden Pasta E Fagioli (pictured below)
Olive Garden Zuppa Toscana Knockoff
Olive Garden-Inspired Caprese Salad
Slow Cooker Olive Garden Copycat Minestrone Soup
Olive Garden House Dressing Knockoff – Made in our test kitchen!
Slow Cooker Copycat Olive Garden Chicken and Gnocchi Soup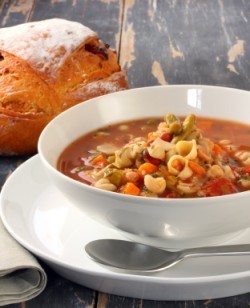 Copycat Olive Garden Main Dishes
Copycat Olive Garden Chicken Fettuccine Alfredo
Olive Garden Chicken Scampi Copycat
Olive Garden-Inspired Pasta Carbonara
Olive Garden Copycat Lasagna Primavera
Olive Garden Tuscan Garlic Chicken Copycat
Olive Garden's Stuffed Chicken Marsala Knockoff
Just-Like-Olive Garden's Baked Ziti
Homemade Olive Garden Tortellini al Forno
Copycat Olive Garden Desserts and Sweets
Copycat Olive Garden Peach Tea
Homemade Olive Garden Lemon Cream Cake
Homemade Olive Garden Sangria – My favorite!
Olive Garden-Inspired Apple Carmelina
Olive Garden Cookie Dough Cheesecake
Copycat Olive Garden Black Tie Mousse Cake
What's your favorite Olive Garden dish?
Latest posts by AllFreeCopycatRecipes
(see all)