Print This Post
With Thanksgiving less than a week away (yes, less than week), it's time to start focusing on your baking and cooking. Between last Thanksgiving and now, a lot has changed. Perhaps, within that year, you've gone gluten-free or have been diagnosed with Celiac Disease. Thanksgiving this year may be a lot different than last year because you've drastically changed your diet. But never fear. Just because you no longer eat gluten doesn't mean that you have to go without one of the most iconic member of your Thanksgiving spread: the apple pie.
The other day, I went to a cooking class at Sur la Table that focused on baking with King Arthur Flour. The chef raved about this company; she said it is the only flour she uses at home. The other thing she mentioned was that when a recipe calls for All-Purpose King Arthur Flour, you can substitute cup-for-cup with King Arthur Gluten-Free All-Purpose Baking Mix. Out of all the gluten-free flours she's used, the chef rated King Arthur Flour the highest.
We made a few different baked goods in our class, but the one I am most excited to share these recipes for the Perfect Pie Crust and Foolproof Apple Pie (reprinted here with permission from King Arthur Flour).
Perfect Pie Crust
1 1/2 cups King Arthur Unbleached All-Purpose Flour or
King Arthur Gluten-Free Multi-purpose Flour
1/2 teaspoon salt
4 tablespoons shortening
5 tablespoons unsalted butter
3 to 5 tablespoons ice water
Whisk together the flour and salt.
Add the shortening, working it in until the mixture evenly crumbly.
Add the butter to the flour mixture and work it in roughly with your fingers, a pastry cutter, or a mixer. Don't be too thorough; the mixture should be very uneven, with big chunks of butter in among the smaller ones.
Add 2 tablespoons of water. Toss to combine.
Toss with enough additional water to make a chunky mixture. It should barely hold together when you squeeze a handful, though the remainder may look quite dry.
Scoop the mixture out onto a piece of parchment or waxed paper, and flatten it out a bit. Take a spray bottle of water and spritz the dry parts with the water.
Using the parchment or waxed paper, fold the dough over on itself—first from one side and then from the other. You find that the dry crumbs are becoming incorporated with the cohesive dough. If there are still dry areas, spritz them with additional water, and fold the dough in on itself again. Keep folding and gathering until just a few dry crumbs remain unincorporated; this should only take a few folds.
Shape the dough in a disk about 1″ thick, and refrigerate it for 30 minutes or longer; this resting period allows the flour to absorb the water, making the dough easier to roll out. (TIP: You can make this dough ahead of time. It can keep in the fridge for up to a month and in the freezer for more 6 months to a year.)
When you're "ready to roll," remove the dough from the fridge. If the dough has been refrigerated longer than 30 minutes, let it rest at room temperature for 10 to 15 minutes before rolling to allow the butter to soften up a bit. (If you froze your dough, it will take longer for the dough to soften.)
Roll the dough to the size needed (about 12″ for a 9″ pie). Fill and bake as directed for your recipe.
Foolproof Apple Pie
1 recipe Perfect Pie Crust
Filling
8 cups sliced apples (about 3 apples)
2 tablespoons lemon juice
3/4 cup sugar
1/4 cup King Arthur Unbleached All-Purpose Flour or King Arthur Gluten-Free Multi-Purpose Flour
2 tablespoons cornstarch
1/4 teaspoon salt
1 teaspoon cinnamon
1/4 teaspoon nutmeg
1/4 teaspoon allspice
1/4 cup boiled cider or undiluted apple juice concentrate
2 tablespoons heavy whipping cream, for glazing
1 tablespoon granulated sugar, for glazing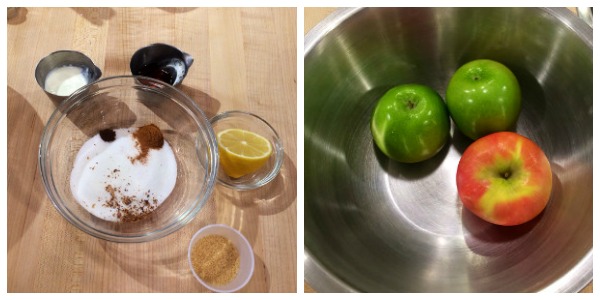 Lightly grease a 9-inch pie pan that's at least 2 inches deep. This will make serving the pie easier after it's baked.
Combine the sliced apples and lemon juice in a large mixing bowl.
In a small bowl, whisk together the sugar, flour, cornstarch, salt, and spices. Sprinkle the mixture over the apples and stir to coat them. Stir in the boil cider or apple juice concentrate.
Roll a little more than half of the Perfect Pie Crust dough to a 13″ circle. Transfer it to the prepared pan and trim the edges so they overlap the rim of the pan by an inch all the way around. (TIP: Don't throw away the scraps! Use tiny cookie cutters to cut out shapes and then decorate the rim and top of your pie.)
Spoon the apple filling into the pan. Dot the top with the diced butter. Don't be afraid to over fill; the filling will bake down.
Roll out the remaining pastry to an 11″ circle. Cut decorative vent holes, if desired.
Preheat the oven to 425 degrees F.
Roll the overhanging crust up and over the top crust, pinching to seal the two.
Flute the edges of the pie (or use the cut-out scraps that you made earlier), then place it in the refrigerator for 10 minutes to firm up the crust while the oven finishes heating.
Place the pie on a parchment-lined baking sheet. Use a silicone pastry brush to coat the top of the pie with heavy whipping cream and sprinkle with sugar. Bake the pie for 20 minutes, then reduce the oven temperature to 375 degrees F and bake for 40 minutes more until you see the filling bubbling inside the pie. Check the pie after half an hour of baking time and cover the edges with foil or a pie shield to keep them from browning too quickly.
When pie is done, remove from the oven and let it rest for an hour at room temperature before slicing.
Serve with whipped cream or ice cream!
What is your favorite type of pie?
FaveGlutenFreeRecipes.com is your source for hundreds of free gluten free recipes, gluten free foods, and gluten free healthy recipes. We add new wheat free recipes and tips every day. You will find step-by-step instructions, videos, and recipes to make gluten free cooking quick and easy. Whether you have celiac disease or are just interested in learning more about a gluten free diet, we have something for everyone. From healthy gluten free breakfast recipes all the way to gluten free dessert recipes, we have gluten free cooking ideas for everyone and for every situation.
Latest posts by FaveGlutenFreeRecipes (see all)
Print This Post