Thanksgiving is perhaps the most anticipated holiday when it comes to food. If ever there's a time to fuss over side dishes, it's when you're planning your holiday menu for Thanksgiving. Our all new free eCookbook 18 Thanksgiving Side Dishes that Steal the Show is full of easy sides that you'll crave all year long. We know things can be hectic in the kitchen on Thanksgiving morning, so these recipes are super easy and quick to prepare. In fact, many of them can be made ahead of time so your holiday will be much more relaxing. Download and print the full collection of Thanksgiving side dishes and keep them at the top of your recipe box. These sides are so easy and delicious that you'll wish it was Thanksgiving every month.
At RecipeLion, we're all about quick and easy recipes that bring the family together around the dinner table. In this free eCookbook, you'll find recipes for potato side dishes, Thanksgiving vegetable side dishes, and even more comforting sides that will add crunch, color, and a whole lot of flavor to your holiday table. They're so delicious, you may find it hard to find room for turkey or dessert!
Here's a taste of what you'll find in the 36 pages of 18 Thanksgiving Side Dishes that Steal the Show: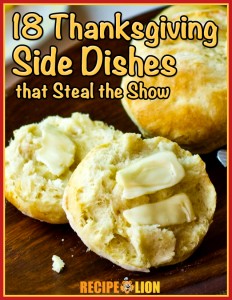 Potato Side Dishes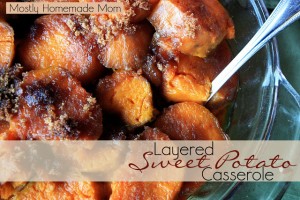 It wouldn't be Thanksgiving without a few awesome potato side dishes. Whether you like sweet potatoes, white potatoes, or any other variety, spuds definitely have to make an appearance at your holiday feast. In our potato side dishes chapter, we've featured some of the best recipes for mashed potatoes, potato casseroles, sweet potatoes, and more! From traditional potato side dish favorites to new "loaded" potato bakes, there's something here to fit any feast.
Thanksgiving Vegetable Side Dishes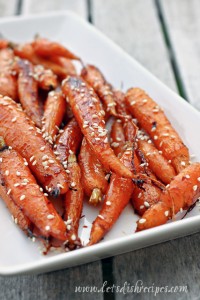 Between the turkey and potatoes, vegetable side dishes are a must to add color to everyone's plate. These Thanksgiving side dishes turn vegetables into something absolutely delicious. This Honey Ginger Roasted Carrots recipe, for example, adds amazing flavor to the vegetable. Other favorites like Classic Green Bean Casserole and World's Best Cream Corn will get rave reviews from guests, guaranteed. If you never thought vegetable side dishes could steal the show at the dinner table, think again!
More Comforting Side Dish Recipes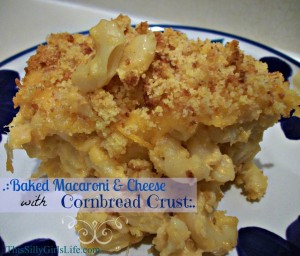 Of course, we had to include the Thanksgiving side dishes that everyone craves, like The Best Homemade Thanksgiving Stuffing and this Baked Macaroni & Cheese with Cornbread Crust. These sides are the kind of comfort foods that warm your soul and put a smile on the faces of friends and family you're celebrating with. From homemade biscuits to cornbread casserole, these classic sides are super easy to make and impressive additions to the holiday spread.
You won't want to miss these unforgettable Thanksgiving side dishes. Download and print the full collection of 18 Thanksgiving Side Dishes that Steal the Show and create a meal this year that your dinner guests will be talking about for years to come.
For even more free holiday eCookbooks, check out RecipeLion's complete collection to make every celebration one to remember.
Which Thanksgiving food do you look forward to the most?
Latest posts by RecipeLion
(see all)