I bet you never thought you could make an entire Thanksgiving menu in your slow cooker. Believe it or not you can. Each and every dish you would like to see on your Thanksgiving table you can create in your slow cooker. Pretty amazing! Of course you can also make some of your Thanksgiving recipes in your slow cooker and some in your oven. Your slow cooker enables you to make some slow cooker Thanksgiving recipes a day or two ahead and refrigerate or freeze them. So, on the actual holiday all you need to do is warm up those dishes. This comes in particularly handy when your turkey needs extra time to cook, cutting down time you would have needed to prepare other dishes.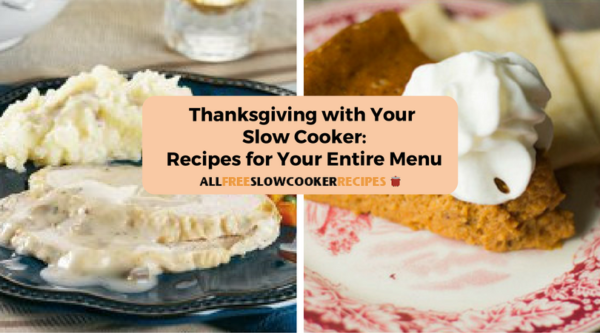 Thanksgiving with Your Slow Cooker: Recipes for Your Entire Menu
Making some of your sides ahead of time in your slow cooker definitely solves that issue. You can, of course, use your slow cooker on the holiday to prepare some of your slow cooker side recipes as well. In many of your holiday dishes the flavors will be incredibly enhanced when you use your slow cooker. As each dish simmers for hours, your flavors with seep into any meat you are cooking, but also intensify as the cooking process moves along. We are excited to share our variety of amazing Thanksgiving recipes with you. You absolutely must try this year to make some of our flavorful and delicious recipes in your slow cooker. You won't regret it!
Thanksgiving Recipes
Butternut Squash and Gnocchi Casserole
Sweet as Can Be Sweet Potato Casserole
Slow Cooker Apple Raspberry Cranberry Sauce
Cheesy Crunch Green Bean Casserole
Craveable Crustless Pumpkin Pie
Life-Changing Slow Cooker Mashed Potatoes
The Easiest Slow Cooker Turkey Breast
Slow Cooker Sausage, Apple and Sage Stuffing
What are some of your favorite Thanksgiving recipes for your slow cooker? Tell us about them in the comments below.
Latest posts by AllFreeSlowCookerRecipes
(see all)