It's that time of year again…Academy Award season. Have you seen all of the movies up for Best Picture? I've only seen two out of the nine films: Argo and Life of Pi. Both were great. Anyways, I thought it would be fun to match up some of the Best Picture nominees this year with recipes from AllFreeCasseroleRecipes. Here's what I came up with:
If my vote counted, I'd vote for Argo for Best Picture. I was on the edge of my seat the whole time. But, that's just my opinion; let's get to the recipes. Since the film took place in Iran, I thought Couscous and Hummus Casserole would be a good match. This Middle Eastern-inspired dish is a great side to accompany a chicken or lamb main course. Couscous, spinach, hummus, and sunflower seeds add substance and appropriate seasonings add just the right flavor.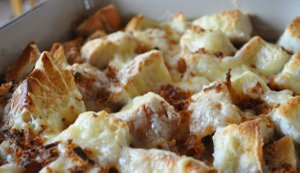 Though I have not seen Les Mis, I have heard nothing but rave reviews. The musical is set in France, so I thought French Onion Casserole was an appropriate dish. If you love the soup, then you'll love the casserole. It contains all the flavors of the classic version and puts it into a casserole dish. Swiss cheese and crispy onions top it all off. It's thicker than soup, but you can eat it in a bowl or on a plate.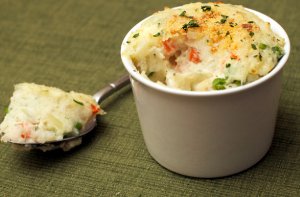 Life of Pi was another good movie. It's ironic to pick a recipe mascot of this movie because the main character, Pi, is lost at sea with very little food. However, I found a good one. Being out at sea, fish is a plentiful source of food. That's why I chose Mini Fish Pie (plus, it's a play on the main characters name, Pi). This particular fish pie uses your favorite kind of fish, onions, carrots, and peas. Like other savory pies, creamy mashed potatoes top it off. This recipe serves two to three people, so it's great if you're cooking for two.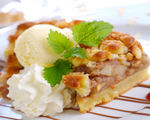 Lincoln, Lincoln, Lincoln. Lincoln is pretty American, and there's nothing more American than apple pie. AllFreeSlowCookerRecipes has a fantastic All American Cinnamon Apple Pie recipe. It's easy to throw together, and your slow cooker can take care of the rest! Plus, it serves 12 people, so it's perfect for a party. If you want Lincoln to win an Oscar, perhaps you should make this apple pie to help cheer him on.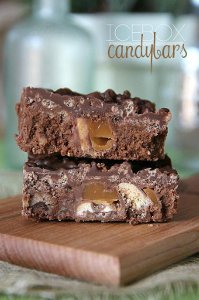 If you've seen Django Unchained, then you know that Leonardo DiCaprio's name in the film is Calvin Candie and his plantation is called Candyland. Therefore, I've chosen these Icebox Candy Bars. You'll love these. They're filled with Twix, Kit-Kats, and Crunch Bars. These happen to be my personal favorite candy bars, but you can swap 'em out with your favorites. Couldn't you go for a big, chocolate candy bar right now? I sure could.
Other Best Picture nominees: Silver Linings Playbook, Zero Dark Thirty, Amour, and Beasts of the Southern Wild.
Do you have any movie/recipe match-ups?
Latest posts by AllFreeCasseroleRecipes
(see all)