Fall is here, and winter will be here before you know it. There's no better time to start mastering slow cooker soups. Soups are warm and cozy and super versatile! We're offering up some of our best (ever!) slow cooker soups from AllFreeSlowCookerRecipes.com.
AllFreeSlowCookerRecipes' readers can't get enough potato soup! This recipe for Slow Cooker Sour Cream Potato Bacon Soup is one of our favorites. I love throwing it together in the morning and letting it cook all day while I'm at work. When I get home, I top it with loads of cheddar cheese, sour cream, green onion, and bits of bacon!
More Potato Soups:
Dumpling soups are hearty enough to eat as a main dish, because they're packed with chunky, satisfying ingredients. We recommend this soup, which we call Not-Your-Grandma's Chicken and Dumplings. This one is a lot easier to make than your Grandma's version, but it's just as wholesome and comforting.
More Ways With Dumplings:
French onion soups are soul-satisfying on bitter cold nights. This week, I'm serving up this Ultimate Slow Cooker French Onion Soup to my family to embrace the cool fall air. This soup tastes great loaded with cheese and served alongside some fresh, homemade garlic bread.
Fabulous French Onion Soups:
There are few things more satisfying in the winter than a beef stew and AllFreeSlowCookerRecipes has a variety of beef stews for every taste and preference. My personal favorite is this Hearty Tuscan Beef Stew. I love the combo of the tender beef, tortellini noodles, and lots of cheese on top! This one is great if you're looking for a break from the traditional beef stew.
More Beefy Stews: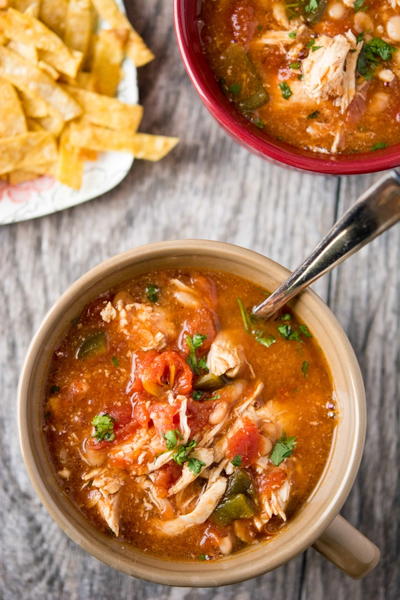 I am obsessed with Mexican food, so naturally Chicken Enchilada Soup is one of my all-time favorites! My current go-to is this recipe for the Easiest Chicken Enchilada Chili. It has just the right amount of kick and is jam packed with flavor! I love serving this with tons of tortilla chips and cheddar cheese. To kick it up, I'll add sliced avocado and a little sour cream!
More Excellent Enchilada Soups:
Check out more great slow cooker soups from AllFreeSlowCookerRecipes.com. And, we think these soups are pretty neat too:
What's your favorite kind of soup? Let us know below in the comments!
Latest posts by AllFreeSlowCookerRecipes
(see all)