Here at RecipeChatter, we're obsessed with stupidly easy recipes. When I'm hungry, I don't want to think about a complex, fancy recipe. I just want an amazing homemade meal that I can make quickly and easily! I prefer recipes that take as little effort as possible.
In fact, although I consider myself a decent cook – definitely smart enough for the fancy stuff – I just want to have fun cooking. Beginner recipes are more fun because they're leisurely and I don't feel that anxiety about the food turning out alright. I can trust that this stupidly easy recipe is foolproof.
Thankfully, this is our area of expertise. We have so many stupidly easy dinner recipes that you can make dinner for a week without a thought. Before you know it, you'll be digging into a dish that you barely remember making. Truly effortless!
The stupidest recipe of all is our Stupid Chicken, which begs the question "Why didn't I think of that?" It's so amazingly easy, and a definite favorite. Try it out and you'll breeze right through this easy chicken recipe – I know you're smart enough.
The Stupidest Dinner Recipes You Could Ever Make
2. Easy Ground Beef Stroganoff Casserole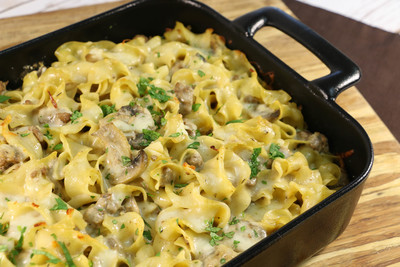 3. Wicked Beef
5. Corned Beef and Cabbage Casserole
Love these? Check out our stupidly easy desserts!
 What's your go-to easy dinner recipe?
Latest posts by RecipeChatter
(see all)