It's round two of This Versus That: Holiday Edition. In round one, I tackled the sweet potato casserole. This time around, I focused on the green bean casserole. When I think of green bean casseroles, I think of two versions. One version is completely made from scratch and looks beautiful. The other version uses a few canned ingredients and can be made in no time. I went into the test kitchen to do a little taste testing and determine whether all of those shortcuts are actually worth it.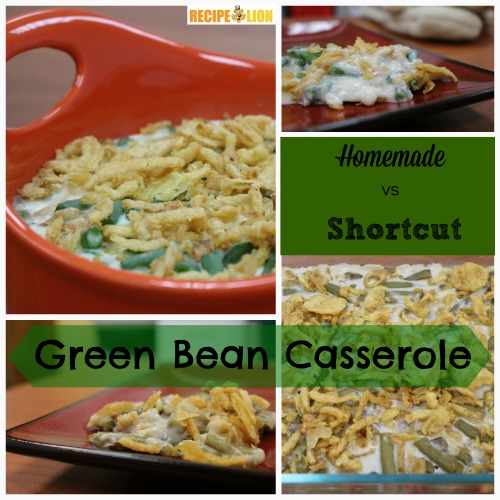 I'm happy to say that both versions of green bean casserole tasted good. But let's get to the specifics:
Difficulty Level: Obviously, the homemade green bean casserole took longer to make. It took me about an hour and a half from start to finish. The good thing about a holiday casserole like this is that you can recruit help. Have a family member cut the green beans while you make the sauce. Having a helper in the kitchen will make make things move a lot faster.
When you look at the recipe below, you'll notice I didn't make my own fried onions, so this recipe isn't completely made from scratch. If you're interested in learning how to make homemade fried onions, check out this recipe from our friends at FaveGlutenFreeRecipes (if you don't have gluten free Bisquick, you can substitute regular Bisquick for a non-gluten free version).
I made the shortcut green bean casserole in about two seconds (at least, that's what it felt like). It was a 3-step process: dump, stir, and bake. It couldn't be simpler. If you're doing a lot of the cooking on Thanksgiving, this shortcut version will definitely help cut down your work load.
Color: The first thing I noticed about these two casseroles was the color. The canned green beans are a dull, olive green while the fresh green beans are a bright, beautiful, bold green. For someone who eats with her eyes, I was all for the fresh beans.
Taste: It all comes down to taste. I have to say, my favorite is the homemade casserole (you're not shocked, are you?). The homemade Parmesan cream sauce added flavor and character that was lacking in the shortcut casserole. Plus, you can make the sauce ahead of time, so make it when it fits into your schedule. When all is said and done, I recommend the homemade version of the green bean casserole.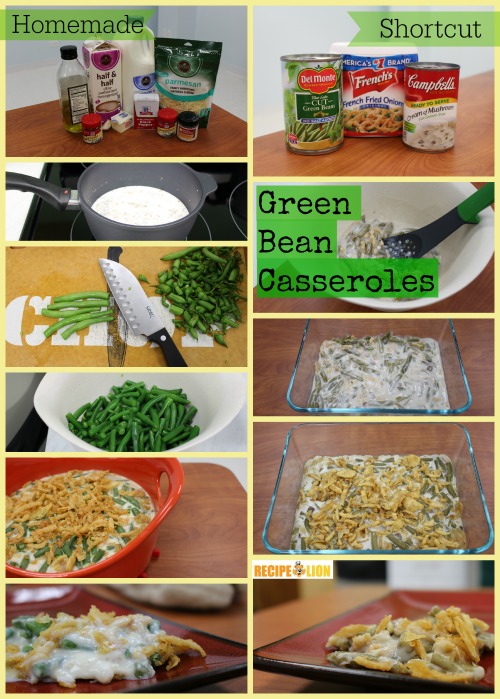 Shortcut Green Bean Casserole
Ingredients
1 (14.5-ounce) can cut green beans
1 (10.75-ounce) can cream of mushroom soup
1 cup French-fried onions, divided
Directions
Preheat oven to 350 degrees F.
Rinse and drain green beans.
In a large bowl, add green beans, cream of mushroom soup, and 1/2 cup French-fried onions. Mix well. Pour into an 8 x 8 inch casserole dish.
Bake for 30 minutes. After 30 minutes, add 1/2 cup French-fried onions to the top of the casserole and bake for another 5 minutes.
Homemade Green Bean Casserole
Adapted from The Cozy Apron
Ingredients
Casserole:
Cream Sauce:
1/2 teaspoon black pepper
1/4 teaspoon salt
1 1/2 cups milk
1 cup half and half
1 clove garlic, minced
1/2 teaspoon oregano
1/2 teaspoon dried thyme
1/4 teaspoon dried rosemary
2 1/4 tablespoons butter
4 tablespoons all-purpose flour
1/2 cup grated Parmesan cheese
Directions:
Prepare the green beans: Boil water in a large pot. Add salt.
While waiting for the water to boil, cut off green bean tips. Cut green beans in half to make them about 1-1/2 inch pieces.
Once water starts to boil, add green beans. Simmer for about 6 minutes.
Drain in colander, and immediately put into an ice water bath. Drain again, and then put in a bowl lined with paper towels in order to dry the green beans.
Preheat oven to 350 degrees F.
Make the cream sauce: In a saucepan, add milk, half and half, black pepper, salt, garlic, oregano, thyme, and rosemary. Whisk together. Put the saucepan on medium-high heat. When milk starts to simmer, turn off the heat.
In another small saucepan, melt butter. Whisk in the flour to form a roux. Cook for about 30 seconds. Slowly whisk in the milk mixture, careful to prevent lumps. Simmer two minutes. Add Parmesan and whisk to combine. Take off the heat.
Pour green beans into the milk mixture. Add 1/2 cup French-fried onions and stir. Pour into a buttered 8 x 8 inch casserole dish. Bake uncovered for 30 minutes.
After 30 minutes, add 1/2 cup French-fried onions to the top of the casserole and bake for another 5 minutes.
 How do you make green bean casseroles?
Latest posts by RecipeLion
(see all)