Welcome to Round 3 of This Versus That: Holiday Edition. In case you missed it, read about Round 1: Sweet Potato Casserole and Round 2: Green Bean Casserole.
When it comes to Thanksgiving desserts, pumpkin pie is a classic. I know the pie making process can be daunting for people, so I decided to get in the test kitchen and compare a pumpkin pie to an easier pumpkin dessert. If I can make Thanksgiving easier on you (and myself), I would consider my job done. So, follow me into the kitchen and learn how to make an easy pumpkin pie and pumpkin mousse.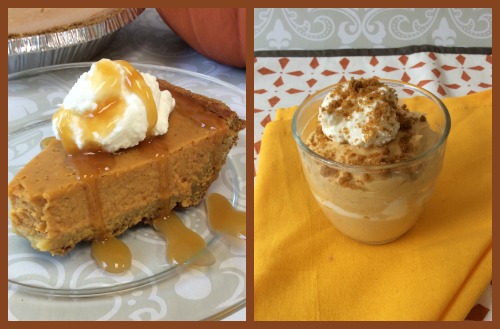 Pumpkin pie is my favorite Thanksgiving dessert. It's always extra-special because it's not something that I eat throughout the year. I only eat it in the fall, and usually only at Thanksgiving. So, I was more than happy to get in the test kitchen and make a pumpkin pie in August (my coworkers were excited, too!). Pumpkin pie is made up of two basic components: the filling and the crust. I decided to use a premade graham cracker crust. This made the entire process a piece of cake … I mean, pie. The filling is easy to whip up, and once it's done, you just pour it in the pie crust and bake. I was pleasantly surprised by how easy it was to make a pumpkin pie. If you've ever shied away from making your own, don't hold off any longer. A premade pie crust will help you ease into it. Then, when you're up for the challenge, make a homemade pie crust.
Pumpkin Pie with Graham Cracker Crust
Adapted from The Midnight Baker
Ingredients
1 9-inch graham cracker pie crust
1 (15-ounce) can pumpkin puree
2 eggs
3/4 cup sugar
1 teaspoon cinnamon
1/4 teaspoon nutmeg
1 (12-ounce) can evaporated milk
Directions
Preheat oven to 425 degrees F.
In a large bowl, beat eggs.  Add pumpkin, sugar, cinnamon, and nutmeg; beat well.  Gradually stir in evaporated milk.
Place pie crust on baking sheet. Pour filling in pie crust and place in the oven. (You may have extra pumpkin pie filling. If so, you can make mini pumpkin pies.)
Bake for 15 minutes, then reduce temperature to 350 degrees F and bake for an additional 40 to 50 minutes, or until knife inserted near center comes out clean.
Cool completely on rack.  Chill if desired.
*If you have extra pumpkin pie filling, you can make mini pumpkin pies! Distribute filling in four mini graham cracker crusts and bake for about 25 min at 350 degrees F.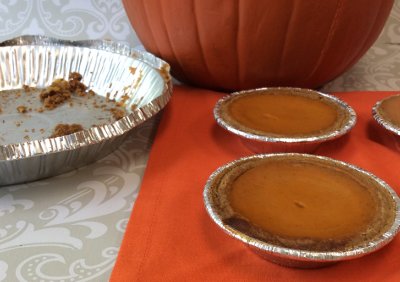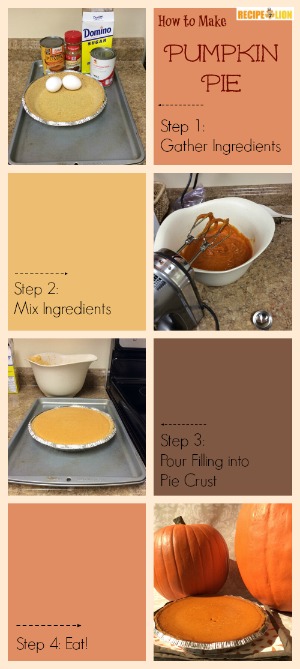 When thinking of easier pumpkin recipes that could substitute for pumpkin pie, one of the first things I thought of was pumpkin mousse. It's basically pumpkin pie filling minus the crust. Easy, right? Well, it actually is more complex than pumpkin pie filling, but I still think it's a nice alternative to pumpkin pie and definitely easy enough to make for Thanksgiving. The process is basically mix, chill, mix, chill. And while it's chilling, you can work on other things…like a sweet potato casserole.
I had fun decorating the mousse:
Pumpkin Mousse
Adapted from Spoon Fork Bacon
Ingredients:
1 (15-ounce) can pumpkin puree
½ (14-ounce) can sweetened condensed milk
2 ½ cups heavy cream, divided
1 tablespoon light brown sugar
1 1/2 teaspoons ground cinnamon
1/8 teaspoon ground nutmeg
Garnish options:
Whipped cream
Cookie crumbs (Biscoff cookies, graham crackers, or gingersnaps)
Caramel sauce
Chocolate shavings
Directions
Place the pumpkin puree, sweetened condensed milk, ½ cup of heavy cream, sugar, cinnamon, and nutmeg, into a medium saucepan and stir over medium heat.
Cover and simmer for 5 minutes.
Transfer the mixture to a mixing bowl and let cool. Cover with plastic wrap and put in refrigerator for at least 2 hours.
Once the pumpkin mixture has chilled, place the remaining heavy cream into a stand mixer and whip on high until stiff peaks form, 3 to 5 minutes. Reserve about 1/2 cup.
Gently fold the whipped cream into the pumpkin mixture until fully incorporated.
Fill ramekins or small trifle dishes with mousse and place in the refrigerator for at least 3 to 4 hours.
Garnish as you like.
What's your favorite pumpkin dessert?
Latest posts by RecipeLion
(see all)