Believe it. By clicking the "Like" button on FaveHealthyRecipes' Facebook page, you can enter to win a 3-month supply of Thrive Frozen Nutrition. Thrive Frozen Nutrition is a specially formulated ice cream type product designed to provide additional nutrition to anyone that may need it. It can be used any time during the day or evening as a great tasting nutritious meal replacement or snack.
With 9 grams of protein, 3 grams of fiber, and 25% of the daily recommended amounts of 24 vitamins and minerals along with four different strains of probiotics, Thrive can be the perfect snack for children, teens, adults and seniors who do not get the right amounts of daily nutritional values their bodies need. Plus it tastes great.
You'll no longer have to suffer through some of the bad tasting meal replacements out there. Have your cake and eat it too, in a sense. If you, or others you care for, are in need of extra nutrition but don't like the taste of other meal replacements, this is definitely a product for you.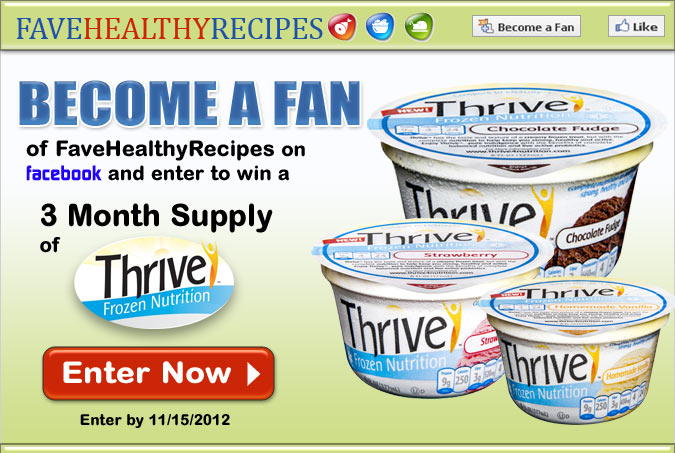 If you're not a fan of FaveHealthyRecipes, be sure to head on over to our page and "Like" us as soon as you can.
Good luck to everyone and we hope to see you on Facebook.
Bonus Entry!
Get a bonus entry, or if you are not a Facebook user, you can enter to win the 3-month supply of Thrive Frozen Nutrition right here on this blog! Just enter a comment below answering this question…
What is your favorite flavor of ice cream?
Your comment counts as your entry! Limit one comment per person. And don't forget our rules below.
Giveaway Rules
    Contest open to US residents 18+ only
    One entry per person, to enter visit our Facebook page or make a comment on this blog post.
    Contest closes Thursday, November 15th, 2012 at 11:59p EDT.
    The winner will be posted on RecipeLionBlog.com and notified by email.
What is your favorite flavor of ice cream?
Latest posts by FaveHealthyRecipes
(see all)