Are you ready for Thanksgiving? No, neither am I. It's a week away and there's so much to do. Why not stress less and plan more so you can enjoy a wonderfully simple Thanksgiving? Sit back, relax and enjoy these tips and great Thanksgiving menus from AllFreeCopycatRecipes.com and many more.
Step 1. Plan Ahead
If you're cooking up turkey for the whole family, give yourself a couple of weeks out from the date to determine what size you need, how many pounds you think your family will eat, etc. The sooner the bird is purchased, the more time you have to plan your menu.
Step 2. Organize Your Menu
One Saturday morning, say two weeks before the big day, sit down at the kitchen table with a cup of coffee and a note pad. Jot down which appetizers, main courses, side dishes and desserts you plan to make and which dishes you are counting on your assorted family members to bring. Does your Aunt Gertie make a stellar sweet potato casserole? Then there's no need to duplicate efforts! Or you can ask her to make these Ruth's Chris-Inspired Sweet Potatoes (pictured)…who knows? After you've gathered a rough idea of your perfect Thanksgiving meal, make a detailed shopping list. Take a few days to do this, it can be overwhelming! But as I'm sure you know, once the shopping is done, that's a huge step out of the way.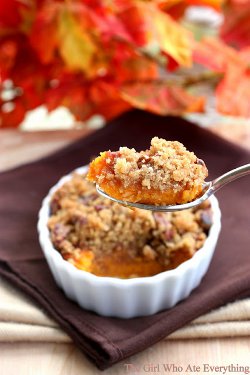 For some menu inspiration, be sure to check the AllFreeCopycatRecipes.com Collection of 55 Simple Thanksgiving Recipes. The editors have been busy compiling some of the best Thanksgiving Recipes for your consideration. When planning a feast like this, you can never have too many delicious options. In this round up of simple Thanksgiving recipes, our picks range from sides to desserts, from snacks to drinks.

Step 3. Make Ahead
This weekend, if you have any downtime, it would be opportune to prepare and refrigerate/freeze some of your planned dishes. While some things do taste best fresh, a lot of meals will taste great and save you time on Thanksgiving day if you make them ahead of time. Casseroles are a great example. You can prepare them in advance and they make great leftovers as well! Our friends at AllFreeCasseroleRecipes.com curated a pitch-perfect Thanksgiving guide: 21 Perfect Casserole Recipes. Make some memories by cooking up these delicious delights.

Step 4: Breathe Deep on the Big Day!
Shine like the star you are when you're roasting the turkey, making the gravy and firing up the savory sides. Enlist any help you can…a spouse, teenage children, a favorite aunt or uncle, Mom or Dad! Try out this recipe for Copycat KFC Gravy, you'll love it. Just push through, before you know it, everyone will be complimenting you on your unforgettable Thanksgiving dinner!
For more great Thanksgiving Menu ideas, be sure to check these out:
10 Slow Cooker Thanksgiving Side Dishes
20 Gluten Free Recipes for Your Thanksgiving Menu
The Best Desserts for Thanksgiving
What's your favorite dish to make for Thanksgiving? Be sure to let us know in the comments.
Latest posts by AllFreeCopycatRecipes
(see all)