In June, there's more fresh produce than ever, and smart cooks will take advantage of it. With seasonal fruit and seasonal vegetables hitting their peak, you can save money and cook up some truly healthy, tasty meals. Scour your local grocery store or farmer's market for the best of the best.
Sometimes, you can guess at what's in season by checking the prices – in-season foods tend to be a bit cheaper than usual, and displayed more prominently. However, now that we have the technology to grow fruits and veggies out-of-season, sometimes you'll miss out on produce that is only artificially fresh the rest of the year. Your local farms are able to provide fresh produce this time of year, which means it's a short trip from their fields to your table.
In June, berries are fresher than ever! Strawberries, blueberries, and raspberries are in abundance in June. It's the perfect time to make cobblers, jams, and tons of fresh fruit desserts. Melons are also in season, so take advantage of these juicy, hydrating foods in the summer heat.
As for vegetables, corn and zucchini are in their prime this month. Include them in your June cookouts with corn on the cob and grilled zucchini. They make excellent, wallet-friendly side dishes.
Here's RecipeLion.com's list of the freshest seasonal foods for June so that you can enjoy the earth's bounty. We included how to choose produce so you can be sure you're getting the best of the bunch.
Foods that Taste Better in June: 9 Top Fruits and Vegetables in Season
Corn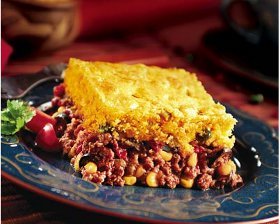 Corn is the ultimate summer snack or side dish. The corn crop is at its peak in June, and you can take advantage of that with corn on the cob, creamed corn, and corn salads.
How to choose corn: Check corn for freshness by feeling around for holes through the husk – you want corn to have fully shaped, plump kernels. The husk should be bright green, without any browning or black strings at the top. If you see any brown holes, stay away!
Corn recipes to make this month:
Zucchini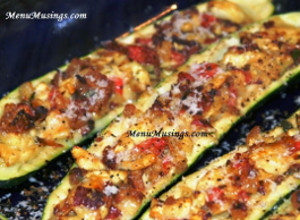 Zucchini is surprisingly versatile – you can make chips, casseroles, and more. The great thing about zucchini is that it becomes cheaper in June than any other time of year! Use it as much as you can. Other squashes are fresh this time of year, too.
How to choose zucchini: Zucchini should be firm, brightly colored, and still have its stem intact. Choose a shorter zucchini for a sweeter flavor.
Zucchini recipes to make this month:
Blueberries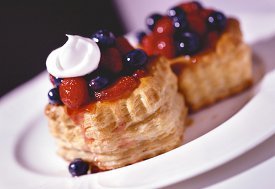 Not only are blueberries in season, they're also trending this year. We're seeing lots of blueberry recipes by food bloggers.
How to choose blueberries: When choosing blueberries, the first thing to check for is mold or sticky, squished berries. Don't choose berries that have the stems attached – they weren't fully grown before picking. Fresh blueberries have a slightly 'frosted' look.
Blueberry recipes to make this month:
Cherries

Cherries can be overlooked because they aren't as popular to eat raw as strawberries or blueberries, but they are at their peak in June. That means they're better than ever for pies and cobblers.
How to choose cherries: If cherries have stems – and they should, if they're really fresh – you can judge the freshness by how thick and bendable it is. Cherries should be dark red and firm with no holes or blemishes.
Cherry recipes to make this month:
Strawberries

The most beloved berry is a wonderful treat as summer heats up in June. We love when strawberries trend every summer. This year, we're seeing lots of strawberry-lemonade and strawberry-lime flavor combinations from bloggers. Fresh, fruity drinks and sweet desserts made with strawberries are perfect for any June gathering.
How to choose strawberries: You're better off buying strawberries at the farmer's market, because the fresher they are, the more flavorful they will be. Strawberries should be bright red in color with no holes – the redder, the riper. The best way to check a strawberry for freshness is to taste it, but you can also sniff them to check for a strong scent which indicates strong flavor.
Strawberry recipes to make this month:

Raspberries

These tart treats are great in any mixed berry assortment in June. Pair them with your fresh blueberries and strawberries for the ultimate summer desserts!
How to choose raspberries: Raspberries should be red and plump. Avoid them if they're mushy or moldy.
Raspberry recipes to make this month:
Apricots

Another underdog, apricots have a very short period that they're fresh – from the end of May through July. In June, start your day with an apricot snack and enjoy the freshness of this sweet, juicy fruit.
 How to choose apricots: Avoid bruised apricots and look for firm, deep orange or yellow fruit.
Apricot recipes to make this month:
Watermelon and other melons

Is your mouth watering just thinking about fresh watermelon? Maybe this one is a no-brainer, but fresh watermelon will quench your thirst when the temperature rises. Other melons like cantelope and honeydew are also fresh in June.
How to choose melons: Choose a heavy melon with a heavy sound if you tap it. Shiny melons aren't ripe yet – look for a slightly dull color.
Watermelon recipes to make this month:
Peaches

Peaches are ripe and juicy in June, making them a refreshing treat for any occasion. Snack on them raw or bake them into dreamy desserts this month.
How to choose peaches: This is another one for the farmer's market – they're most flavorful when local. Smell the peach for sweetness, and look for vibrant skins. Peaches get softer as they ripen, so a firm peach isn't ready.
Peach recipes to make this month:
What seasonal fruit or seasonal vegetable of June is your favorite?
Latest posts by RecipeChatter
(see all)