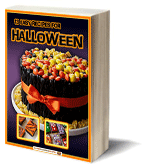 Halloween is almost upon us! In just a few short weeks, it will be time to dress up and eat lots of candy. Even if you're "too old" to dress up in a costume, you're never too old for candy! I don't know about you, but when I see candy, I think of ways to use it in a dessert. I'd (typically) rather eat a Halloween Candy Pie than a single Kit-Kat bar. If you feel the same way, then you're going to love AllFreeCasseroleRecipes' free dessert casserole eCookbook, 13 Easy Recipes for Halloween (by the way, I love the fact that it has 13 recipes). Keep on reading to get a peek of what's inside this eCookbook and learn about our current giveaway.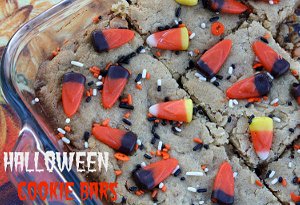 If you're having a Halloween party or just want a Halloween dessert around the house for the holiday, 13 Easy Recipes for Halloween provides many festive options. Halloween Cookie Bars, for example, are tasty bar cookies topped with candy corn and sprinkles, so they look and taste like Halloween. "Scream" Cheese Brownies are another fun Halloween dessert that are easy to make. It's no surprise why they've been super popular on Pinterest lately. The orange and black marbled frosting makes them fit right in to any Halloween setting.
If you're throwing a Halloween party, our Halloween cakes are the way to go. Yep, we have Halloween cakes. Halloween Poke Cake is a special treat. The fudge marble cake has an orange filling and is topped with candy corn and sprinkles. It's festive in so many ways. Pumpkin Pudding Poke Cake is another great option. This moist cake tastes like fall thanks to the pumpkin puree. It's not a party without cake, so don't miss these awesome Halloween cakes.
Do you typically find yourself with lots of Halloween candy after October 31st? If so, it's time to get the creative juices flowing and make these dessert creations. Use-It-Up Halloween Candy Pies are absolutely delightful! A graham cracker crust holds together melted marshmallows and leftover Halloween candy in a one single serving candy pie. Man, I wish I had one in front of me right now. I would devour it!
Giveaway – Italy's Great Chefs and Their Secrets Cookbook

We are giving away a copy of Italy's Great Chefs and Their Secrets Cookbook by Barilla Academia until October 13, 2013. Four winners will receive a copy of this comprehensive guide to Italian cuisine, seen through the eyes of some of Italy's most renowned chefs. This book highlights the differences between the cuisines of Italy's many regions and provides you with a formidable amount of knowledge about the secrets to Italian cooking. Read the full review.
What is your favorite Halloween candy?
Latest posts by AllFreeCasseroleRecipes
(see all)