Triple Chocolate Delights – the name says it all. A trifecta of chocolate – chocolate fudge cake mix, chocolate fudge instant pudding mix and semi-sweet chocolate chips – Triple Chocolate Delights are a chocolate lovers dream. Soft batch cookies with ooey, gooey centers, surprisingly they are not overly sweet.
Two unexpected ingredients – mayonnaise and oatmeal – mellow out the sweetness overload from the cake mix, pudding mix, chocolate chips and brown sugar making a perfect chocolate fudge cookie. And are they ever addicting!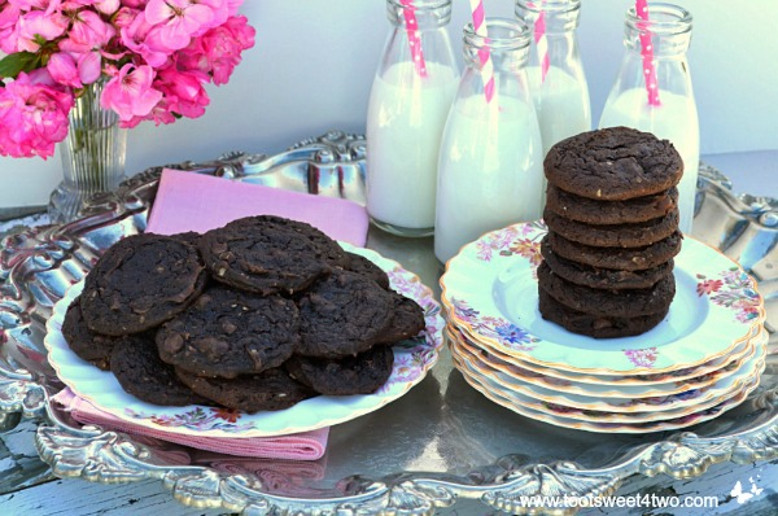 I challenge you to eat just one!
They are so outstandingly delicious that they deserve to be served on fine china and a silver tray! Just to keep it "real", I served them with milk in cute little milk bottles with pink and white striped and polka dot straws.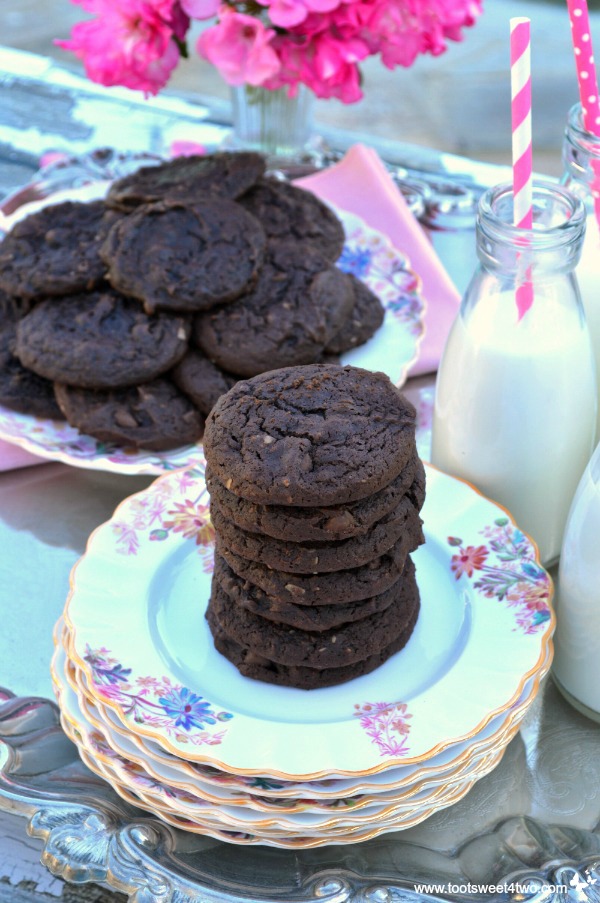 And, the other secret:  don't overbake them. With cookie batter as dark as this batter is, it's easy to think they aren't done. Don't overthink it; just take them out of the oven after 10 minutes, let them cool (and continue cooking) on the cookie sheet for another five minutes before transferring them to a cooling rack to finish cooling completely.
The flecks you are seeing in the photos are the bits of oatmeal that didn't quite get pulverized. No nuts in these cookies!
These cake mix cookies measure 2 1/2 inches in diameter. To get them nearly perfectly round, I used a cookie scoop (like an ice cream scoop) that holds a tablespoon. Also, I baked them 8 to a cookie sheet, so as not to crowd them.
If you are having guests, you might consider doubling this recipe because they will be gone in a flash!
Triple Chocolate Delights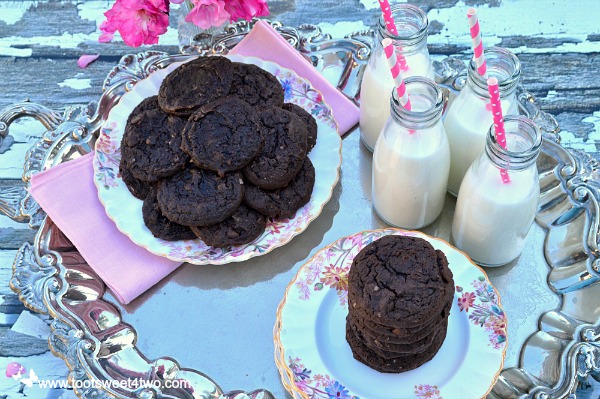 Ingredients:
1 – 15.25 ounce package of chocolate fudge cake mix
1 – 3.9 ounce package of instant chocolate fudge pudding mix
1/2 cup brown sugar
3/4 cup canola oil
2 teaspoons vanilla extract
1 egg
1/2 cup mayonnaise
1/2 cup old-fashioned oatmeal
1 cup semi-sheet chocolate chips
Non-stick cooking spray
Directions:
Preheat oven to 350 degrees.
Pulverize the oatmeal in a mini food processor (or a regular one) until the consistency of all-purpose flour and set aside.
Spray a cookie sheet with non-stick cooking spray.
Add 1/2 of the cake mix, the entire box of pudding mix, brown sugar, oil, egg, water and mayonnaise in a large mixing bowl.
With an electric mixer, mix on low speed for a minute or two until well combined; the batter will be thick.
Stir in the rest of the cake batter, oatmeal and chocolate chips by hand.
Using a cookie scoop, scoop even amounts of cookie dough onto the prepared cookie sheet, spacing 2 inches apart.
Bake for 10 minutes in a preheated oven.
Remove from oven and allow to cool for 5 minutes before transferring them to a cooling rack to cool completely.
Notes:
Do not overbake.  Cookies are "soft batch" with moist centers.
No cookie scoop?  Drop by teaspoonfuls onto prepared cookie sheet.
Bake only one batch of cookies at a time in your oven.  Baking more than one batch will cause them not to cook evenly and you will have some over done and others underdone.  Have patience…it's only 4 dozen and they'll be done in a flash!
Makes 4 dozen cookies.
Do you prefer chewy cookies or crunchy cookies?
Latest posts by Carole Burkhard
(see all)