While we're nearing the end of this rough winter, nothing is more welcoming than the thought of tropical recipes to brighten the day. When we received a sample of King's Hawaiian dinner rolls and sliced bread for our upcoming giveaway, I couldn't wait to make Hawaiian recipes that brought some sunshine to the test kitchen. The first dish that came to mind was Funeral Sandwiches. The oven-baked ham and Swiss sandwiches on King's Hawaiian Dinner Rolls are one of my favorite potluck recipes, but this time I wanted to add more of a tropical twist, and these Tropical "Funeral Sandwiches" turned out great.
As for the Hawaiian Overnight French Toast Casserole, I knew that King's Hawaiian Sliced Bread would make an amazing French toast casserole, but sticking to my Hawaiian recipes theme, I added two of my favorite flavors: banana and coconut.
Both of these King's Hawaiian recipes were the perfect way to brighten up a dreary winter. If you're ready for some warmer weather, make either one of these recipes and imagine yourself sitting under a palm tree on the beach!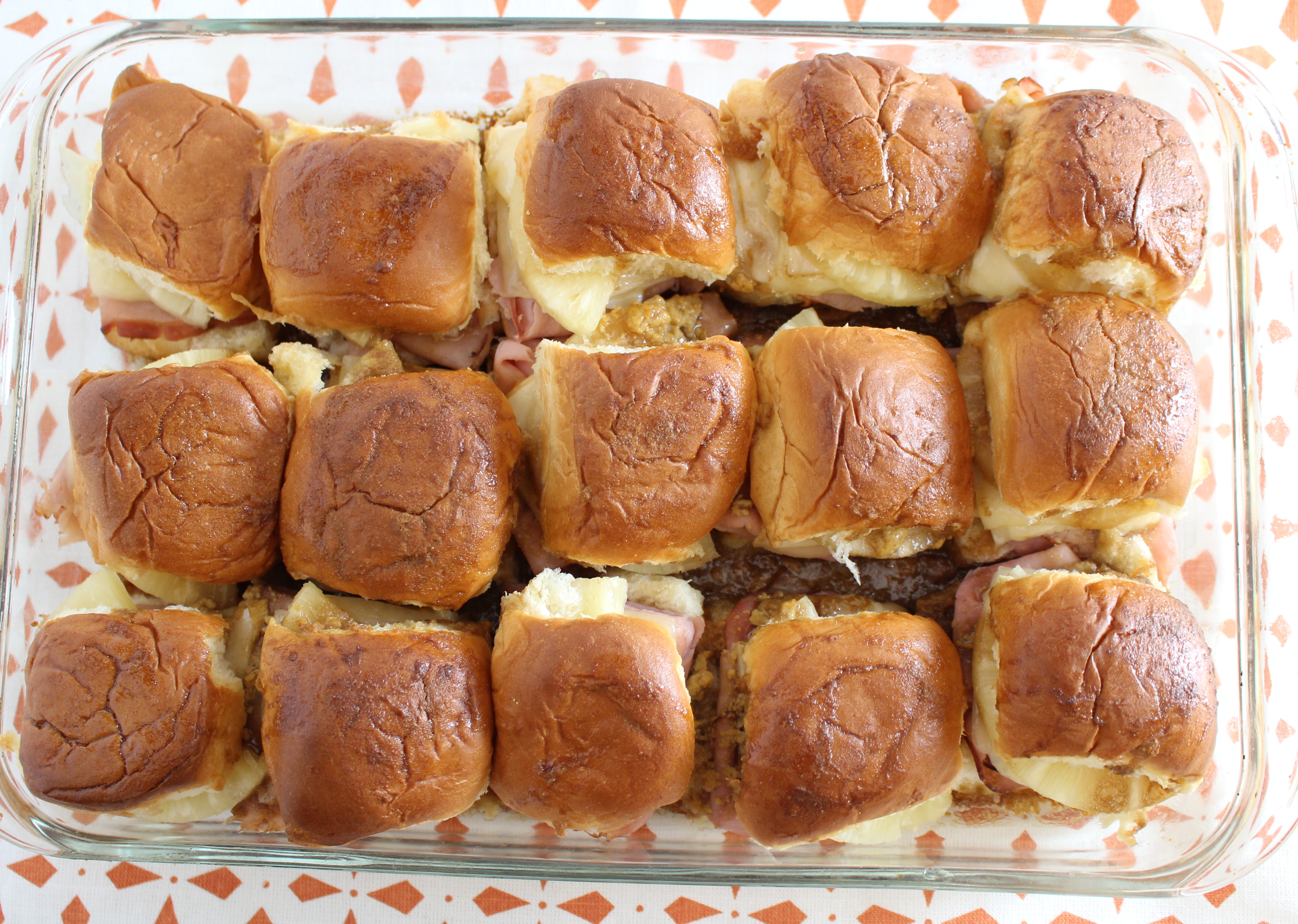 Since I've always loved Hawaiian pizza (pizza with ham and pineapple), I decided that adding pineapple to this Hawaiian recipe had to be good … and I was right! The sweetness of the rolls perfectly complimented the fruit, and with the addition of ham, melted Swiss, and a mustard glaze, these baked sliders were the perfect dish to share warm out of the oven. Plus, these sandwiches are super easy to assemble and can be made a day ahead of time.
Yields: 12 sandwiches
Preparation Time: 15 min
Chilling Time: 8 hr
Cooking Time: 15 min


Ingredients
1 package (12 count) KING'S HAWAIIAN rolls
1 pound deli sliced ham
1/2 pound Swiss cheese, thinly sliced
1 (20-ounce) can sliced pineapple, each slice cut in half
1/2 cup unsalted butter, melted
3 tablespoons Worcestershire sauce
2 tablespoons mustard
2 tablespoons brown sugar
dash onion powder
Instructions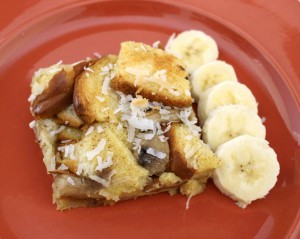 I absolutely love overnight French toast casserole recipes because they make the morning so easy! Simply assemble the casserole at night, refrigerate it, and all you have to do in the morning is stick it in the oven. To make this delicious Hawaiian recipe, I took a standard French toast casserole recipe using King's Hawaiian Sliced Bread, and added coconut and sliced bananas. Hot out of the oven with maple syrup on top, I couldn't have been happier with this delicious breakfast bake.
Serves: 12
Preparation Time: 10 min
Cooking Time: 45 min
Ingredients
1 package KING'S HAWAIIAN dinner rolls or 1 loaf KING'S HAWAIIAN bread
2 bananas, sliced, plus more for garnish
2 cups whole milk
6 eggs
1/3 cup sugar
2 teaspoons vanilla
1 teaspoon cinnamon
1/2 teaspoon salt
1/4 teaspoon nutmeg
1/4 cup sweetened shredded coconut
Instructions:
What's your favorite way to enjoy KING'S HAWAIIAN sweet bread?
Latest posts by RecipeLion
(see all)